How much is my Schwinn worth?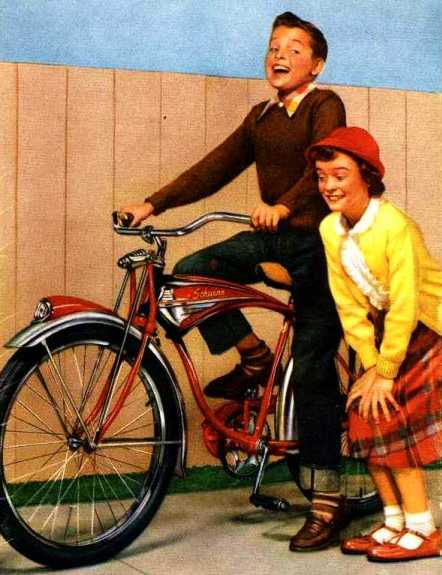 Common questions...
How much is my bike worth?
What size tires goes with my bike?
What bike do I even have?
Where can I get vintage parts and accessories?
I have received many calls and emails regarding these questions and their answer is almost always found on a website called Ebay.
Thousands of vintage Schwinn bikes, parts and accessories are sold every month on Ebay, it is a goldmine of information.
If you look to the right side of this page you will see Schwinn bikes that are for sale at Ebay right now (unless you are reading this on a smart phone), and their values.
When people sell things on Ebay they post pictures of what they are selling. Therefore there are thousands and thousands of images there that can help you figure out how much bikes like yours are selling for, what type bike you have (if you do not know), or what it is supposed to have as far as accessories go. If you are unfamiliar with Ebay then keep reading and I will show you step by step how to find answers to your questions there.
First step is to go to Ebay (this link will open in a new tab): Schwinn bikes on Ebay
Guide to Using Ebay for Schwinn Research
Ebay is a place where normal people buy and sell an amazing assortment of things. Every time you go to Ebay there will be thousands of vintage bikes and parts available. Since these items have photos, there is a great wealth of knowledge and reference to be found. Let's look at one of the questions I receive every day...
How much is my Schwinn worth?
To answer this question is rather easy. Your bike is worth is what people are willing to pay for it. You used to have to guess at this, but now you can know for sure what people are paying for a particular bike. If you have a Schwinn Stingray (as an example), you can search and here is a sample of what you will get...
You will get a list of items, with photos that have something to do with "Schwinn Stingrays". You will find entire bikes, seats, handle bars, reflectors, etc.
In fact there is usually so much available that it isn't always easy to find exactly what you want. Now let's get back to the question "How much is my Schwinn Worth?"
So we went to Ebay, searched for "Schwinn Stingray" and now let's make it a little more specific. Ebay let's you sort things and when you are looking for the value of a particular type of bike a good place is to sort it by price. To do this, let's use our Schwinn Stingray search and look to the top right hand of the page...
The red arrow above is pointing at the sort options.
A great way to find out how much a bike is worth is to see what the top price is for a really perfect bike, so we are going to choose "price: highest first" as shown above.
The reason we will do this is because the items that are highest priced are normally entire bikes in really great condition, higher priced items tend to have many photos, and it will also give us a "high-end" estimate of what Schwinns of this type are selling for. Now that we have sorted it to "highest price" you may be surprised by what you see. Some of these are going for thousands of dollars! (there are Schwinn that you will find that go up to 10,000 dollars sometimes. Here is what it looks like now that we have sorted it...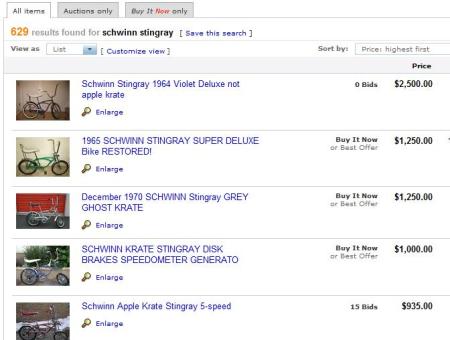 To see the particulars of a certain bike just click the listing or the little photo and you will get all the details of the bike including photos, description and price details...
So now we have eight or nine photos to look at and compare to our bike (and this is just one listing, there are probably dozens of Schwinn Stingrays on Ebay at any given time). Go to Ebay and play around and you will be pleasantly surprised by all that you can find out about your Vintage Schwinn bike.