1899 Schwinn Catalog
Original text and images of the 1899 Schwinn sales brochure. The text below, including the prices, are as written in 1899.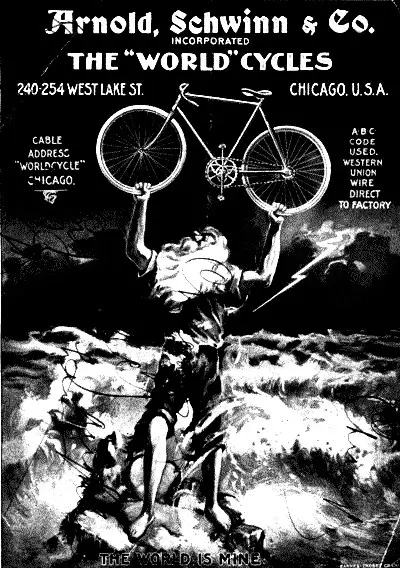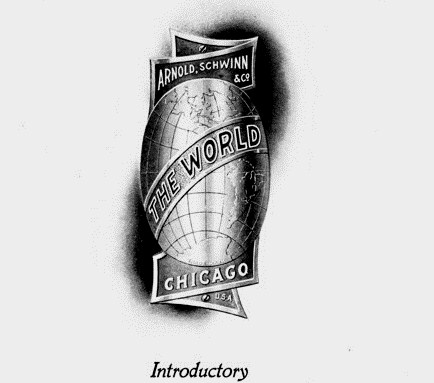 Introductory
The "World" Bicycle is a perfect wheel, as perfect as can be made. Fancy devices could be applied to this machine that would be a different method of obtaining the same mechanical results, but they would not make the bicycle any better. The devices that are exclusively our own, that we incorporate in our wheels are notably the one piece hanger on the "World" models 33 - 34 and 35, and on the tandem, triplet and quad, and the two price hanger used on models 36 and 37. They are offered to the riding public as perfection in their respective classes.
Our experience in bicycle manufacture, covering a period of many years, insures the distinct advantage of buying from a firm with and established reputation and guarantees absolute satisfaction to our customers.
Arnold, Schwinn and Co.
240-254 W. Lake Street, Chicago.
Construction
"World" Model 33. The building of the frame is a matter of vital importance when the great strain of riding is considered. We call particular attention to the perfection in design, quality of materials and the mechanical skill used in this machine. The main frame is made from best quality high carbon drawn steel tubing, flush joints throughout, internal reinforcements at frame joints.
Front Forks of Model 33
all have our well known triple plate crown design, (see cut) exceptionally strong; forksides extra heavy, high carbon drawn steel tubing, crown and lower ends heavily nickel-plated on copper.
Drop of Crank Hanger 3".
Short Head. The lines give best position for the rider, placing weight where it should be, giving best pedaling power and proper position of saddle and handle bars. Expanders to seat post and handle bar, (our own make) give smooth and workmanlike finish at these points and do away with clamps and draw bolts and make the frames particularly strong at seat post cluster and head.
Upper rear tubes are 3/4" "D" shaped to brace and round from brace to top; frame brace to cluster both tubes are brought close together, giving very neat appearance. Lower rear forks 2/8". "D" shaped to brace and round from brace to crank hanger and at ends. Chain Adjusters are of the end screw pattern.
Head on Model 33
is a feature of our wheel. Cups are flush with diameter of head 1 1/2". Bearings are peculiar to this machine only (see cut). and are the most perfect and dust proof. The quality of workmanship on these and the rake of fork give the most perfect steering effect possible. It is the perfection of small details of construction at points slighted by many manufacturers that has secured to our goods the inestimable reputation they have. The head is an exponent of this perfection of detail in "Workd Bicycles."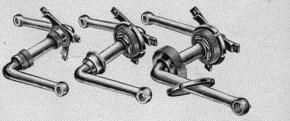 The best one piece hanger is the "World" Dist Adjusting. Details of the "World" famous one piece hanger, easy to take apart and replace. A continuous crank and crank shaft from pedal to pedal. The cones are screwed on to the shaft by a right and left hand thread and held rigidly in place with lock nuts.
Left cone right hand thread, left nut left thread. (see cut.) The ball cups are Disc Adjusting, screw into the crank hanger from outside and are held firmly in place by rings screwed on to outside of cups. (see cut). Cups have removable ball retainers. Felt washers are place in recess between ball circle and crank shaft, and when assembled gives narrow tread and flush dust proof connections; the greatest simplicity and strength of construction and has been used by us since 1895. The Best in the World.
The illustration of the two piece crank and axle on this page will give the reader an exact idea of the merits of this method. It is the simplest and best of the twi piece variety, main feature being crank shaft and right hand crank, L shaped; right hand crank and projecting arms are forged in one piece, the sprocket slabbed to fit and fastened with bolts and buts rigidly; the left hand.
readily understand that with the small, sized rear sprockets formerly used in combination with the small sized front sprockets, the tendency of the pull on the chain was to a certain degree exerted in a way to pull the rear axle through the frame toward the crank hanger and a large percentage of the power applied was wasted.
Our perfect standard sizes for men's wheels are 30 tooth front and 10, 11, and 12 tooth rear sprockets.
(see gear table.)
The lessening of the tug on chain is over 50 per cent with present standard gears, as compared with the old combination of sprocketsl; example, 30 x 10 gives 84 gear, with 28" wheels, with the old style small sprockets 18 x 6 gave 84 gear. The large diameter of present sprockets enables us to use lighter chains 14", which are in reality stronger than the old chains used: Our chains never break.
In the old days the breaking of chains caused more annoyance than punctures of the tires on bicycles of all other makes, due almost entirely to the use of small sprockets and obviated entirely in "World" Bicycles.
Both our front and rear sprockets are drop forged, open work pattern, light and strong. We do not go to extremes in sizes of sprockets; there is an exact limit of size for best results and the limit will be found in the gear table. Our front sprocket sizes are 22, 24, 26 and 30 tooth; rear are 7, 8, 9, 10, 11 and 12, tooth.
Our improved flush joint connections, are made from best quality, special drawn steel, combining the proper toughness and tensile strength. Cups and cones are made from best quality cup and steel, specially adapted for use in such bearings. Balls are best quality forged steel; and spokes, where great toughness and tensile strength is required under
Constant vibration, are made from the best obtainable cold-swaged piano wire. Cranks and axles are forged from best high carbon spring steel. All parts being manufactures in our own factory, this ensuring to purchasers of "World" bicycles a permanent supply point for parts.
1899 World Standard Roadster Model 33
---
This is our best single road wheel offered to the cycling public on a basis of pure merit with the assurance that no bicycle manufactured at a lower price than charged for this model can possess equal quality, and no bicycle for which a higher price is asked can be better.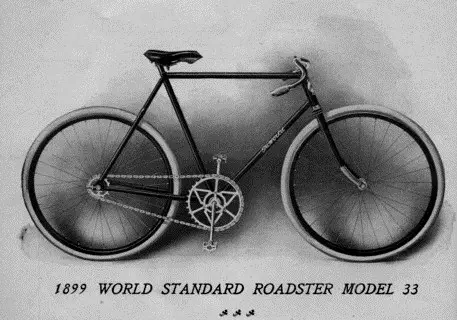 The one exception being our Racer Model 35 which is made for track racing. Incorporated in construction are our "World" one-piece hanger, triple fork crown, and the finest equipment as per.
Price $50.00
1899 World Ladies' Standard Model 34
---
Our best ladies' wheel, highest grade construction and best equipment, a companion bicycle in quality to the Model 33.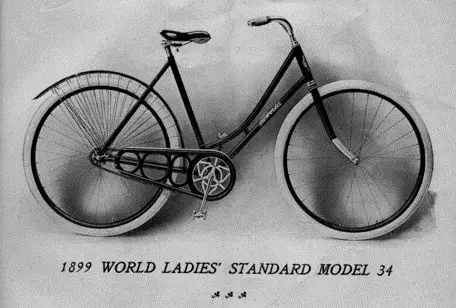 Drop frame; our "world" one-piece hanger, triple plate fork crown, mud and chain guards.
Price $50.00
1899 World Track Racer Model 35
---
This wheel is "the limit" of fine bicycle construction with the use of good materials; the object being to produce a friction less machine, swift and strong. Wheel the retail price allowed sufficient margin of profit to maintain a regular company of speed merchants.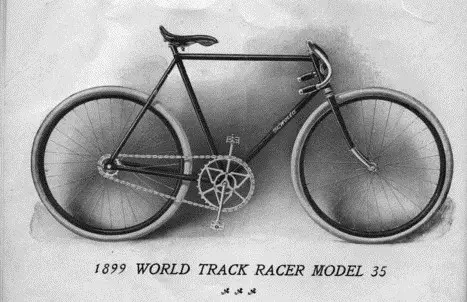 The World Racer held neraly track record from one-quarter mile up to one hundred. While the rider deserves a great deal of credit for breaking records, the essential feature that contributes largely to the rider's success is fearlessness in following pace which is only obtained by perfect confidence in the steel steed of the rider and the pace-making machines, whether sextuplets. "quints," quads, triplets or tandems.
We have thus far made the best track racers and pacing machines in the world and shall sustain our reputation in 1899. Model 35 has World one piece hanger and triple fork crown. This machine is for track use only.

Price $75.00
1899 World Double Diamond Tandem Model 38
---
Center driving, using our World one piece crank shaft and cranks, with out own special device for taking up slacks in chain; narrow tread samme as on our single bicycles, the small sprocket wheel for carrying front chain being rigidly attached to center of crank shaft which is slabbed flat sided to give absolute security of fastening, chain running under center of frame between two lower tubes.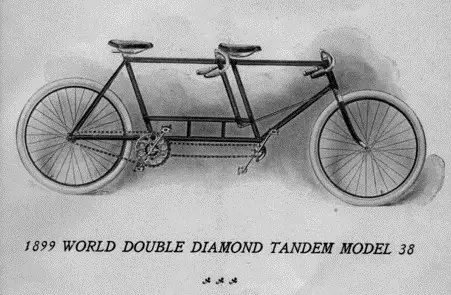 Frames are all specially built on our own lines. We offer them as the best tandems in the world; they cost more than other makes but are worth more.
Price $100.00
1899 World Combination Tandem Model 39
---
Center driving, using World one piece crank shaft and cranks with our own special device for taking up slacks in chain.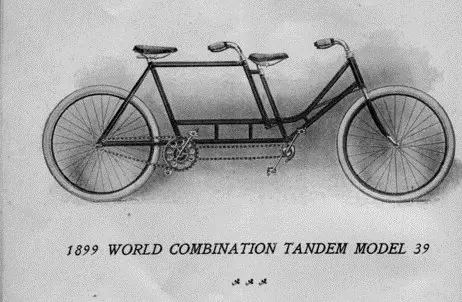 Narrow tread same as on our single bicycles; construction corresponding to Model 38 except drop, frame in front; rat trap pedals for rear rider and rubber pedals for front.
Price $100.00
See the complete history of the Schwinn Tandem.
1899 World Triplet Model 40
---
Center driving. World one piece crank shaft and cranks with our own special devices for taking up slack in chain; narrow tread same as on our single bicycles.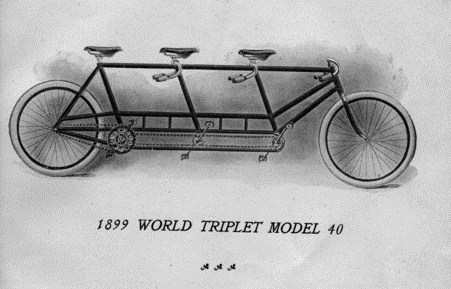 Construction similar to Model 38 carrier up to accommodate three riders. Fork crown, fork stem and all parts increased in strength to withstand the strain imposed by fast riding.
Price $200.00
1899 World Quad. Model 41
---
Center driving. World one piece crank shaft and cranks with our own special devices for taking up slack in chain; narrow tread same as on our single bicycles.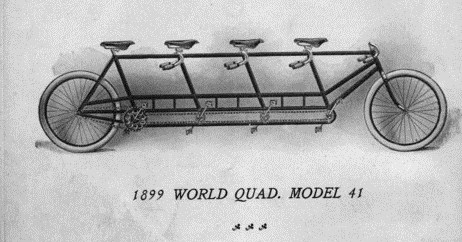 Construction similar to Model 38 carried up to accommodate four riders.
Fork crown, fork stem and all parts increased in strength to withstand strain imposed by fast riding.World racing machines are in use on all the leading bicycle tracks in this country and Europe and are acknowledge by track men as the best in the world. Made to order only.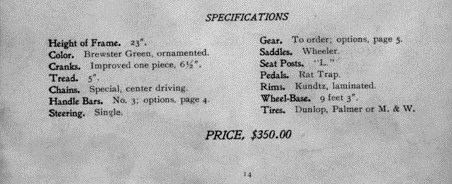 Price $350.00
World Motor Carriage
Electric and Gasoline
Built to order only

Our Guarantee
Arnold, Schwinn and Company, agree with the purchaser of each "World" Bicycles, to make good, by repair or replacement, when delivered at their factory, transportation charges fully prepaid, any imperfection or defect in material or manufacture of such bicycle, not caused by misuse or neglect, provided that their factory serial number shall be on such bicycle at the time clain is made, and that all such imperfect or defective parts shall be referred to them before any claim for repair or replacement shall be allowed.
This guarantee does not cover tires, saddles, pedals or rims, which are guaranteed by the makers thereof and applications should be made to them direct for repairs or replacements, as they request. this guarantee continues for sixty (60) days from date of sale, or expires by limitation on all 1599 bicycles on December 31, 1899. Design and specifications subject to change without notice.
General Terms
Net cash with order. List price is cash price, and no discounts are allowed except to regular agents. C.O.O. orders must be accompanied by sufficient cash to pay transportation charges both ways in case goods are refused.
Transportation charges must invariably by paid by purchaser. Full shipping direction should accompany every order. Machines should be ordered as closely as possible to regular specifications. Options frequently cause delay.
We cannot guarantee safe delivery of goods. Our responsibility ends upon delivery of goods at post office, express office or freight depot.
Correspondence and agency applications must be plainly addressed to Company and not to individuals. No agent has authority to guarantee "World" Cycles or grant terms other than above outlined on account of this Company.
ARNOLD, SCHWINN and COMPANY
240-254 W. Lake St. Chicago, Illinois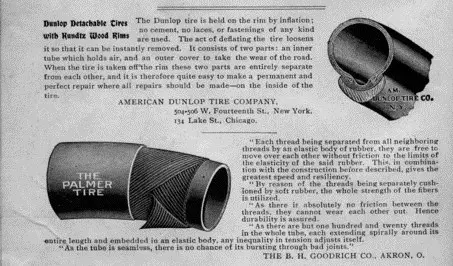 Dunlop Detachable Tires with Kandtz Wood Rims
The Dunlop tire is held on the rim by inflation; no comment, no laces, or fastenings of any kind are used. The act of deflating the tire loosens is so that it can be instantly removed. It consists of two parts; an inner tube which holds air, and an outer cover to take the wear of the road.
When the tire is taken off the rim these two parts are entirely separate from each other, and it is therefore quite easy to make a permanent and perfect repair where all repairs should be made- on the inside of the tires.
AMERICAN DUNLOP TIRE COMPANY
504-506 W. Fourteenth St. New York,
134 Lake St. Chicago
"Each thread being separated from all neighboring threads by an elastic body of rubber, they are free to move over each other without friction, to the limits of the elasticity of the said rubber. This is combination with the construction before described, gives the greates speed and resiliency.
"By reason of the threads being separately cushioned by soft rubber, the whole strength of the fibers is utilized. "As there is absolutely no friction between the threads, they cannot wear each other out. Hence durability is assured.
"As there are but one hundred and twenty threads in the whole tube, each extending spirally around its entire length and embedded in an elastic body, any inequality in tension adjust itself.
"As the tube is seamless, there is no chance of its bursting through bad joints."
THE B.H. GOODRICH CO. AKRON, O.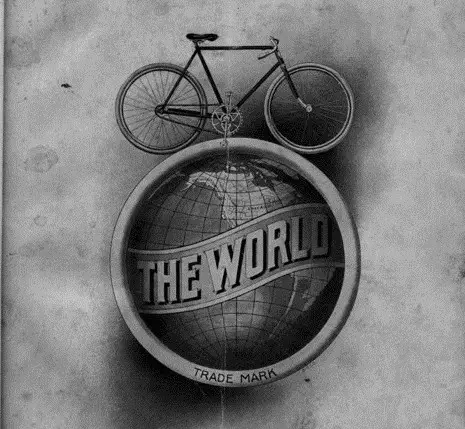 Home / Schwinn Catalogs / 1899