1940 Schwinn Catalog
Original text and images of the 1940 Schwinn sales brochure. The text below, including the prices, are as written in 1940.
Schwinn Built Bicycles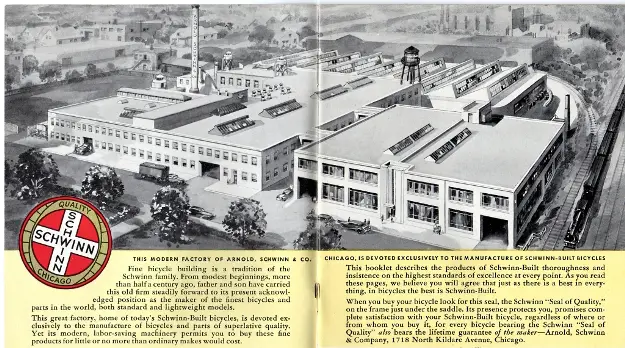 This modern factory of Arnold, Schwinn and Company
Chicago, is devoted exclusively to the manufacture of Schwinn-Built Bicycles
Fine bicycle building is a tradition of the Schwinn family. From modest beginnings, more than half a century ago, father and son have carried this old firm steadily forward to its present acknowledged position as the maker of the finest bicycles and parts in the world, both standard and lightweight models.
This grear factory, home of today's Schwinn-Built bicycles, is devoted exclusively to the manufacture of bicycles and parts of superlative quality. Yet its modern, labor-savong machinery permits you to buy these fine products for little or no more than ordinary makes would cost.
This booklet describes the products of Schwinn-Built thoroughness and insistence on the highest standards of excellence at every point. As you read these pages, we believe you will agree that just as there is a best in everything, in bicycles the best is Schwinn-Built.
When you buy your bicycle look for this seal, the Schwinn"Seal of Quality," on the frame just under the saddle. Its presence protects you, promises complete satisfaction with your Schwinn-Built bicycle, regardless of where or from whom you buy it, for every bicycle bearing the Schwinn "Seal of Quality" also bears the lifetime guarantee of the maker- Arnold, Schwinn and Company, 1718 North Kildare Avenue, Chicago.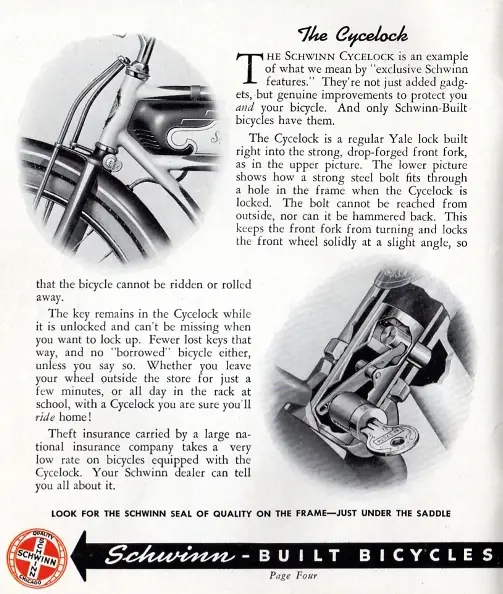 The Cycelock
The Schwinn Cycelock is an example of what we mean by "exclusive Schwinn features." They're not just added gadgets, but genuine improvements to protect you and your bicycle. And only Schwinn-Built bicycles have them.
The Cycelock is a regular Yale lock built right into the strong, drop-forged front fork, as in the upper picture. The lower picture shows hoe a strong steel bolt fits through a hole in the frame when the Cycelock is locked. The bolt cannot be reached from outside, nor can it be hammered back. This keeps the front fork from turning and locks the front wheel solidly at a slight angle, so that the bicycle cannot be ridden or rolled away.
The key remains in the Cycelock while it is unlocked and can't be missing when you want to look up. Fewer lost keys that way, and no "borrowed" bicycle either, unless you say so." Whether you leave your wheel outside the store for just a few minutes, or all day in the rack at school, with a Cycelock you are sure you'll ride home!
Theft insurance carried by a large national insurance company takes a very low rate on bicycles equipped with the Cycelock. Your Schwinn dealer can tell you all about it.
Look for the Schwinn seal of wuality on the frame- Just under the saddle.
Schwinn- Built Bicycles
Model B707- OS
---
This "beauty by Schwinn" is just as safe as it it fast- as tough as it is good looking.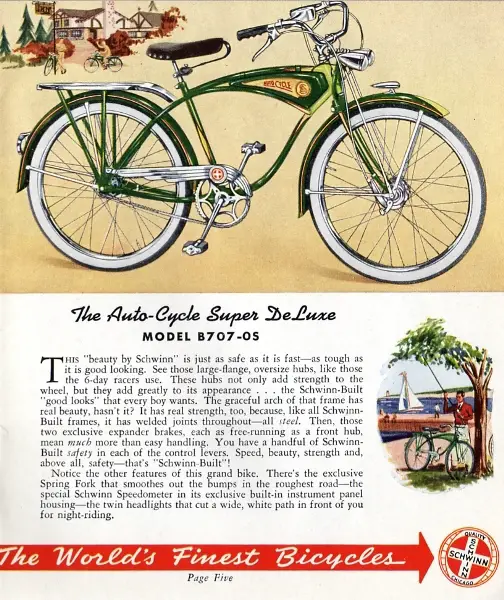 The Auto-Cycle Super De Luxe
See those large-flange, oversize hubs, like those the 6-day racers use. These hubs not only add strength to the wheel, but they add greatly to its appearance... the Schwinn-Built "good looks" that every boy wants.
The graceful arch of that frame has real beauty, hasn't it? It has real strength, too, because, like all Schwinn-Built frame, it has welded joints throughout- all steel. Then, those two exclusive expander brakes, each as free-running as a front hub, mean much more than easy handling. You have a handful of Schwinn-Built safety in each of the control levers. Speed, beauty, strength and above all, safety- that's "Schwinn-Built"!
Notice the other features of this grand bike. There's the exclusive Spring Fork that smoothes out the bumps in the roughest road- the special Schwinn Speedometer in its exclusive built-in instrument panel housing-the twin headlights that cut a wide, white path in front of you for night-riding.
Exclusive Schwinn Expander Brakes
These are the brakes that make Schwinn-Built bicycles these world's safest bicycles. Let's look them over carefully. First, we'll take the one at the top, the exclusive Schwinn Fore Wheel brake, available only on Schwinn-Built bicycles. This is a regular automobile type, internal expanding brake.
It has light, strong shoes lined with genuine Raybestos brake lining exactly like that used in a modern motor car. Controlled by a chrome-plated handle-grip lever that works a steel cable through a special dust and waterproof casing, it slows smoothly or stops on a dime in an emergency.
The brake at the bottom is Schwinn's Exclusive Rear Expander Brake, with built-in free wheeling. It is constructed and controlled in exactly the same manner as the Fore Wheel Brake, and operates with the same safe sureness. These two brakes permit both wheels to run just as freely as the old style brakeless front wheel did.
There's no drag at all because the patented Schwinn construction uses only two sets of load carrying ball bearings on each hub. With the control levers of these two powerful expander brakes at your very fingertips as you ride, you have stopping safety that you can have only on a Schwinn-Built bicycle.
There's always a best- in Bicycle it's Schwinn-Built
Model BA107-OS
---
This fine bicycle, leader of the line, is an example of the way Arnold, Schwinn and Co. combines up-to-the-minute smartness with great strength and velvety smooth riding and handling.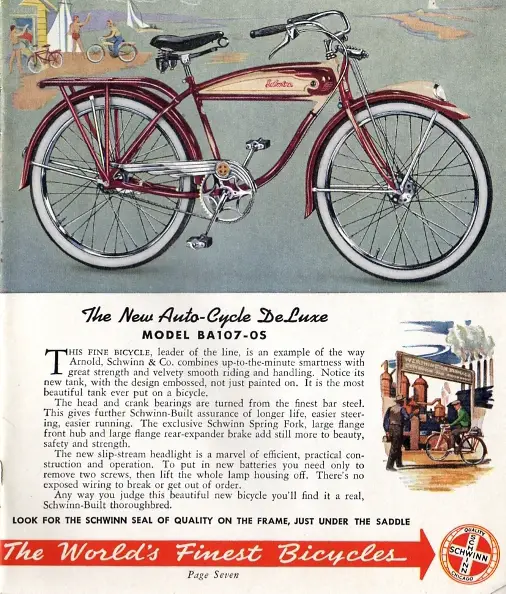 The new Auto-Cycle Deluxe
Notice its new tank, with the design embossed, not just painted on. It is the most beautiful tank ever put on a bicycle.
The head and crank bearing are turned from the finest bar steel. This gives further Schwinn-Built assurance of longer life, easier steering, easier running. The exclusive Schwinn Spring Fork, large flange front hub and large flange rear-expander brake add still more to beauty, safety and strength.
The new slip-stream headlight is a marvel of efficient, practical construction and operation. To put in new batteries you need only to remove two screws, then lift the whole lamp housing off. There's no exposed wiring to break or get out of order.
Any way you judge this beautiful new bicycle you'll find it a real, Schwinn-Built thoroughbred.

Look for the Schwinn seal of quality of the frame, just under the saddle.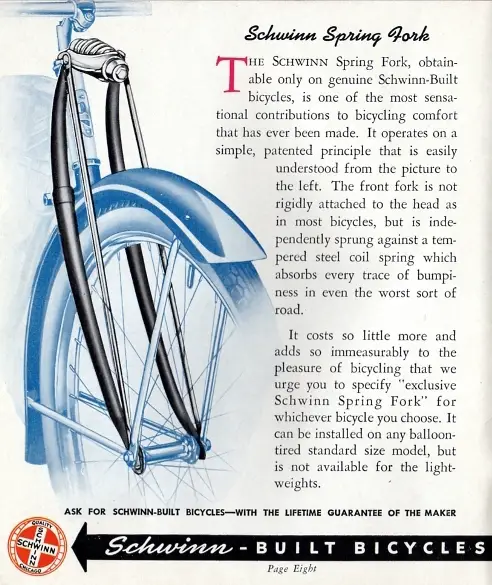 Schwinn Spring Fork
The Schwinn Spring Fork, obtainable only on genuine Schwinn-Built bicycles, is one of the most sensational contributions to bicycling comfort that has ever been made. It operates on a simple, patented principle that is easily understood from the picture to the left. The front fork is not rigidly attached to the head as in most bicycles, but is independently sprung against a tempered steel coil spring which absorbs every trace of bumpiness in even the worst sort of road.
It costs so little more and adds so immeasurably to the pleasure of bicycling that we urge you to specify "exclusive Schwinn Spring Fork" for whichever bicycle you choose. It can be installed on any balloon tired standard size model, but is not available for the lightweights.
Ask for Schwinn- Built Bicycles- with the lifetime guarantee of the maker
Model BA307- OS
---
Smart as the screen stars, lively as the latest hit tunes, and strong as a "Western" hero, the Hollywood, by Arnold, Schwinn and Company, leaves nothing to be desired.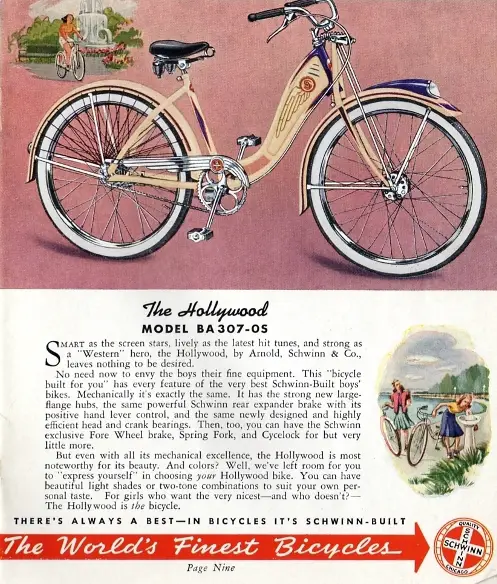 The Hollywood
No need now to envy the their fine equipment. This "bicycles buit for you" has every feature of the very best Schwinn-Built boys' bikes. Mechanically it's exactly the same. It has the strong new large-flange hubs, the same powerful Schwinn rear expander brake with its positive hand lever contro, and the same newly designed and highly efficient head and crank bearings.
Then, too, you can have the Schwinn exclusive Fore Wheel brake, Spring Fork, and Cycelock for but very little more. But even with all its mechanical excellence, the Hollywood is most noteworthy for its beauty. And colors? Well, we've left room for you to "express yourself" in choosing your Hollywood bike.
You can have beautiful light shades or two-tone combinations to suit your own perfonal taste. For girls who want the very nicest- and who doesn't? - The Hollywood is the bicycle.

There's always a Best - in Bicycles it's Schwinn-Built
Model BA37-OS
---
Girls, is all the special equipment on the Hollywood seems a little too much for you and yet you still like those graceful lines, still want the broad choice of colors, then here's the bicycle for you.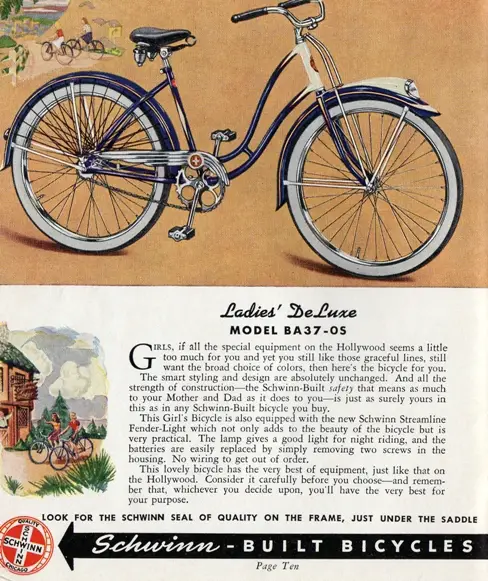 Ladies' Deluxe
The smart styling and design are absolutely unchanged. And all the strength of construction - the Schwinn-Built safety that means as much to your Mother and Dad as it does to you- is just as surely yours in this as in any Schwinn- Built bicycle you buy.
This Girl's Bicycle is also equipped with the new Schwinn Streamline Fender-Light which not only adds to the beauty of the bicycle but is very practical. The lamp gives a good light for night riding, and the batteries are easily replaced by simply removing two screws in the housing. No wiring to get out of order.
This lovely bicycle has the very best of equipment, just like that on the Hollywood. Consider it carefully before you choose- and remember that, whichever you decide upon, you'll have the very best for your purpose.
Model BA97-OS
---
Here is the same bike as in the Deluxe models but without special equipment.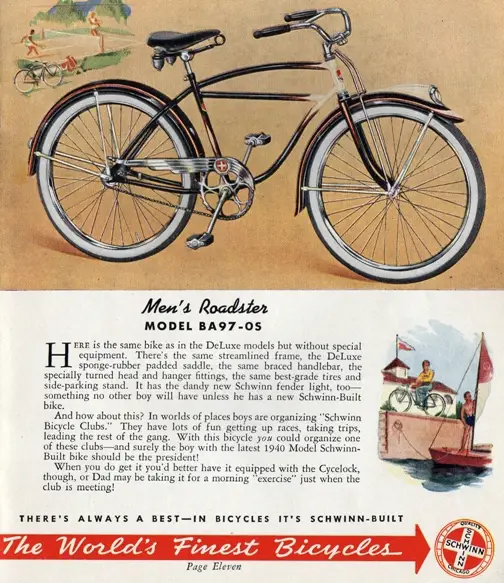 Men's Roadster
There's the same streamlined frame, the Deluxe sponge-rubber padded saddle, the same braced handlebar, the specially turned hear and hanger fittings, the same best-grade tires and side-parking stand. It has the dandy new Schwinn fender light, too something no other boy will have unless he has a new Schwinn-Built bike.
And how about about this? In words of places boys are organizing "Schwinn Bicycle Clubs." They have lots of fun getting up races, taking trips, leading the rest of the gang. With this bicycle you could organize one of these clubs- and surely the boy with the latest 1940 Model Schwinn-Built bike should be the president!
When you do get it you'd better have it equipped with the Cycelock, though, or Dad may be taking it for a morning "exercise" just when the club is meeting!
Model D37XE-OS
---
Of true Schwinn-Built quality throughout, this attractive bicycle is just the thing for those who want the very best for less money.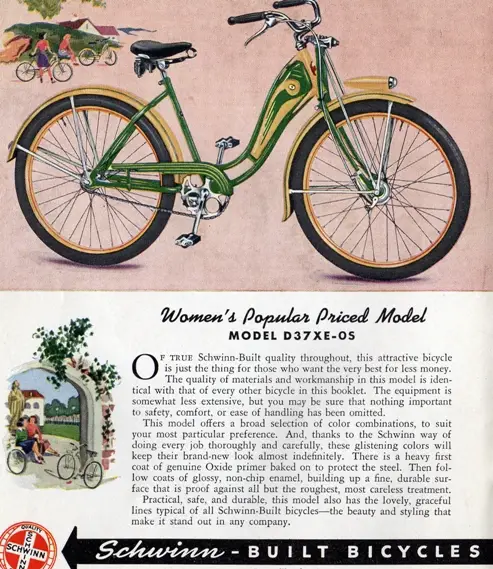 Women's Pupolar Priced Model
The quality of materials and workmanship in this model is identical with that of every other bicycle in this booklet. The equipment is somewhat less extensive, but you may be sure that nothing important to safety, comfort, or ease of handling has been omitted.
This model offers a broad selection of color combinations, to suit your most particular preference. And, thanks to the Schwinn way of doing every job thoroughly and carefully, these glistening colors will keep their brand-new look almost indefinitely. There is a heavy first coat of genuine Oxide primer baked on to protect the steel.
Then follow coats of glossy, non-chip enamel, building up a fine, durable surfeace that is proof against all but the roughest, most careless treatment.
Practical, safe, and durable, this model also has the lovely, graceful lines typical of all Schwinn-Built bicycles- the beauty and styling that make it stand out in any company.
Model D97XE-OS
---
Rugged is the word for this good-looking moderately priced Schwinn-Built bicycle. If you want real beauty of line combined with the strength and stamina of a Schwinn-Built wheel, this is the model for you.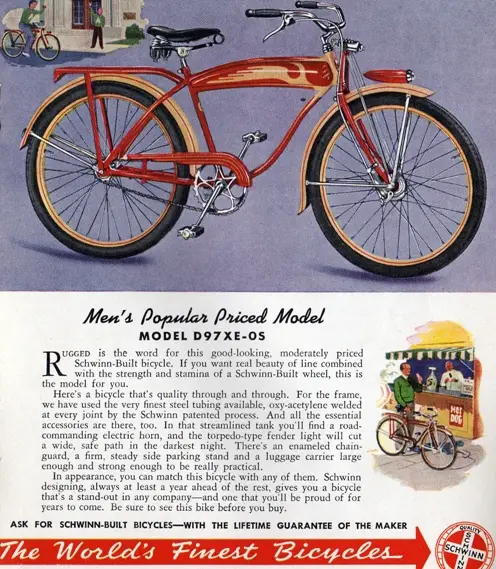 Men's Popular Priced Model
Here's a bicycle that's quality through and through. For the frame, we have used the very finest steel tubing available, oxy-acetylene welded at every joint by the Schwinn patented process. And all the essential accessories are there, too. In that streamlined tank you'll find a road commanding electric horn, and the torpedo-type fender light will cut a wide, safe path in the darkest night.
There's an enameled chainguard, a firm, steady side parking stand and a luggage carrier large enough and strong enough to be really practical. In appearance, you can match this bicycle with any of them. Schwinn designing, always at least a year ahead of the rest, gives you a bicycle that's a stand-out in any company- and one that you'll be proud of for years to come. Be sure to see this bike before you buy.
A game... and a Name
Bicycle racing reached a fever of enthusiasm in the "nineties" that has seldom been equaled in any sport. Amateurs and professionals were constantly competing in cross- country runs, long-distance records, races "on the boards," and paced speed trials run behind four, five and even six place multicycles.
It was duaring this period, when bicycles were receiving the most exhaustive road and track test imaginable, that Arnold, Schwinn and Company became a name to reckon with in the racing game. The famous Schwinn teams and individual riders swept to victory time after time, setting records for speed and distance.
The Schwinn name became known as the badge of championship in competition and the choice of cycling America in recreation.
Arnold, Schwinn and Company has maintained, for nearly fifty years, this early established reputation for manufacturing the best in bicycles. Constant improvement of methods for fine bicycle building have now developed the Schwinn "Paramount," the twentieth century's recognized champion of amateur and professional racing, and the ultimate in bicycling luxury for all spoting riders.
Modern methods of manufacture have improved the bicycle and reduced the price sharply from the days when a Schwinn "World" was considered reasonably priced at one hundred and twenty-five dollars. Today's featherweight racer costs half a hundred dollars less than that and is stronger and faster than the "scorchers" of 1890 ever dreamed a bicycle could be.
So, as in the bicycle industry itself, Arnold, Schwinn and Company has been and is now a leader in the game of bicycle racing. More than half of today's 6-day riders have given up their foriegn cycles and now ride the Schwinn "Paramount" and all bicycle enthusiasts who want the unqualified BEST, for racing or touring, know that "in bicycles it's Schwinn-Built."
Paramount Racer
---
The craftsmanship that goes into a Paramount Racer is a precise as that on fine watch. Yet perfection of material and excellence of engineering design permit the Paramount to "take" hour after hour of relentles speed under the most powerful rider in six-day and cross-country racing.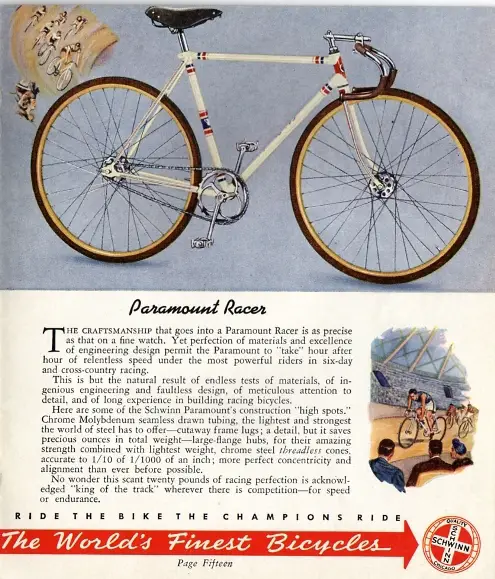 This is but the natural result of endless test of materials, of ingenious engineering and faultless design, of meticulous attention to detail, and of long experience in building racing bicycles.
Here are some of the Schwinn Paramount's construction "high sports." Chrome Molybdenum seamless drawn tubing, the lightest and strongest the world of steel has to offer- cutaway frame lugs; a detail, but it saves precious ounces in total weight- large-flange hubs, for their amazing strength combined with lightest weight, chrome steel threadless cones, accurate to 1/10 of 1 /1000 of an inch; more perfect concentricity and alignment than ever before possible.
No wonder this scant twenty pounds of racing perfection is acknowledged "king of the track" wherever there is competition - for speed or endurance.
See the complete history of the Schwinn Racer.
Six-Day Racing
Boys, have you ever seen a Six-Day Bike Race? It is a thrilling specatable- daring riders hair raising sprints and jams, crashes and spills, thousands of spectators cheering their favorites.
Round and round they go on the littler saucer tracks, 10 to 14 laps to the mile, and one member of each two-men team must always be on the track riding, for six days and seven nights.
Six-Day Racing is not only a test of endurance and speed of the riders, but is the severest test that can be given a bicycle.
Schwinn Paramount's great record during the 1939 racing season
Schwinn Paramount racers won 5 races, second 5 races
Famous American stars, including Bobby Thomas, Cecil Yates, Charlie Bergna, Jimmy Walthour, Al Crossley, "Cocky" O'Brien, Jerry Rodman, Jerry Debaets, Jules Audy and Freddie Ottevaere rode Schwinn Paramount Racers and say they are the best built and fastest bicycles they ever rade.
Today Schwinn Racing bicycles and bicycles parts are recognized by Professionals and Amateurs as the finest in the world.
These famous bicycles are also built in Touring and Club Sport models for everyday use for men and women who want to get the greatest pleasure and healthful exerciser from cycling.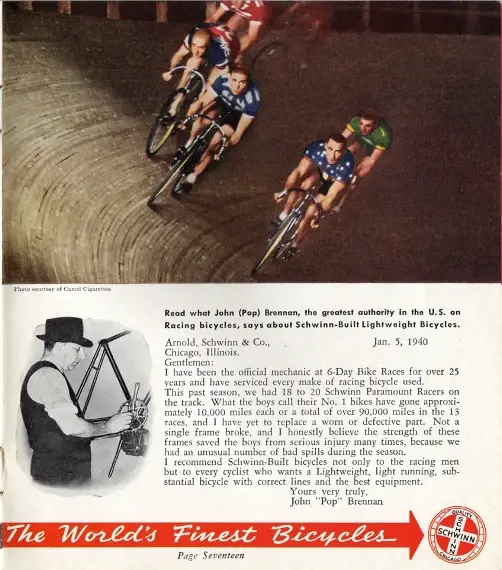 Road what John (Pop) Brennan, the greatest authority in the U.S. on Racing bicycles, says about Schwinn-Built lightweight Bicycles.
Jan. 5, 1940
Arnold, Schwinn and Company
Chicago, Illinois
Gentlemen
I have been the official mechanic at 6-Day Bike Races for over 25 years and have serviced every make of racing bicycle used. This past season, we had 18 to 20 Schwinn Paramount Racers on the track. What the boys call their No. 1 bikes have gone approximately 10, 000 miles each or a total of over 90,000 miles in the 13 races, and I have yet to replace a worn of defective part.
Not a single frame broke, and I honestly believe the strength of these frames saved the boys from serious injury many times, because we had an unusual number of bad spills during the season.
I recomment Schwinn-Built bicycles not only to the racing men but to every cyclist who wants a Lightweight, light running, substantial bicycle with correct lines and the best equipment.

Yours Very Truly,
John "Pop" Brennan
Superior Men's Sports-Tourist
---
Doesn't the very picture of this bicycle suggest to you a new kind of vacation this year? Bicycle touring, for years a European pleasure, has become one of America's most fascinating and least expensive sports since the advent of the Schwinn Superior Sports Tourist, available in both Ladies' and Men's models.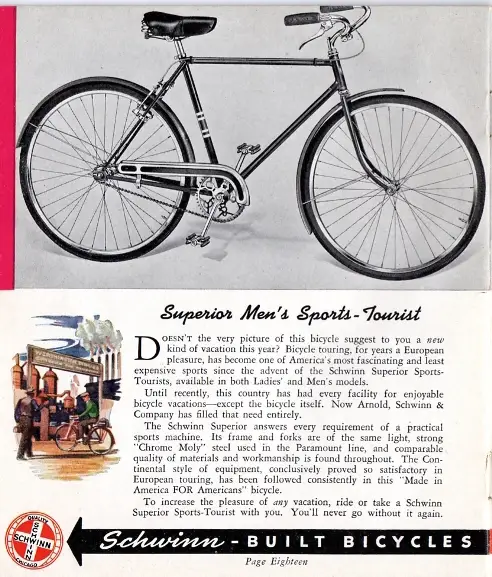 Until recently, this country has had every facility for enjoyable bicycle vacations- except the bicycle itself. Now Arnold, Schwinn and Company has filled that need entirely.
The Schwinn Superior answers every requirement of pratical sports machine. Its frame and forks are of the same light, strong "Chrome Moly" steel used in the Paramount line, and comparable quality f materials and workmanship is found throughout. The Continental style of equipment, conclusively proved so satisfactory in European touring, has been followed consistently in this "Made in America FOR Americans" bicycle.
To increase the pleasure of any vacation, ride or take a Schwinn Superior Sports-Tourist with you. You'll never go without it again.
See the complete history of the Schwinn Superior.
Paramount Men's Sports-Tourist
---
Blood brother to the famous Paramount Racer, the Sports-Tourist is cut from the same pattern, of identical materials.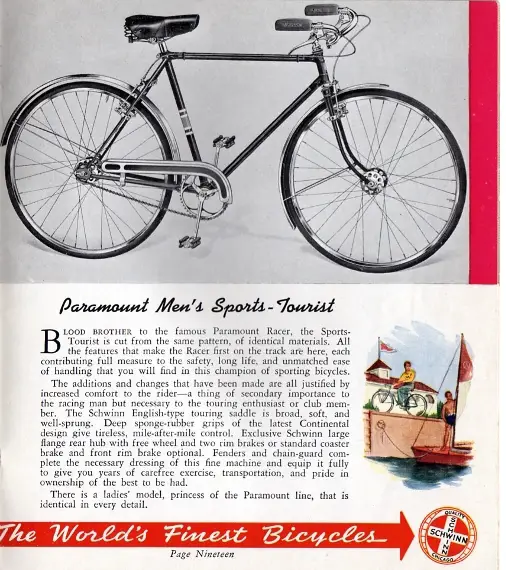 All the features that make the Racer first on the track are here, each contributing full measure to the safety, long life, and unmatched case of handling that you will find in this champion of sporting bicycles.
The additions and changes that have been made are all justified by increased comfort to the rider- a thing of secondary importance to the racing man but necessary to the touring enthusiast or club member. The Schwinn English-type touring saddle is broad, soft, and well-sprung. Deep sponge-rubber grips of the latest Continental design give tireless, mile-after-mile control.
Exclusive Schwinn large flange rear hub with free wheel and two rim brakes or standard coaster brake and fromt rim brake optional. Fenders and chain-guard complete the necessary dressing of this fine machine and equip it fully to give you years of carefree exercise, transportation, and pride in ownership of the best to be had.

There is a ladies' model, princess of the Paramount line, that is identical in every detail.
Model W3MFC
---
Blood brother to the famous Paramount Racer, the Sports-Tourist is cut from the same pattern, of identical materials.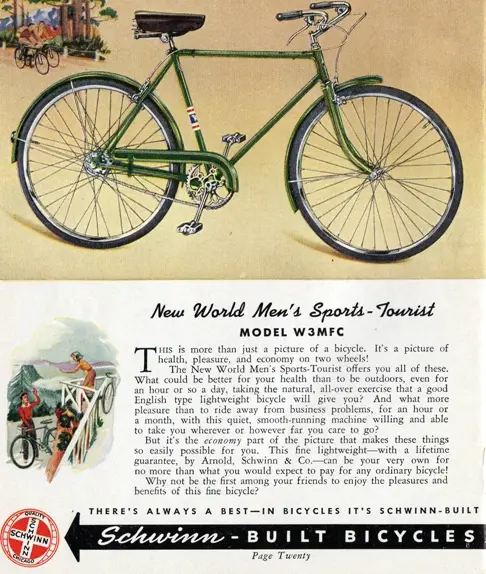 New World Men's Sport-Tourist
This is more than just a picture of a bicycle. It's a picture of health, pleasure, and economy on two wheels!
The New world Men's Sports-Tourist offers you all of these. What could be better for your health than to be outdoors, even for an hour or so a day, taking the natural, all-over exercise that a good English type lightweight bicycle will give you? And what more pleasure than to ride away from business problems, for an hour or a month, with this quiet, smooth-running machine willing and able to take you wherever or however far you care to go?
But it's possible for you. This fine lightweight-with a lifetime guarantee, by Arnold, Schwinn and Co. - can be your very own for no more than what you would expect to pay for any ordinary bicycle! Why not be the first amond your friends to enjoy the pleasure and benefits of this fine bicycle?
Model W3LFC
---
Arnold, Schwinn and Co. presents the "New World" - a high quality, popularity-priced lightweight bicycle, most recent member of the Schwinn-Built family.
New World Ladies' Sports-Tourist
This New World Ladies' Sports-Tourist is a sturdy built, easy running mount, designed for adults on the approved English style and offered at a price no higher than that of the heavier, balloon-tired models. It has every feature essential to riding ease and continued trouble-free service. Built to be ridden hard, this attractive bicycle combines the best of materials, parts and accessories. The same careful workmanship that characterizes all Schwinn-Built bicycles is naturally precent.
The combined result of materials and experience is a bicycle the price or which fails utterly to reflect its unusually high quality.

Step into the modern tempo with the New World Ladies' Tourist. For health, for figure, for sheer enjoyment, bicycling it the thing and this is the bicycle!
Model W3R
---
Until Recently, serious bicycle racing has been more expensive than many who were interested could afford, and the major part of this expense has been the bicycle itself.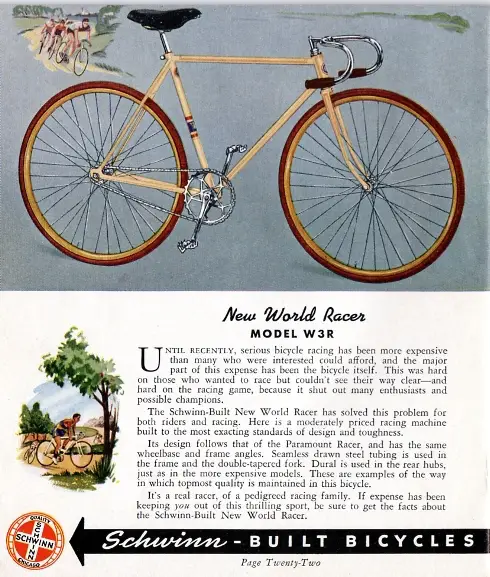 New World Racer
This was hard on those who wanted to race but couldn't see their way clear- and hard on the racing game, because it shut out many enthusiasts and possible champions.
The Schwinn-Built New World Racer has solved this problem for both riders and racing. Here is a moderately priced racing machine built to the most exacting standards of design and toughness.
Its design follows that of the Paramount Racer, and has the same wheelbase and frame angles. Seamless drawn steel tubing is used in the frame and the double-tapered fork. Dural is used in the rear hubs, just as in the more expensive models. These are examples of the way in which topmost quality is maintained in this bicycle.
It's a real racer, of a pedigreed racing family. If expense has been keeping you out of this thrilling sport, be sure to get the facts about the Schwinn-Built New World Racer.
Schwinn Cycle Truck
---
So you're going into business for yourself! That's fine- and the best of luck to you!
Here's a tip.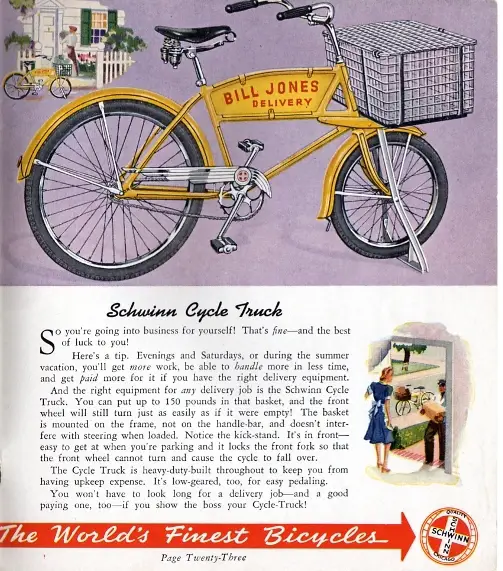 Evenings and Saturdays, or during the summer vacation, you'll get more work, be able to handle more in less time, and get paid more for it if you have the right delivery equipment.
And the right equipment for any delivery job is the Schwinn Cycle Truck. You can put up to 150 pounds in that basket, and the front wheel will stell turn just as easily as if it were empty! The basket is mounted on the frame, not on the handle-bar, and doesn't interfere with steering when loaded. Notive the kick-stand. It's in front easy to get at when you're parking and it locks the front fork so that the front wheel cannot turn and cause the cycle to fall over.
The cycle Truck is heavy-duty-built throughout to keep you from having upkeep expense. It's low-geared, too, for easy pedaling.

You won't have to look long for a delivery job- and a good paying one, too- if you show the boss your Cycle-Truck!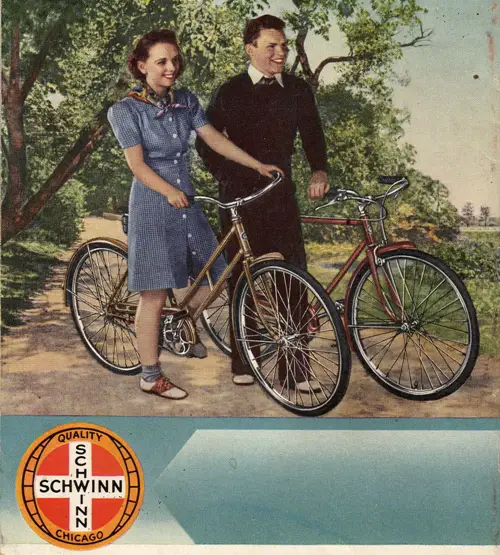 Home / Schwinn Catalogs / 1940