1984 Schwinn Catalog
Original text and images of the 1984 Schwinn sales brochure. The text below, including the prices, are as written in 1984.
Schwinn Lightweight Bicycles- 1984
The Schwinn Difference
A lot of people like bicycles. But the people here at Schwinn live bicycles. Our managers, designers, and engineers often spend as much time in the saddle as they do in the office. Finding our first hand everything they can about the absolute latest in cycling componentry.
Around the world, no less than ten Schwinn racing teams are doing the very same. Testing componentry like aerodynamic wheels. Testing frames with exotic geometry. (In fact, their skills and knowledge are so well respected, they're even testing a line of racing shoes for a major manufacturer.) In the end, we do it all, all for a single purpose. To simply make Schwinn the premier bicycle in the world.
Some Of What
In racing, it's critical for a bike to track straight. One way to do this we've discovered, is by varying the frame tube gauges. By applying this knowledge in production, we were able to give even our less expensive bikes superior handling.
Conventional thinking dictates that every touring bicycle should have a 72" seat and head angle. Not so. At Schwinn we've found that by varying this angle slightly for each frame size, we can better fit our bikes to each individual rider. To give them a machine that's not only more comfortable to ride, but one that also performs better.
1983 Schwinn Bicycle Co. Printed in U.S.A.
Your Bicycling Recreation Center
Schwinn bicycles are sold and serviced by a nationwide network of Authorized Schwinn Dealers, who have the know how, accessories and parts to provide for your cycling enjoyment. Schwinn Dealers are factory trained; they are the recognized professionals serving you under the Schwinn Five-Point Protection Plan and the Schwinn No-Time-Limit-Warranty.
Schwinn 5-Point Protection Plan
1. We will expertly assemble your Schwinn bicycle so it's ready to ride at no extra cost.
2. Our remarkable No-Time-Limit Warranty will protect your Schwinn bicycle.
3. We will fit your Schwinn bicycle to the rider for added safety and comfort.
4. We will give your new Schwinn bicycle a free 30-day tune-up.
5. We carry a full stock of repair and replacement parts and provide professional, factory-trained service.
The Schwinn Difference
Today, as for four generations, Schwinn continues to design and build high quality, dependable bicycles. Schwinn has never set a time limit on its warranty and our self-imposed obligations to you, the cyclist. That's our pledge. That makes the Schwinn Difference.
Schwinn Custom Paramount
---
Since 1938, the concept behind the Schwinn Paramount has been specific and enwavering; the being to built the ultimated handcrafted bicycle.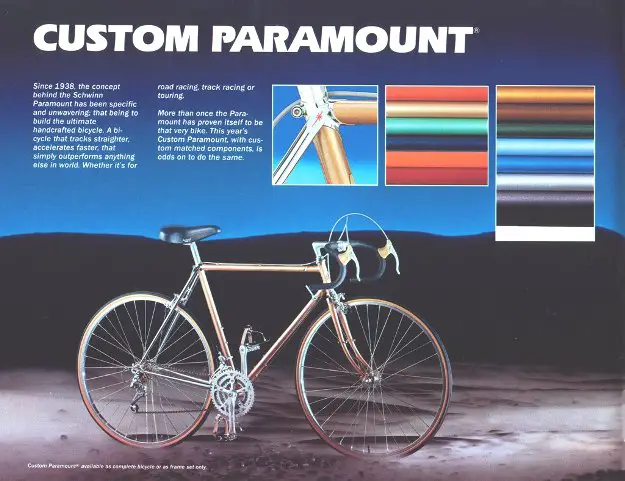 A bicycle that tracks straighter, accelerates faster, that simply outperforms anything else in world. Whether it's for road racing, track racing or touring.
More than once the Paramount has proven itseld to be that very bike. This year's Custom Paramount, with custom matched components, is odds on to do the same.
Schwinn Paramount
---
Every Paramount frame is super rigid- handmade from a custom mix of Columbus SL and SP tubing.
And every Paramount is precisely aligned to a tolerance of five thousandths of an inch.
There are 13 sizes to choose from, in ten colors, each fitted with all the braze-ons you would expect on a World Class bicycle.
Schwinn Competition Peloton
---
It's called Peloton. And it's purely for riders on the leading edge.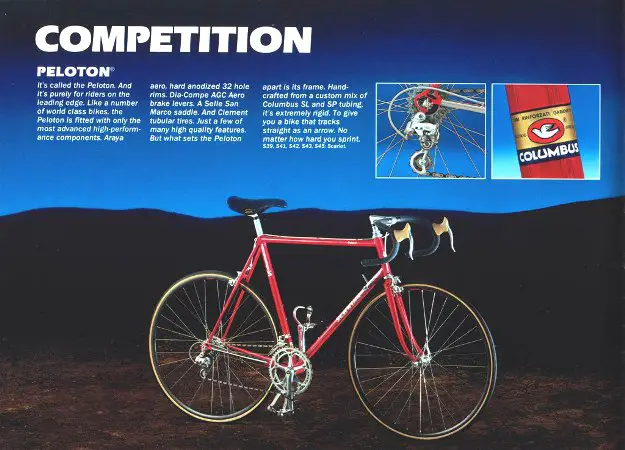 Like a number of world class bikes, the Peloton is fitted with only the most advanced high-performance components. Araya aero, hard anodized 32 hole rims. Dia-Compe AGC Aero brake levers. A Selle San Marco saddle. And Clement tubular tires. Just a few of many high quality features. But what sets the Peloton apart is its frame. Handcrafted from a custom mix of Columbus SL and Sp tubing, it's extremely rigid. To give you a bike that tracks straight as an arrow. No matter how hard you sprint.
Scarlet
Schwinn Super Sport
---
The Super Sport is built for racing. Pure and simple.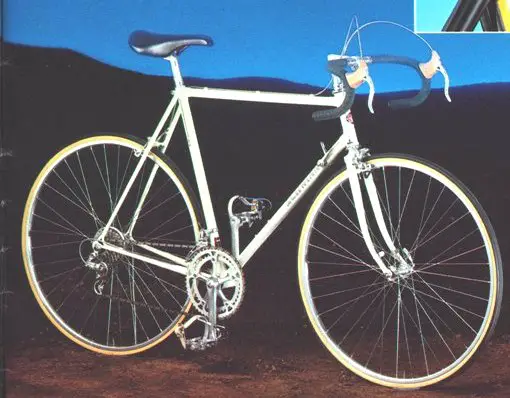 As just a glance at its specs reveals. The SunTour Cyclone MK II derailleurs practically make the chain dance from gear to gear. While its rigid custom blended Champion tubing keeps the Super Sport tracking straight every time you jump on it. The Super Sport is also set up with stainless steel spokes. So no matter how massive your muscles, it's ready to handle the torque.
Warm Grey or Pearl White.
See the complete history of the Schwinn Sport.
Schwinn Tempo
---
The Tempo is for people who only want to travel at one speed: flat out fast.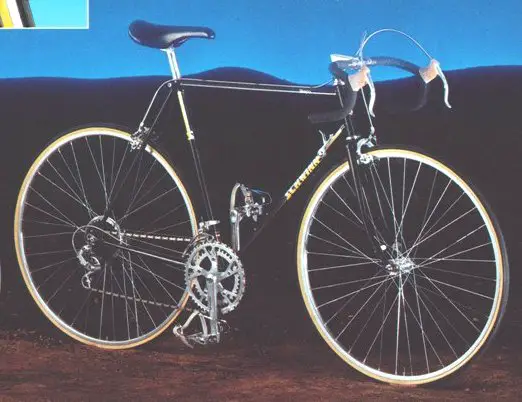 Whether they're racing, or simply blowing by someone on the street. The shift levers and derailleurs are all part of the new "Shimano Z" component group. Mounted on a frame that's a special blend of Champion chrome-moly tubing. The fork tips and drop-outs have been chrome-plated, and the seat post lug (pictured at left) has been investment cast. To give it extra strength. And just as importantly, to give the Tempo an absolutely beautiful finish.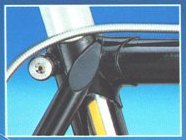 Black or Champagne.
Schwinn Voyageur SP
---
When someone is more than serious about touring, when wanderlust fills the heart, it's always easy to tell.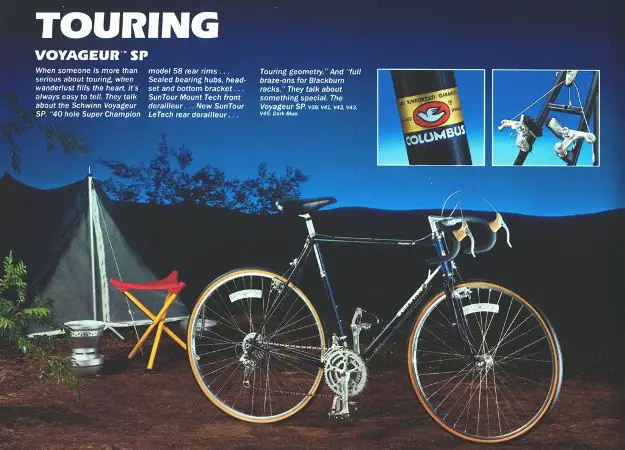 They talk about the Schwinn Voyageur SP. "40 hole Super Champion model 58 rear rims... Sealed bearing hubs, headset and bottom bracket... SunTour Mount Tech front derailleur...New SunTour LeTech rear derailleur... Touring geometry. "And "full braze-ons for Blackburn racks." They talk about something special. The Voyageur SP.
Dark Blue.
See the complete history of the Schwinn Voyageur.
Schwinn Voyageur
---
The Schwinn Voyageur, as the same implies, is built for serious touring.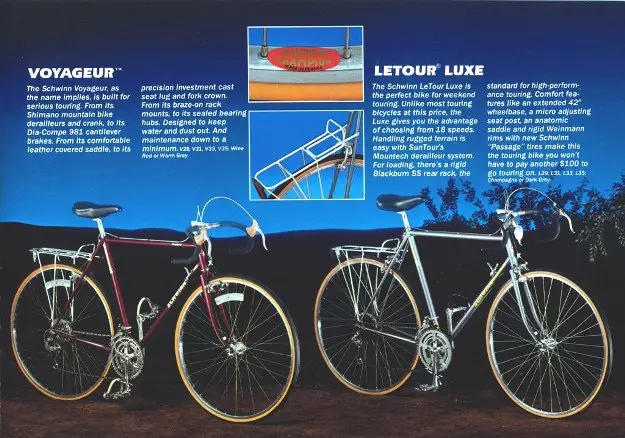 From its Shimano mountain bike derailleurs and crank, to its Dia-Compe 981 cantilever brakes. From its comfortable leather covered saddle, to its precision investment cast seat lug and fork crown. From its braze-on rack mounts, to its sealed bearing hubs. Designed to keep water and dust out. And maintenance down to minimum.
Wine Red or Warm Grey.
See the complete history of the Schwinn Voyageur.
Schwinn LeTour Luxe
---
The Schwinn LeTour Luxe is the perfect bike for weekend touring. Unlike most touring bicycles at this price, the Luxe gives you the advantage of choosing from 18 speeds. Handling rugged terrain is easy with SunTour's.
Mountech derailleur system. For loading, there's a rigid Blackburn SS rear rack, the standard for high-performance touring. Comfort features like and extended 42" wheelbase, a micro adjusting seat post, an anatomic saddle and rigid Weinmann rims with new Schwinn "Passage" tires make this the touring bike you won't have to pay another $100 to go touring on.
Champagne or Dark Grey.
See the complete history of the Schwinn Letour.
Schwinn High Sierra
---
Escape to the adventures of off-road biking.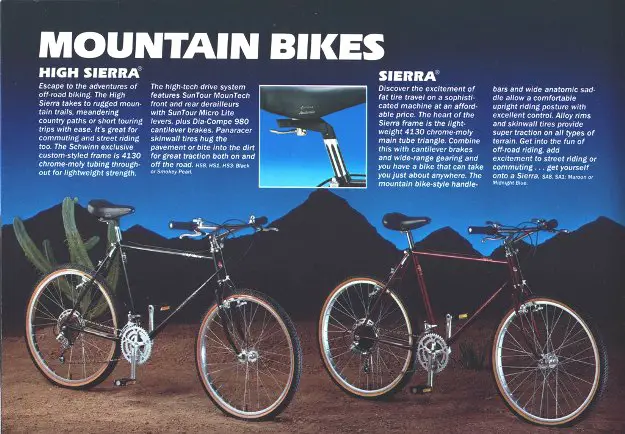 The High Sierra takes to rugged mountain trails, meandering country paths or short touring trips with ease. It's great for commuting and street riding too. The Schwinn exclusive custom-moly tubing throughout for lightweight strength.
The high-tech drive system features SunTour MounTech front and rear derailleurs with SunTour Micro Lite levers, plus Dia-Compe 980 cantilever brakes. Panaracer skinwall tires hug the pavement or bite into the dirt for great traction both on and off the road.
Black or Smokey Pearl.
Schwinn Sierra
---
Discover the excitement of fat tire travel on a sophisticated machine at an affordable price. The heart of the Sierra frame is the lightweight 4130 chrome-moly main tube triangle. Combine this with cantilever brakes and wide-range geaering and you have a bike that can take you just about anywhere. The mountain bike-style handlebars and wide anatomic saddle allow a comfortable upright riding posture with excellent control. Alloy rims and skinwall tires provide super traction on all types of terrain. Get into the fun of off-road riding, add excitement to street riding or commuting... get yourseld onto a Sierra.
Maroon or Midnight Blue.
See the complete history of the Schwinn Sierra.
Schwinn Mesa Runner
---
Get an all terrain bike that's at home almost anywhere... the Mesa Runner.
Explore off-road trails, go for short touring trips, commute to work or to school, or just run around town, you'll get the same great ride everywhere. The hi-tensile steel frame is designed for stability and durability. High-performance components include alloy crank. SunTour front and rear derailleurs, alloy sidepull brakes, and platform pedals, Wide, pliable tires provide good traction on all kinds of surfaces. Grab the fun and freedom of all-terrain riding on the Mesa Rubber.
Charcoal or Maroon.
Schwinn SideWinder
---
Jump on and grab the fun of off-road riding or put a little kick into regular street riding. The Sidewinder bike features a durable hi-tensile steel frame and fork. Reliable components include a steel crankset. Huret front and SunTOur rear derailleurs, alloy sidepull brakes, and rattrap pedals. The handlebar is designed to allow a comfortable upright riding position. The wide, pliable tires give great traction on smooth or rough surfaces. Try the Sidewinder, a bike that's built for fun, but also built to last.
Chestnut.
Schwinn Super LeTour
You're looking at one of the most sophisticated, mid-priced, recreational bikes around.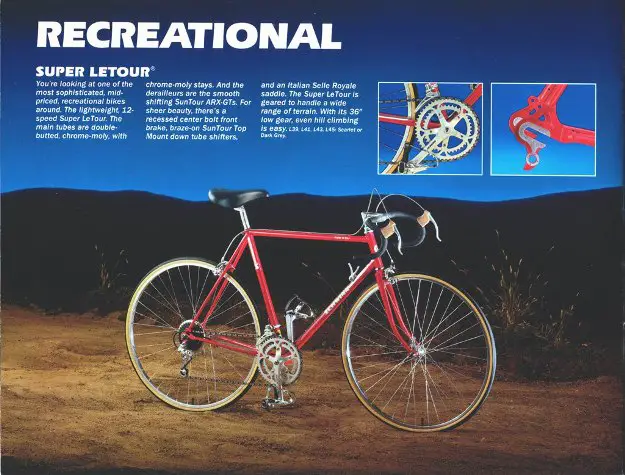 The lightweight, 12-speed Super LeTour. The main tubes are double butted, chrome-moly, with chrome-moly stays. And the derailleurs are the smooth shifting SunTour ARX-GTs. For sheer beauty, there's a recessed center bolt front brake, braze-on SunTour Top Mount down tube shifters, and an italian Selle Royale saddle. The Super LeTour is geared to handle a wide range of terrain. With its 36" low gear, even hill climbing is easy.
Scarlet or Dark Grey.
Schwinn LeTour
---
The high styled 12-speed LeTour is loaded with many of the same features as the high priced "pro" bicycles.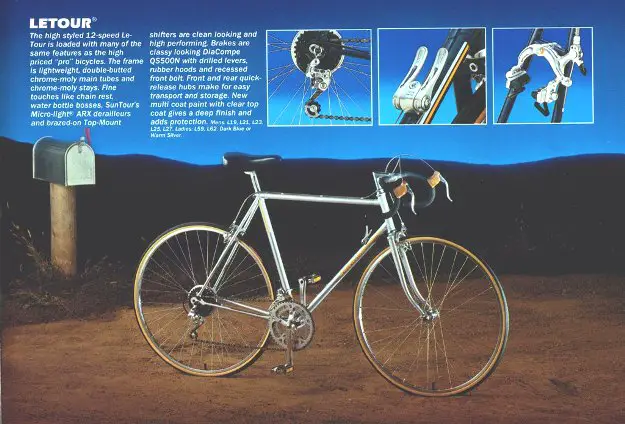 The frame is lightweight, double-butted chrome-moly main tubes and chrome-moly stays. Fine touches like chain rest, water bottle bosses. SunTour's Micro-light ARX derailleurs and brazed-on Top-Mount shifters are clean looking and high performing. Brakes are classy looking DiaCompe QS500N with drilled levers, rubber hoods and recessed front bolt. Front and rear quick-release hubs make for easy transport and storage. New multi coat paint with clear top coat gives a deep finish and adds protection.
Mens: L19, L21, L23, L25, L27.
See the complete history of the Schwinn Letour.
Schwinn LeTour
---
Dark Blue or Warm Silver.
Schwinn Traveler
---
The Schwinn Traveler 12 speed is the most popular bike in the Schwinn lightweight line.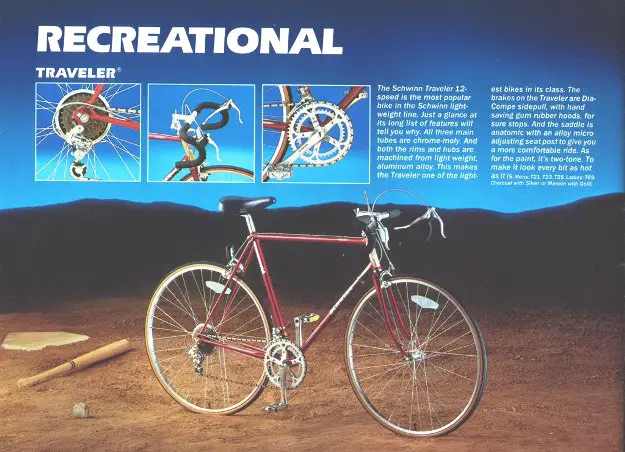 Just a glance at its long list of features will tell you why. All three main tubes are chrome-moly. And both the rims and hubs are machined from light weight, aluminum alloy. This makes the Traveler one of the lightest bike in its class. The brakes on the Traveler are DiaCompe sidepull, with hand saving gum rubber hoods, for sure stops. And the saddle is anatomic with an alloy micro adjusting seat post to give you a more comfortable ride. As for the paint, it's two-tone. To make is look every bit as hot as it is.
See the complete history of the Schwinn Traveler.
Schwinn Traveler
---
Charcoal with Silver or Maroon with Gold.
Schwinn World Sport
---
The 1984 World Sport 12 speed is equipped with so many high end features, it begs for comparison with any other bike near this price.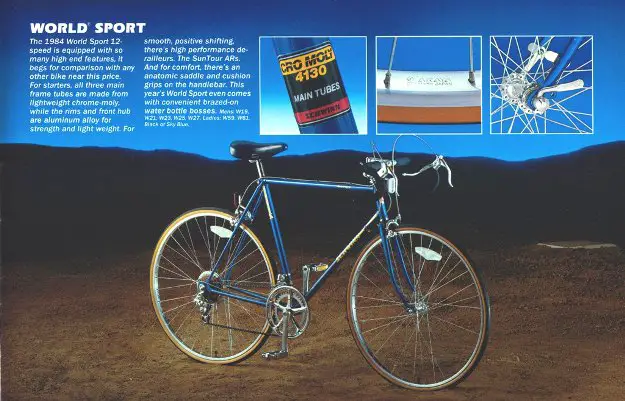 For starters, all three main frame tubes are made from lightweight chrome-moly, while the rims and front hub are aluminum alloy for strength and light weight. For smooth, positive shifting, there's high performance derailleurs. The SunTour ARs. And for comfort, there's an anatomic saddle and cushion grips on the handlebar. This year's World Sport even comes with convenient brazed-on water bottle bosses.
Mens: W19, W21, W23, W25, W27.
See the complete history of the Schwinn World.
Schwinn World Sport
---
Black or Sky Blue.
Schwinn World
---
The Schwinn World 10-speed is ready to take on the world with its new lightweight rugged frame and new Shimano derailleurs.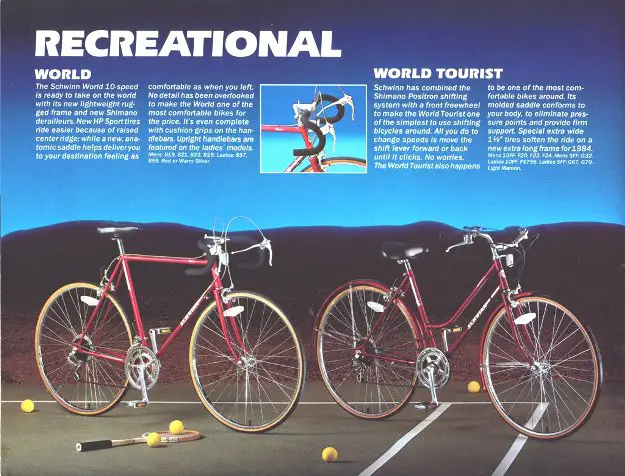 New HP Sport tires ride easier because of raised center ridge; while a new, anatomic saddle helps delivery you to your destination feeling as comfortable as when you left. No detail has been overlooked to make the World one of the most comfortable bikes for the price. It's even complete with cushion grips on the handlebars. Upright handlebars are features on the ladies' models.
Mens: 819, 821, 823, 825.
See the complete history of the Schwinn World.
Schwinn World
---
Red or Warm Silver.
Schwinn World Tourist
---
Schwinn has combined the Shimano Positron shifting system with a front freewheel to make the World Tourist one of the simplest to use shifting bicycles aroung. All you do to change speeds is move the shift lever forward or back until it clicks. No worries. The World Tourist also happens to be one of the most comfortable bikes around. Its molded saddle conforms to your body, to eliminate pressure points and provide firm support. Special extra wide 1 3/8" tires soften the ride on a new extra long frame for 1984.
Mens 10FF: F20, F22, F24.
Mens 5 FF: G32.
Schwinn World Tourist
---
Ladies' 10FF: FS756.
Ladies' 5FF: G67, G70.
Light Maroon.
Schwinn Collegiate
---
The Schwinn Collegiate 3-speed is one of the best values in cycling today.
To begin with, it feaetures an easy to use coaster brake on a new lightweight, lugged frame that has been extended in length for even, easier riding. The fenders, handlebars, and crank have been redesigned as well making it even more attractive than before. This year's Collegiate is also sporting a new, molded spring saddle. A saddle so comfortable, it's the next best thing to riding on a pillow.
Schwinn Collegiate
---
Sky Blue.
Schwinn Cruisers
---
Coaster and 5-Speed
Go cruising ... take in the scene at the beach, ride country roads or spin around town on a classic.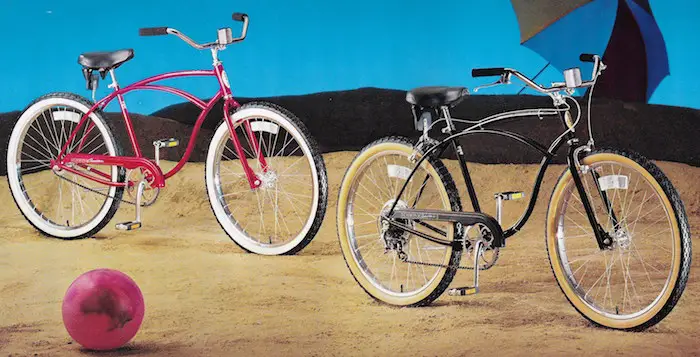 The durable Schwinn cantilever steel frame has been updated with tubular leading axle front fork and cushioned hand grips. It's designed for comfortable riding with a padded saddle and wide whitewall tires that ride smooth over almost any terrain. The Cruiser is a single speed bicycle. The Cruiser 5 has 5-speed gears and hand brakes for greater versatility and range.
CC7 available in Cardinal Red or Black
CC5 available in Cardinal Red or Black
See the complete history of the Schwinn Cruiser.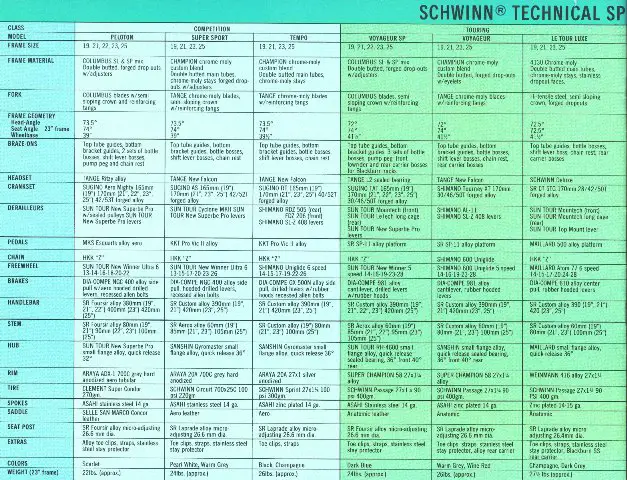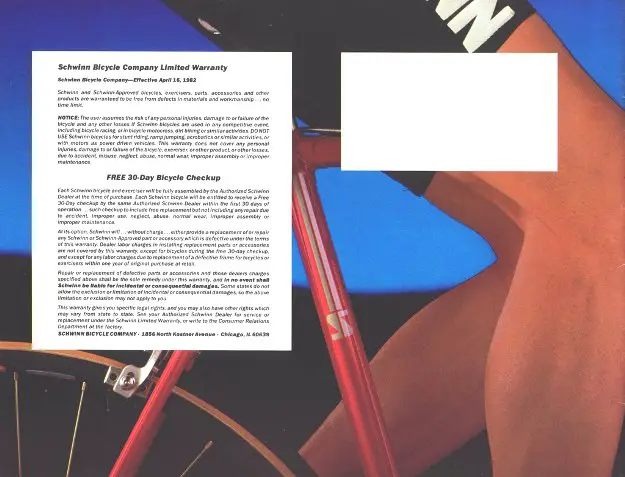 Schwinn Bicycle Company Limited Warranty
Schwinn Bicycle Company- Effective April 16, 1982
Schwinn and Schwinn-Approved bicycles, exercisers, parts and accessories and other products are warranted to be free from defects in materials and workmanship... no time limit.
Notice:
The user assumes the risk of any personal injuries, damage to or failure of the bicycle and any other losses if Schwinn bicycles are used in any competitive event, including bicycle racing, or in bicycle motorcross, dirt biking or similar activities. DO NOT USE Schwinn bicycles for stunt riding, ramp jumping, acrobatics or similar activities, or with motors as power driven vehicles. This Warranty does not cover any personal injuries, damage to or failure of the bicycle, exerciser, or other product, or other losses due to accident, misuse, neglect, abuse, normal wear, improper assembly or improper maintenance.
Free 30-Day Checkup
Each Schwinn bicycle and exerciser will be fully assembled by the Authorized Schwinn Dealer at the time of purchase. Each Schwinn bicycle will be entitled to recieve a free 30-day Checkup by the same Authorized Schwinn Dealer within the first 30 days of operation...such checkup to include free replacement but not including any repair due to accident, improper use, neglect, abuse, normal wear, improper assembly or improper maintenance.
As its option, Schwinn will... without charge... either provide a replacement of or repair any Schwinn or Schwinn-Approved part of accessory which is defective under the terms of this warranty. Dealer labor charges in installing replacement parts or accessories are not covered by this warranty, except for bicycles during the Free 30-day checkup, and except for any labor charges due to replacement of a defective frame for bicycles or exercisers within one year of original purchase at retail.
Repair or replacement of defective parts or accessories and those dealer charges specified above shall be the sole remedy under this warranty, and In, No Event shall Schwinn be liable for incidental or consequential damages. Some States do not allow the exclusion or limitation of incidental or consequential damages, so the above limitation or exclusion may not apply to you.
This warranty gives you specific legal rights, and you may also have other rights which may vary from state to state. See your Authorized Schwinn Dealer for service or replacement under the Schwinn Limited Warranty or write to the Consumer Relations Department at the factory:

Schwinn Bicycle Company
1856 North Kostner Avenue Chicago,
Illinois 60639
Home / Schwinn Catalogs / 1984