Schwinn History: 1930 to 1939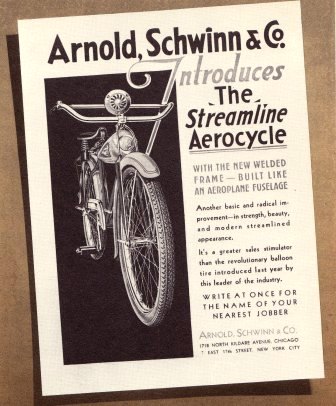 The 1930s were a busy decade for Schwinn. Many new innovations, models and improvements were made. Luckily for us they also did a great deal of advertising. Old advertisements are great sources of information for collectors and help us know what came with these bikes when they were first offered.
By the 1930s the bike market was declining heavily. The bikes that were around or available all looked the same. There was little to distinguish one bike from another. In 1930 Schwinn created a new department in his company and staffed it with motorcycle engineers.
This department was tasked not only with making bikes work better, but also make bikes look better.
1932
---
The thirties were design oriented, with major improvements to the appearance of bicycles.
Schwinn Motorbike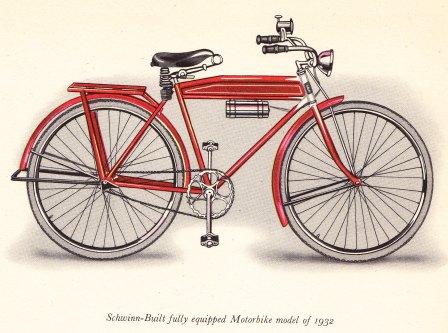 1933
---
Schwinn introduced the balloon tire in the spring of 1933 and two years later it was the standard for the industry.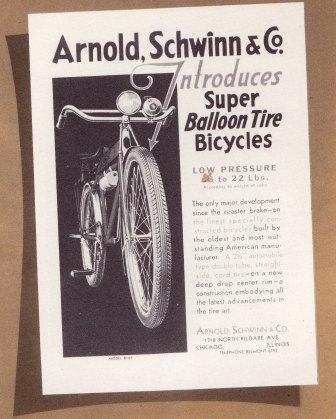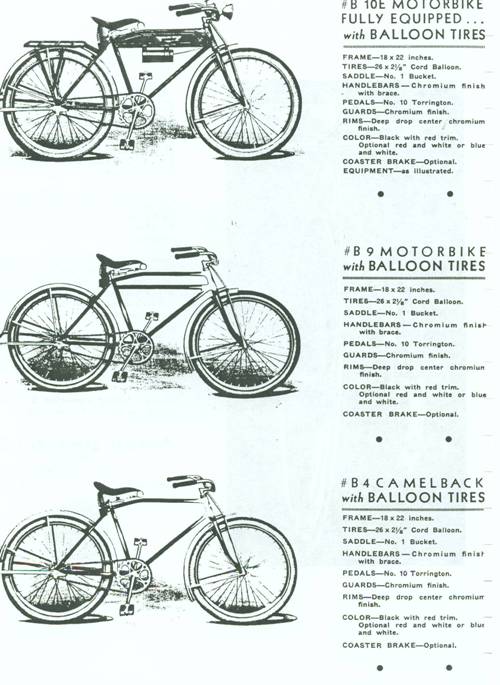 Balloon tires were introduced. These tires replaced the less maintainable single tube tires. The new tires were wider and had an inner tube.
See the full 1933 Schwinn catalog.
1934
---
Schwinn announces a new model - the "Streamline Aerocycle".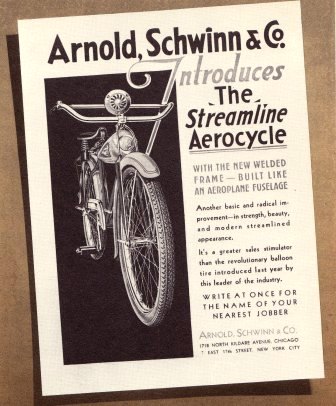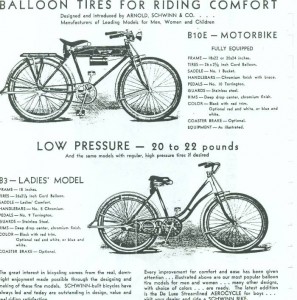 This bike was a major change from what bicycles looked like at the time and was the beginning of a new era.
This bike was very popular and the model helped Schwinn Company's bottom line during the recovery from the great depression.
1935
---
1935 brought a new model of Schwinn bicycle - the Cycleplane.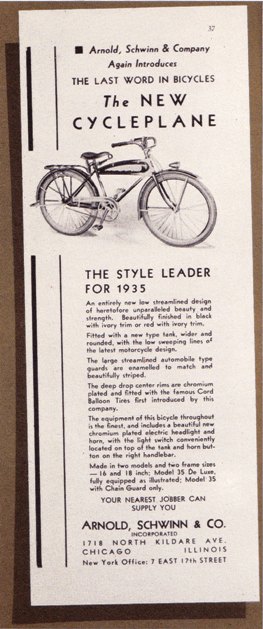 It was an instant hit with consumers and this bike also was the beginning of new ways of creating quality bikes for Schwinn.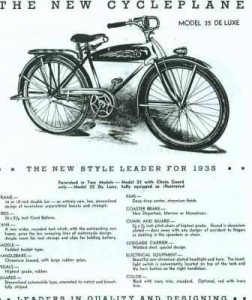 They began using the steel welding of the airplane industry to create bikes now instead of the earlier process of brazing.
1936
---
Schwinn's newest model, the AutoCycle.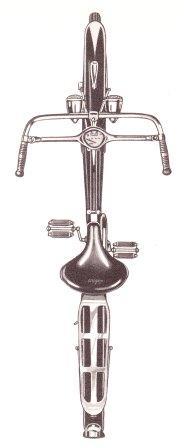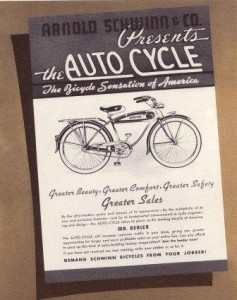 Text from ad reads "By the ultra modern grace and beauty of its appearance - by the the multiplicity of its new and exclusive features - and by its fundamental advancement in cycle engineering and design - the AUTO- Cycle takes its place as the leading bicycle of America".
Home / Schwinn History / 1930 to 1939