Vintage Schwinn Seats
Schwinn seats have been around since 1895. This page displays images and information from Schwinn catalogs and other sources about the many and varied Schwinn seats that have made.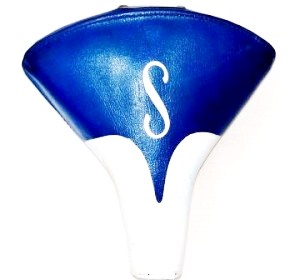 Prewar seats to banana seats, seats with crashbars or sissybars, to the classic, iconic Schwinn "S" seat seen above.
Welcome to a brief history of Schwinn seats...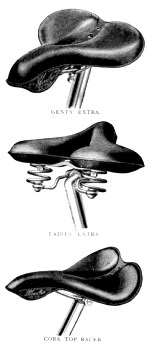 1899
To the left are details of the "Gents Extra", "Cork Top Racer", and the "Ladies Extra" from the 1899 Schwinn "World" catalog.
It is very unlikely that you are looking for Schwinn seats from the 1800s, but there they are.
The most popular seats are surprizingly availible out there to be bought and sold on places like Ebay. (To the left of this page are Schwinn seats that are availible now. Pretty cool huh?)
1939
Below is a detailed image from the 1939 Schwinn catalog and the quoted description of the seats. It is worth noting that for the pre-war era of Schwinn bikes "seats" were always called "saddles".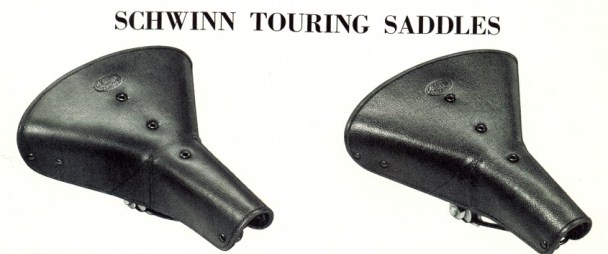 Schwinn Paramount touring saddle (left in image)
At last - a saddle you can ride, patterned after the best standard foriegn type. Mattress spring suspension covered with heavy leather. Shaped to give rider easiest and most comfortable seat with free leg action.

Schwinn Supierior touring saddle (right in image)
Same construction as Schwinn Paramount saddle except that the top is of imitation leather.
Pre-war Schwinn Seats
The seats above are obviously pre-war, but I just want to spend a moment on the term "pre-war". Trying to find a seat for a particular year is sometimes very difficult, as many years the seats went unchanged. If you are looking for a Schwinn saddle from before 1945, I suggest you search Google using the term "prewar saddles" and you will likely find better results.
To the right is a restored Mesinger brand seat (saddle) for 26 inch bicycles, mainly used on the more deluxe 40s and early 50s Schwinn bicycles. Full size deluxe seats work on Whizzer, Schwinn B models, cycle trucks and most deluxe Schwinn models from the mid 20th century.
Schwinn built bikes used different seat manufacturers like Mesinger, Troxel, and Brooks saddle, a company that still makes those same seats!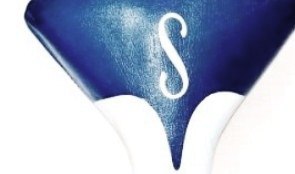 The Schwinn "S" Seat - 1959
In 1959 Schwinn introduced the world to the "S" seat, or as they called it... the Schwinn Monogram Saddle. This two tone seat became the iconinc image of Schwinn bicycles. The colors it came in were blue, coppertone, red, pink, lavander, blue, black, and yellow. These seats are my favorite and i used to decorate my walls with them...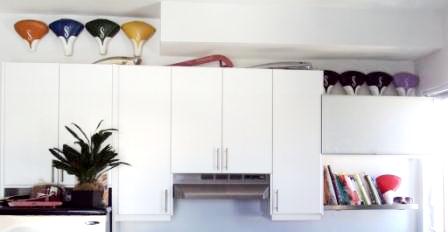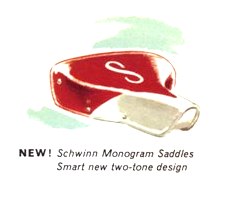 The S seat was first shown off in the beautiful 1959 Schwinn catalog and was featured on the Panther 2 and the Debutante with a small illustration shown to the left.
The two tone Schwinn "S" seats were colorful, stylish, and were a big hit with customers. The s seats remained on Schwinn bikes through out the 50s, 60s, 70s and have returned to newer Schwinn models.
Banana Seats - 1964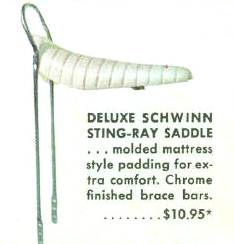 In the 1964 Schwinn catalog they changed the bicycle world with the wildly popular Schwinn Stingray.
One of the most visually different things about the Stingray was the seat.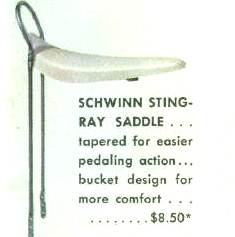 They offered a "deluxe Stingray Saddle" (right) and a plain old "Stingray saddle" (left) but as we all know, no one ever really called them "Stingray saddles" they were to become forever known as a "banana seat".
Banana seats were very popular inthe 60s and 70s.
They came in a mind boggling array of colors and styles but the main ones offered by Schwinn initialy were just solid colors, solid colors with the schwinn "s" with stripe, and for the ladies version -- the Fair Lady there were floral prints. Later Schwinn and other banana seat manufacturers offered many many more options.
Home / Schwinn Parts and Accessories / Schwinn Seats