1939 Schwinn Catalog
Schwinn-built bicycles are fully guaranteed by one of the oldest nd largest bicycle manufacturers in the United States.
SCHWINN-BUILT BICYCLES THE WORLD'S FINEST
Arnold, Schwinn and Comapny has been building fine bicycles for 44 years and is the leader in the industry in new worthwile improvements.Schwinn built bicycles are famous for thier superior quality, workmanship and beautiful lasting finish.
The Autocycle Deluxe
---
The finest equipped bicycle built. Has everything a boy wants.
SPRING FORK, automobile type FORE-WHEEL BRAKE, twin electric headlights and concealed horn electrically illuminated speedometer in a aluminum handlebar mounting.
New World lightweight Tourist
---
Any type of english or American equipment available... three-speed hub, caliper rim brakes, three-piece set, etc.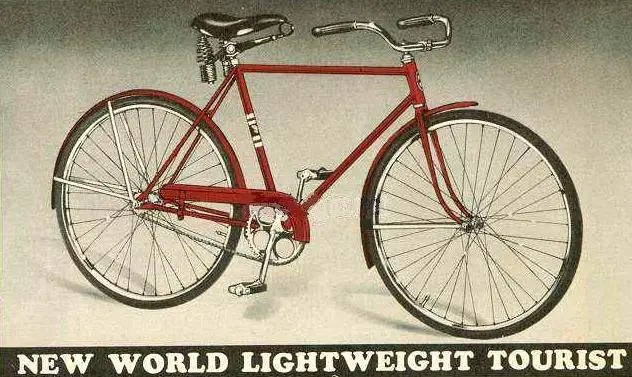 English type popular priced lightweight for the boy or man who want's a light but rugged bicycle for everday use or touring.
Boys Popular Price
---
All the equipment you need nothing more to buy.
Full size standard bicycle, new streamlined tank with horn, electric headlight, SPRING FORK, FORE-WHEEL BRAKE operated by hand lever on handlebar.
The Hollywood
---
The most beautiful girls bicycle in the world.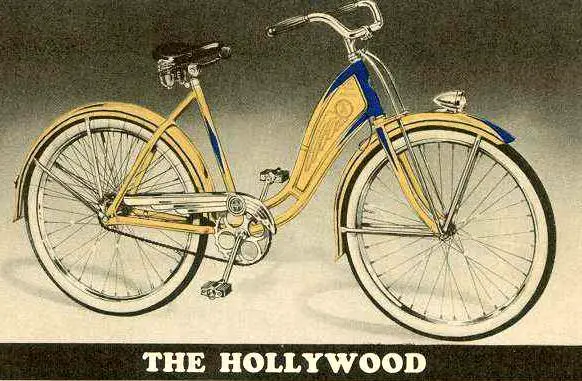 Enameled in bright colors, ivory and blue, two tone green, two tone blue or blue and ivory, etc. Electric headlight and horn. A fine bicycle for school or good healthful exercise.
New world lightweight ladies
---
Cycling is a pleasure and healthful exercise for girls and women.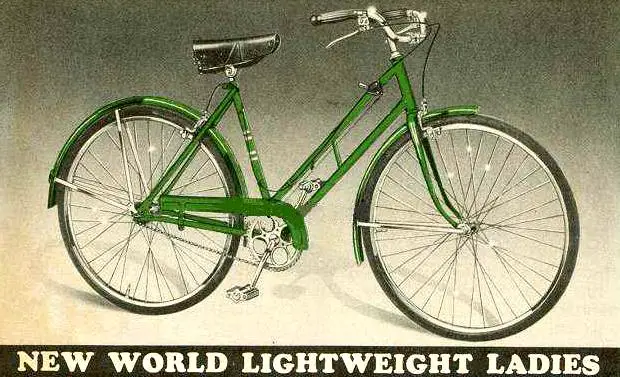 This lightweight model gives the rider the choice of three gear ratios by simply shifting a small lever while riding. Makes cycling easy even on hilly roads.
Girls Popular Priced Model
---
A new bike for girls equipped just like a boys bicycle.
Streamlined tank with concealed electric horn, electric headlight, Chain guard, etc. Enameled in blue, red or black with cream trim and cream guards.
The Motorbike Deluxe
---
This famous model is a great favorite with boys everywhere.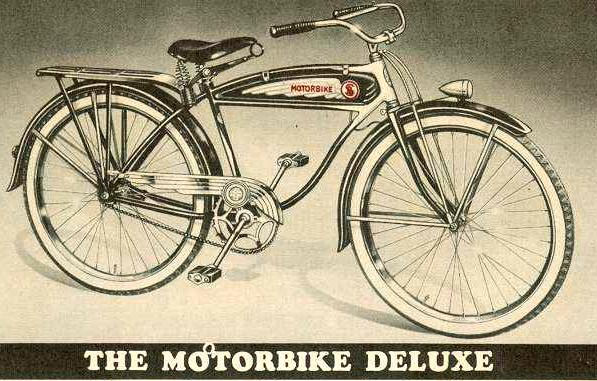 Beautiful streamlined frame and tank, electric light and concealed horn, large carrier, braced handlebar, Stimsonite rear reflector. You will be proud to own and ride this beautiful bike.
Superior lightweight Men's Tourist
---
Racing club sports and ladie's models with every type of American and English equipment to choose from.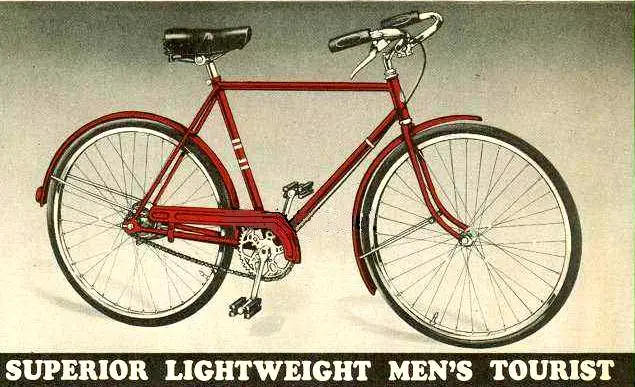 See the complete history of the Schwinn Superior.
Continental type, Chrome Molybdenum tubing, Dural featherweight hubs, and other parts of finest steels available.
Schwinn Cycle-Truck
---
Will carry 150 lbs. with ease and safety.
Lord is carried on frame. Streers same as an ordinary bicycle. Boys can earn money by making deliveries for grocery, butchers, chain stores, etc. and usually pay for its as they earn.
Schwinn fore wheel brake rear expander brake.
Automotive like internal expanding, giving velvet smooth braking from handlebar. Safety in traffic demands this positive trouble-free brake. Thousands in use. The rear expander brake is equipped with free wheel for coasting. Available on all 24" and 26" wheels.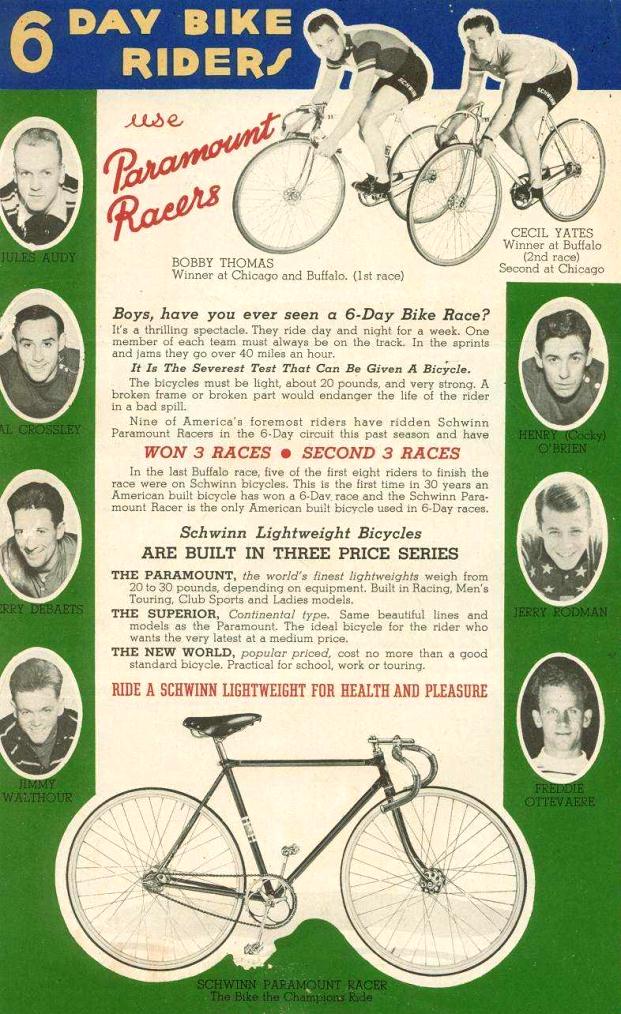 6 days bike riders
use Paramount racers

Boys, have you ever seen a 6-Day Bike Race?
It's a thrilling spectable. They ride day and night for a week. One member of each them must always be on the track. In the sprints and jams they go over 40 miles an hour.
It is the severest test that can be given a bicycle. The bicycles must be light, about 20 pounds, and every strong. A broken frame or broken part would endanger the life of the rider in a bad spill. Nine of America's foremost riders have ridden Schwinn Paramount Racers in the 6-day circuit this past season and have WON 3 RACES * SECOND 3 RACES
In the last buffalo race, five of the first eight riders to finish the race were on Schwinn bicycles. This is the first time in 30 years an American built bicycle has won a 6-day race and the Schwinn Paramount Racer is the only American built bicycle used in 6-day races.
Schwinn lightweight Bicycles are built in three prices series
THE PARAMOUNT, the world's finest lightweights weigh from 20 to 30 pounds, depending on equipment. Built in racing, Men's touring, Club Sports and Ladies models.
THE SUPERIOR, continental type. Same beautiful lines and models as the paramount. The ideal bicycle for the rider who wants the very latest at a medium price.
THE NEW WORLD, popular priced, cost no more than a good standard bicycle, Practical for school, work or touring.
RIDE A SCHWINN LIGHTWEIGHT FOR HEALTH AND PLEASURE!

SCHWINN PARAMOUNT RACER
the bike the Champions Ride
The Famous Cyclelock
A yale lock built into the steel drop forged front fork crown which locks the fork and front wheel at a slight angle so that the bicycle cannot be ridden or wheeled. An exclusive patented Schwinn feature and available on all models. A very low theft insurance rate can be secured on Schwinn-Built Bicycles when equipped with Cyclelock.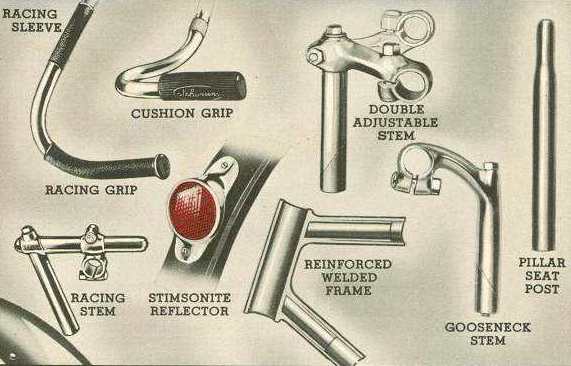 Schwinn Spring Fork

The most sensation improvement ever made in riding comfort. Takes out the bumps and jar when riding on rough roads or pavements. Increases the pleasure of cycling and lessens fatigue. Ride a Schwinn-Built bicycle with a Spring Fork once and you will never satisfied with anything else.
Home / Schwinn Catalogs / 1939