1946 Schwinn Catalog
Next to riding you, trigger, there's nothing like riding a Schwinn...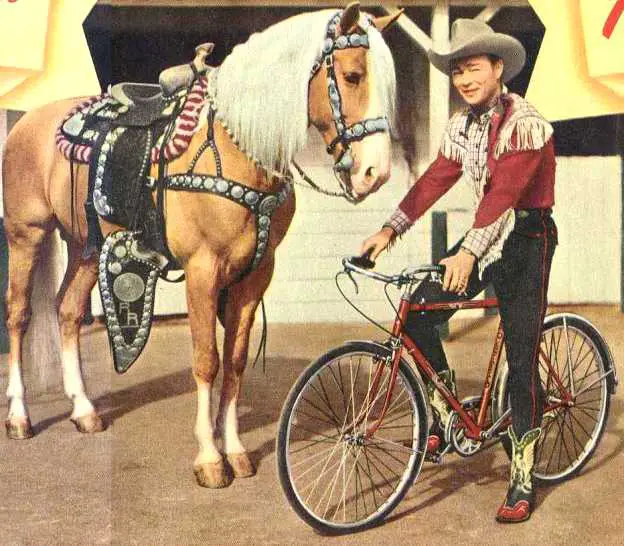 Says Roy Rogers, "King of the Cowboys," Republic pictures Western Star. "Like my horse Trigger," a Schwinn-Built Bicycle is not only good to look at, but good to ride,too.
I Take my hat off to the Schwinn...its the smooothest-riding, easiest-pedaling bicycle Ihave ever ridden. And Schwinn quality through and through means that it is good-looking! The Schwinn special features add a lot of excitment and enjoyment as well as down-right pleasure!
MODEL BA-107...STANDARD AUTOCYCLE
---
Heres the new Schwinn Auto Cycle that has everything---the dream of every boy who needs a bicycle!
Streamlined Embossed Tank with Electric horn. Slip-stream Electric Head-Light.Exclusive Schwinn Spring Fork Shock Absorber---to absorb tough road shocks and provide extra riding comfort.
Fore-Wheel, Brake, special Schwinn Heavy Duty automobile internal expander type, for added safety. Available in a choice of colors with two-tone effects. Easy -riding and a very popular model from coast to coast.
MODEL BA-37...THE TOURIST
---
Streamlined for action and ready to go places with effortless ease--this Ladies Model is as easy on the eye as it is to ride.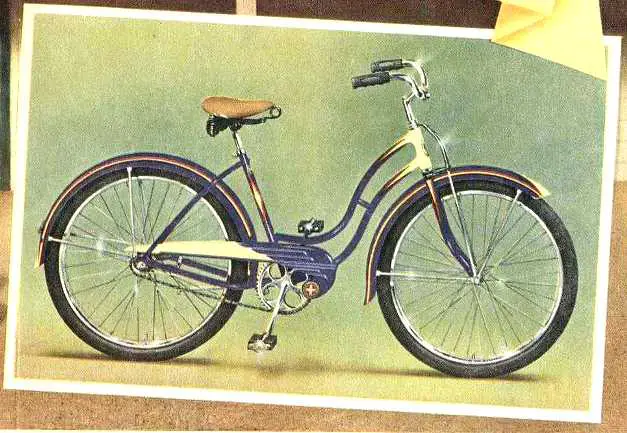 In a series of beautiful colors and matching or contrasting two-tone effects in brilliant baked-on enamels. Model shown equipped with coaster brake. Hand-operated Schwinn Fore- Wheel automobile- type expander brake can be added for greater safety.
A marvelous, fast-stopping expander brake, with the famous Schwinn Free- Wheel, is also available for the rear wheel. Visit your nearest Schwinn dealer.
SCHWINN MODEL CNMS ... CONTINENTAL
---
"Cycling is the kind of sport I go for with real enthusiasm," says ALAN LADD, PARAMOUNT PICTURES, film celebrity.
"You get exercise and go places. I don't know anything more enjoyable than being out on the open road in the fresh air, on a smooth-riding, easy to pedal Schwinn-Built Bicycle. It's one of the most exhilarating pastimes I know."
Shown above is the finest of all American-made light-weight bicycles. Beautifully finished in rich opalescent marron, with flashing stainless steel mudguards, and all bright parts in gleaming chrome, it is a bicycle you will be proud to own.
"FAMOUS SCREEN COUPLE CHOOSES SCHWINN CONTINENTALS"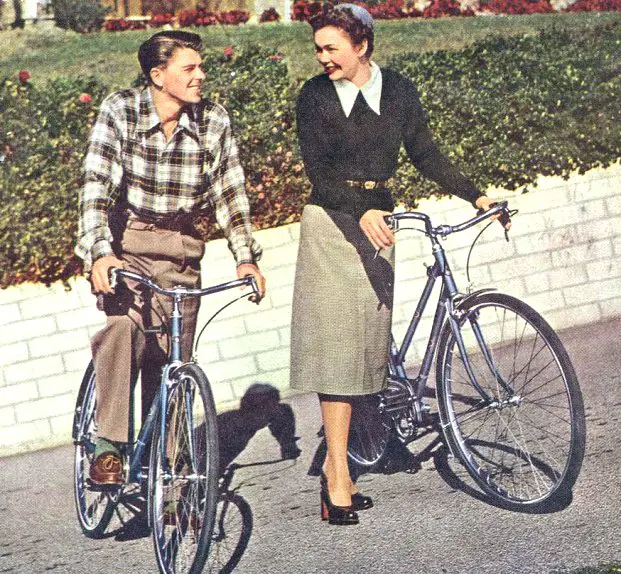 RONALD REAGAN popular screen favorite, and his famous actress wife JANE WYMAN, both Warner Stars, enjoy cycling, exploring and exercising together on their smooth-riding,easy to pedal, modern Schwinn-Built Bicycles.
SCHWINN MODEL CNLS...CONTINENTAL
---
"Just about the handiest thing ever, " says ANN SHERIDAN, famous WARNER BROS. Star."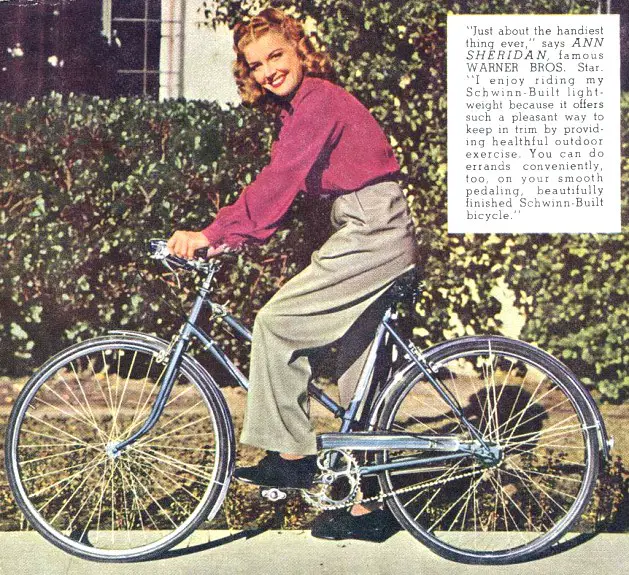 I enjoy riding my Schwinn-Built light-weight beacuse it offers such a pleasant way to keep in trim by providing healthful outdoor exercise. You can do errands conveniently, too, on your smooth pedaling, beautifully finished Schwinn-Built bicycle."
The only really fine lightweight bicycle made in America today. Its opalescent blue finish, flashing stainless steel guards, three-speed rear hub, and its quality construction through-out make it the undisputed queen of all ladies; lightweights.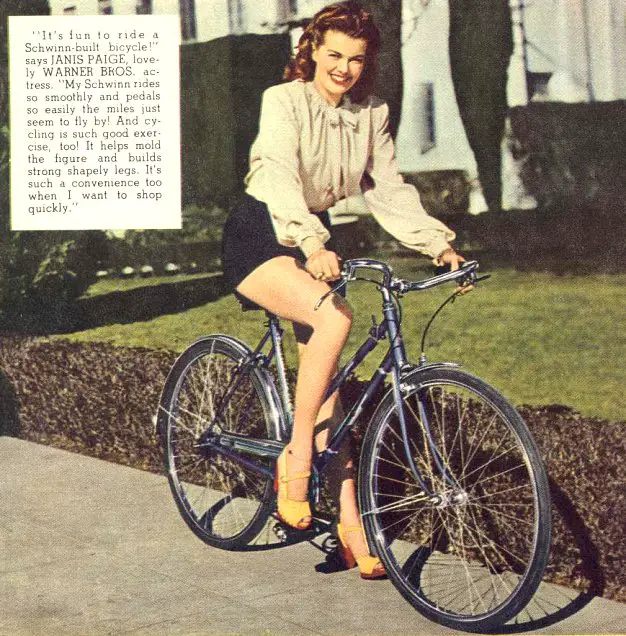 "It's fun to ride a Schwinn-built bicycle!"says JANIS PAIGE, lovely WARNER BROS. actress, "My Schwinn rides so smoothly and pedals so easily the miles just seem to fly by! It helps mold the figure and builds strong shapely legs.It's such a convenience too when I want to shop quickly."
NEW DROP-OUT REAR FORK ENDS
Now a standard feature on all Schwinn-Built bicycles, drop-out rear fork ends make removal of rear wheel quick and easy, without disturbing mudguard or carrier braces.
Loosening of the axle nuts permits the wheel to drop forward, freeing the chain for easy removal. Elimination of troublesome adjusting screws prevents overtightening and stretching of chain. Adds to modern streamlined beauty.
LARGE FLANGE FORE-WHEEL BRAKE

Operated by a smooth-acting hand lever on the handlebar through a light, strong cable to brake drum on front wheel hub. This is a very desirable extra equipment item for any balloon-tire or tandem bicycle. It is built like an internal expanding mechanical automobile brake, it provides extra braking powe for super-safe quick stops.
The Ladies' SCHWINN-BUILT CONTINENTAL MODEL CNLS
The very last word in fine cycles. Lightin weight, but exceedingly strong and easy to ride, it will do much to remove those extra pounds.Quick, easy transportation for shopping,visiting, and lots of fun and good exercise at the summer or winter home or resort. A must at high school or college.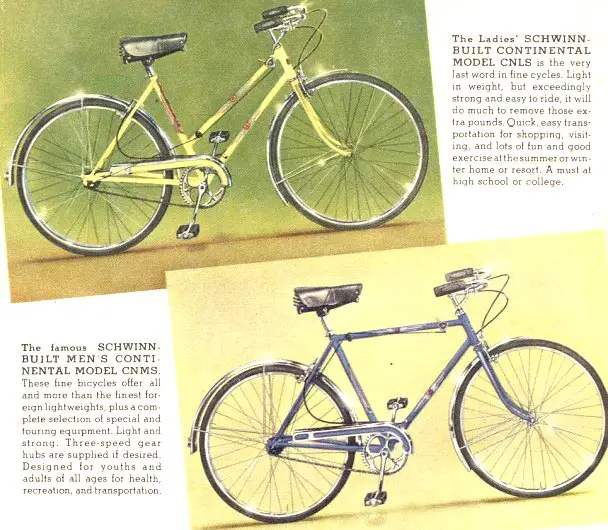 The famous SCHWINN-BUILT MEN'S CONTINENTAL MODEL CNMS.
These fine bicycles offer all and more than the finest foreign lightweights, plus a complete selection of special and touring equipment. Light and strong. Three-speed gear hubs are supplied for health, recreation, and transportation.
LARGE FLANGE REAR HUB WITH FREE WHEEL

This is the famous Schwinn precision-built hub with a free-wheel that really runs free, without drag. It is used on Schwinn Lightweight Models when equipped with our popular and fast-acting Caliper Rim Brakes.
The large flange serves a threefold purpose-- it adds strength, relieves spoke strain and adds to the beauty of the wheel. Minus the brake action, it is like our rear Expander Brake Hub.
ATTRACTIVE LARGE FLANGE FRONT HUB
Built for smooth rolling and hard riding. Recommended for use with Large Flange Rear Expander Brake Hub, in cases where the Fore-Wheel Brake is not ordered. Built for heavy duty.
With large axle hub cups and cones.One piece steel, crackproof and beautifully finished. Designed to relieve spoke strain and make spoke replacement easy; adds to streamlined beauty.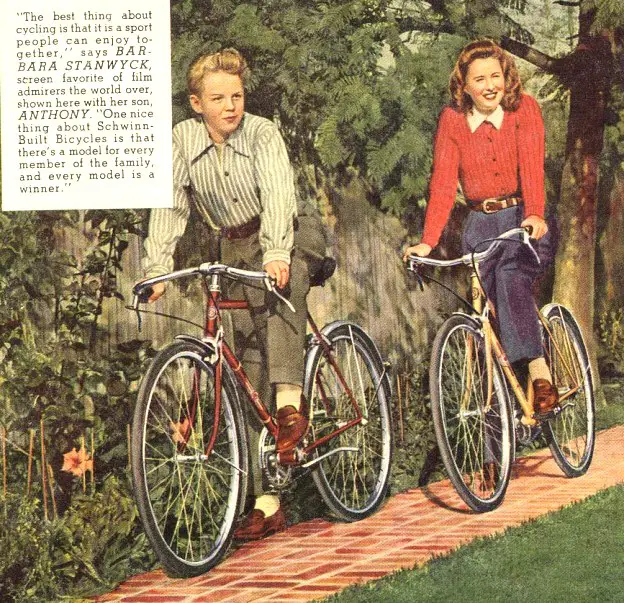 "The best thing about cycling is that it is a sport people can enjoy together," says BARBARA STANWYCK, screen favorite of film admires the world over, shown here with her son, ANTHONY."One nice thing about Schwinn Built Bicycles is that there's a model for every member of the family, and every model is a winner."
LARGE FLANGE REAR EXPANDER BRAKE

Coast along freely---silently. Stop instantly, with this Schwinn internal expanding, heavy duty brake. Like automobile brakes. The free-wheel enables the rear wheel to run absolutely free--without drag.
Outer shell is threaded--sprockets are screwed on and are available in all desirable numbers of teeth in 1" or 1/2" pitch. Precision built replaceable bearing cups.
NEW BUILT - IN PARKING STAND

The new exclusive built-in Schwinn Parking Stand is an outstanding feature of Schwinn-Built Bicycles. The stand is built right into the cycle frame--an integral part of the bicycle.
It cannot come loose, slip out of position or rattle. No more crushed and marred rear fork tubes from overtightening clamps--no slipping around when loose. The simple sprag mechanism is designed with ample reserve strength.
MODEL BA-307... THE HOLLYWOOD
---
Here's the aristocrat of fine bicycles for young ladies who insist upon beauty of line.
Built-in electric Headlight, embossed Tank and Chain Guard, available in a variety of colors in brilliant lasting enamels. New frame design. Its beauty is matched only by its easy riding qualities.
Available with Coaster Brake or Schwinn fast acting, automobile type Expander Brakes on front and rear wheels---exclusive Schwinn Spring Forks to absorb rough road shocks.
BING CROSSY AND HIS BOYS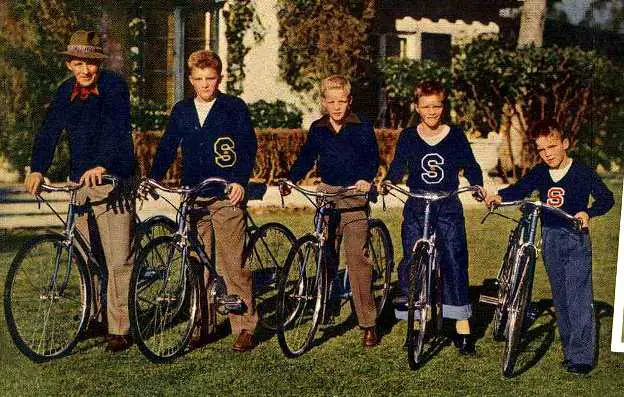 (Gary, Dennis, Phillip and Lindsay)... all ride Schwinns!" We Crosbys have been riding Schwinn-Built Bicycles for years now, and our experience has all been good," says Bing, world famous star of radio, stage, and outstanding Paramount Pictures Star.
"Cycling on a Schwinn is clean fun and healthful sport for man or boy." For outdoor fun that's healthful sport, follow the course set by Bing Crosby and his boys.
MODEL B-607... AUTOCYCLE DELUXE
---
The streamline beauty of the Schwinn Autocycle is buily right in the patented.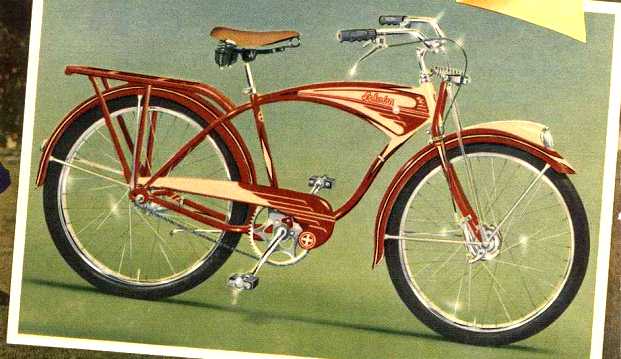 Cantilever Frame, the strongest ever developed. It provides that racy, graceful appearance so admired by boys everywhere. The slip-stream, built-in electric Fenderlight adds to the trim lines.
Available with either Coaster Brake or our own exclusive, hand-lever operated, fast stopping, automobile type Expander Brakes,front and rear.
"Cycling is one of the finest of outdoor sports," says JOAN CRAWFORD, foremost WARNER BROS. Star and favorite actress of millions of movie fans. "I recommend bicycling on a Schwinn to anyone who seeks exercise for good health, a good figure, and good fun. It gives one a personal sense of enjoyment."
Model B-507 Autocycle Tourist
---
Any boy would be proud to own this beautiful bicycle--as trim as a greyhound. Streamlined, patented Cantilever type frame.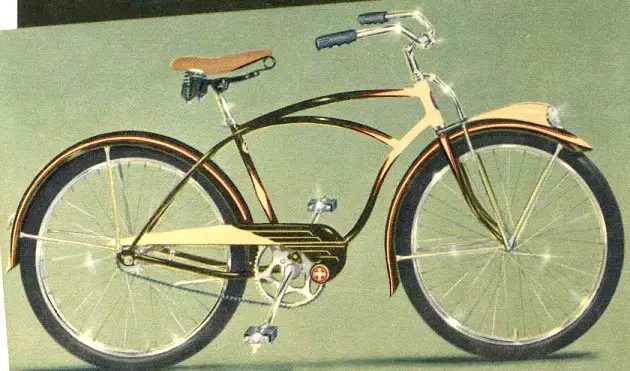 Can be equipped with the famous Schwinn fast stopping automobile type Expander Brakes.
In every corner of the land...in crowded cities...out-of-the-way villages and hamlets...wherever you go, you find SCHWINN-BUILT Bicycles. Wherever you find them you find satisfied owners...boys and girls, men and women.
All are happy in the knowledge they own the best that money can buy. Dependable...supersafe...a Schwinn-Built bicycle is guaranteed as long as you own it... and costs little or no more than an ordinary bicycle.
You may be planning to buy your first bicycle--perhaps you are not sure how to identify the best-- perhaps you are confused by all kinds of nameplates. If you are, then your troubles are over! For there is one manufacturer: Arnold Schwinn & Company, who stands squerely in back of its product.
You can identify Schwinn Bicycles by looking for the Schwinn Seal of Quality and insisting upon the Schwinn :Long as you Own It Guarantee:...both shown below.
Schwinn bicycles are made by a family which has been building fien bicycles for over 65 years and are the leaders of the American bicycle industry. Visit your nearest Schwinn dealer---you can locate him in your classified telephone book.

See the new, exclusive, patented parking stand which is grease-tight and dust-proof; the new Schwinn truss-rod mounting; the built-in chain guard brackets; the detachable seat post clamp; the new semi-tubular mudguard braces; the quick action, forward drop-out rear fork ends; the new streamlined frames made by a patented pricess; the new thrust-type steering head bearings; and the sensational new Schwinn tubular bicycle rims.
See the beautiful new post-war models, and, of course, those famous exclusive patented pre-war Schwinn features: the Schwinn Spring Fork;the Cycelock; the Automobile Type Front and Rear Wheel Brakes; The Caliper Brakes; and the Schwinn Forged Steel Handlebar Stem and many other.
Remember all the fine features are Schwinn-Built by Arnold, Schwinn & Company. They are not available on any other bicycle.
ARNOLD, SCHWINN & COMPANY. 1718 NORTH KILDARE AVENUE. CHICAGO 39, ILLINOIS
Schwinn Tandem
---
The very latest in tandem design and construction-parts are tandem size throughout.
"THE BICYCLE SCHWINN-BUILT FOR TWO"
A new bicycling thrill in touring, sport riding, and transportation. Available in both touring and racing trim and there is a big selection of tandem equipment to choose from. Ask your Schwinn dealer for a complete and interesting demonstration.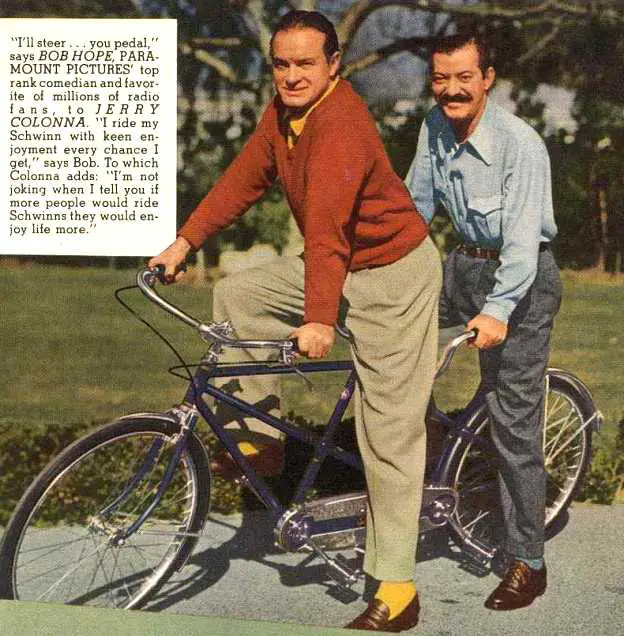 "I'll steer... you pedal," says BOB HOPE,PARAMOUNT PICTURES' top rank comedian and favorite of millions of radio fans, to JERRY COLONNA, "I ride my Schwinn with keen enjoyment every chance I get," says Bob. To which Colonna adds: "I'm not joking when I tell you if more people would ride Schwinns they would enjoy life more."
See the complete history of the Schwinn Tandem.
MODEL BA-97 STANDARD AUTOCYCLE
---
The very latest in tandem design and construction-parts are tandem size throughout.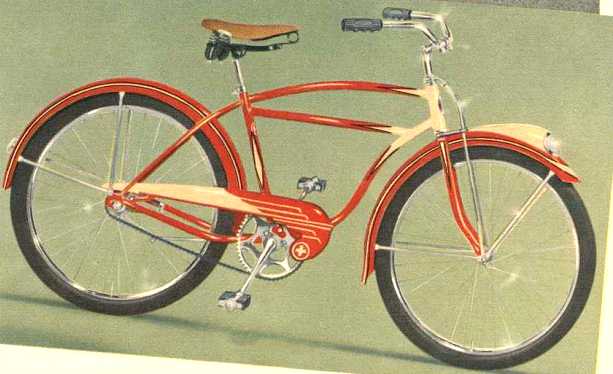 For those who seel a sturdily-built, popular-priced bicycle. Has all the stamina necessary to take you there and bring you back; has all the exclusive feaures that have made Schwinn bicycles first choice.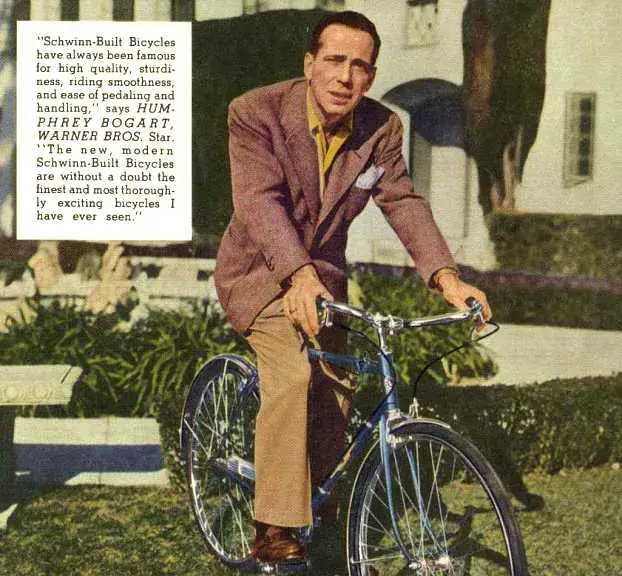 "Schwinn-Built Bicycles have always been famous for high quality, sturdiness, riding smoothness, and ease of pedaling and handling,"says HUMPHREY BOGART,WARNER BROS. Star.
"The new, modern Schwinn-Built Bicycles are without a doubt the finest and most thoroughly exciting bicycles I have ever seen."
THE SCHWINN SPRING FORK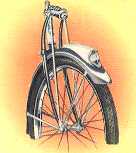 In autos road shocks are softened by shock absorbers. On bicycles shocks are absorbed by our patented, exclusive Spring Fork. Here's one of the greatest contributions to the comfort and pleasure of cycling ever developed.
The nearest Schwinn dealer will gladly demonstrate the advantages of this exclusive Schwinn feature.

NEW TRUSS RODS
The new Schwinn Truss Plate and Rods are exclusive Schwinn features. The Truss Rods are keyed(not merely bolted) into the small, neat Truss Plate to form a graceful arc. Easily disassembled by removing only one bolt.Note their graceful flowing lines.
Why take a chance on just any bicycle when you can have a Schwinn-Built Bicycle guaranteed as long as you own it...
AND COSTS SO LITTLE MORE THAN ORDINARY BICYCLES?
You will find the famous SCHWINN SEAL OF QUALITY on the seat mast below the saddle of every SCHWINN-BUILT BICYCLE. Be sure you get the "Long As You Own It Guarantee!"
THIS BICYCLE IS GURANTEED AS LONG AS YOU OWN IT
Every part of this SCHWINN-BUILT Bicycle, except the tires and tubes, pedals, coaster brake, saddles, chrome and enamel finishes, is guaranteed AS LONG AS THE BICYCLE REMAINS IN THE POSSESSION OF THE ORIGINAL PURCHASER and is not used in rental service, or with a motor.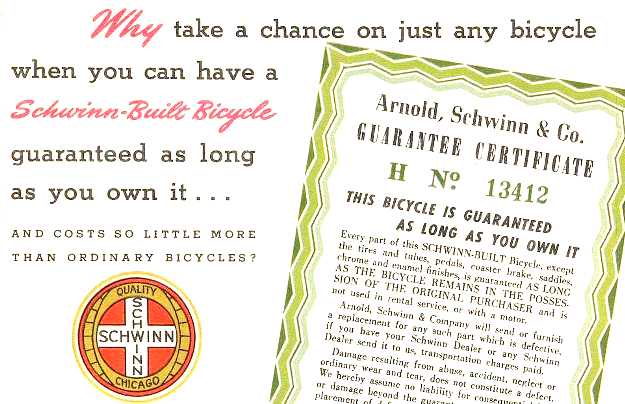 Arnold, Schwinn & Company will send or furnish a replacement for any such part which is defective, if you have your Schwinn Dealer or any Schwinn Dealer send it to us, transportation charges paid.
Damage resulting from abuse, accident, neglect or ordinary wear and tear, does not constitute a defect.We hereby assume no liability for consequential loss or damage beyond the guarantee applying to the replacement of defective parts as set forth above.
This certificate is numbered and registered by Arnold, Schwinn & Company. Sign and keep it in a safe place. It must accompany any part returned to us for replacement and will then be returned to the owner.A lost certificate must be reported to us immediately so that it may be cancelled and a new one issued to replace it.
This certificate will not be valid until we receive the attached registration card,properly filled out and signed by the original owner or purchaser.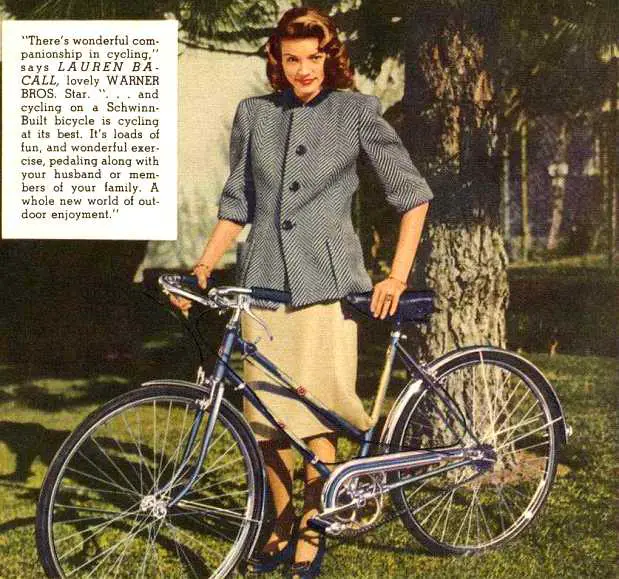 "There's wonderful companionshipin cycling," says LAUREN BACALL, lovely WARNER BROS. Star. "... and cycling on a Schwinn Built bicycle is cycling at its best. It's loads of fun, and wonderful exercise, pedaling along with your husband or members of your family. Awhole new world of outdoor enjoyment."
TUBULAR RIMS
Schwinn Tubular Bicycle Rims are the most important advance in American cycle quality since the introduction of the balloon tire by Arnold, Schwinn & Co. Stronger and stiffer, they remain true even with abuse.Schwinn-Built Tubular rims, built like a tube, combine great strength with lightness.
REMOVABLE SEAT POST CLAMP
The Schwinn detachable Seat Post Clamp is a small thing in itself but constitutes a big improvement over old and time-worn methods of set post adjustment. Now a broken or overstretched clamp does not mean a costly job of welding on a new part and repainting. The new Schwinn detachable Seat Post Clamp is repalced in a jiffy should it become damaged.
FAMOUS SCHWINN CYCELOCK
The famous Schwinn patented Cycelock, positive in action, prevents theft. The lock is built into the drop-forged crown and the bolt slides through a hole in the frame and cannot be tampered with. The key cannot be lost since you remove it only when the wheel is turned at an angle and the bicycle locked. This prevents loss while riding.
Home / Schwinn Catalogs / 1946