1985 Schwinn Mountain Bike Catalog
Original text and images of the 1985 Schwinn sales brochure. The text below, including the prices (if any), are as written in 1985.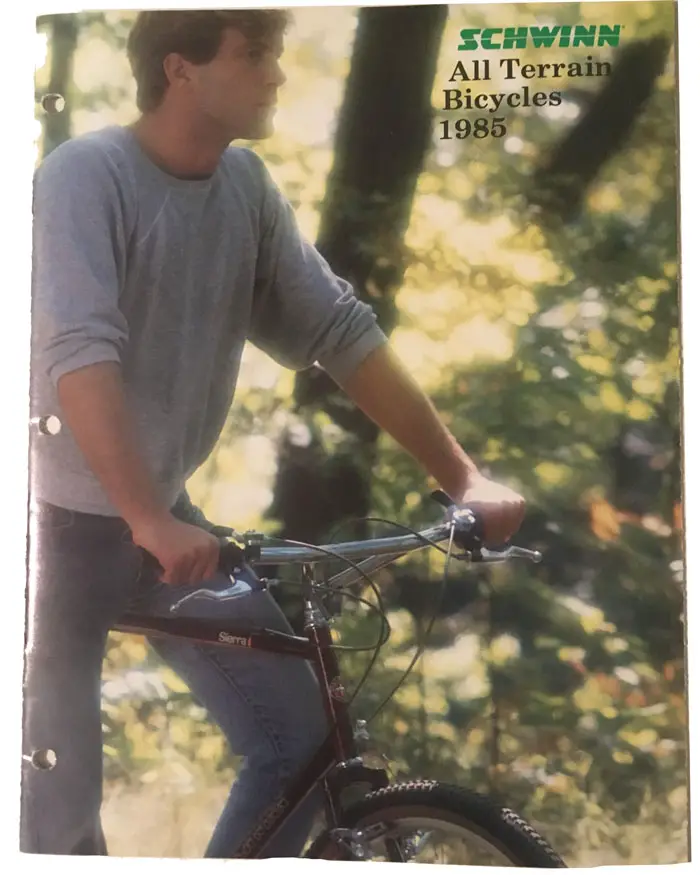 Schwinn can take you there
Mountains. Canyons. Forests. Meadows. On a trappers trail or a country lane, getting there is the fun. Wherever you want to be, Schwinn's line up of All Terrain Bicycles makes it easier to get there.
Cimarron
---
New for 1985, the Cimarron is designed from the ground up for the serious off road rider.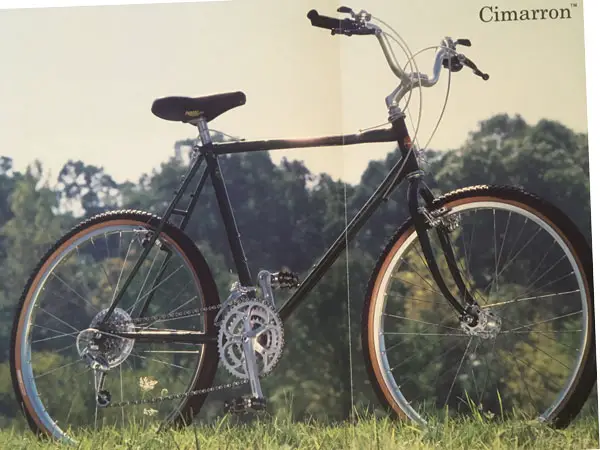 Top-of-the-line componentry specifically designed for all terrain riding is combined with a lightweights frame and for that will absorb plenty of shock yet provide many years of back country riding enjoyment and comfort.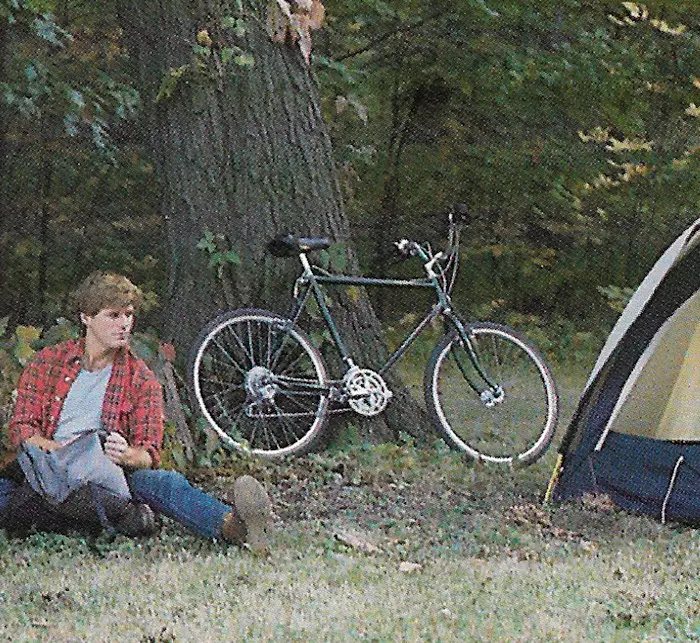 Frame and Fork
Made entirely of 4130 chrome-moly tubing. The top and down tubes are ovaled and flared at the head tube end to increase the brazing surface at the most critical joint. The entire main frame is double-butted tubing. The full chrome-moly Tange "Unicrown" fork rounds out the frameset.
Shifting System
Top of the line Shimano light alloy Deore XT and "Superplate" XT rear derailleur and human engineered 18-speed XT shift levers and brake levers.
Sealed Components
Help protect your bicycle from the rugged elements of nature, with the Shimano light alloy 600 EX headset, Shimano Deore XT "sealed mechanism" hubs, Shimano 600 EX bottom bracket assembly and Shimano XT front and rear derailleurs with sealed bracket and pulley body springs.
High Sierra
---
Bicycling! Magazine's "Good Buy" pick in 1984, the High Sierra returns in '85 an even better buy for all terrain touring cyclist.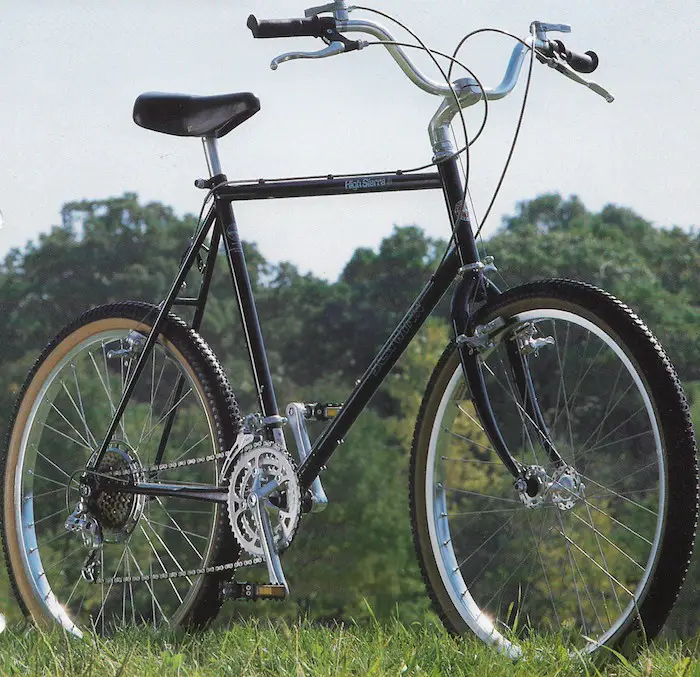 Improvements include new Tri-Caliber tubing, a state of the art all terrain fork, more braze-ons and improved sealed components.
Frame and Fork
Full 4130 chrome-moly tubing Tri-Caliber main tubes and forged double eyelet dropouts to easily mount fenders and front and rear racks.
Comfort Zone
Also new for '85 is a leather covered Viscount Terra saddle with more padding, a wider base and shorter overall length.
Wheels
Shimano sealed mechanism hubs are laced with stainless steel spokes and new ARAYA 7X, 1.5" light alloy rim. The new 26" x 2.0" tires provide excellent traction in the dirt yet none of the annoying vibrations of a knobby on pavement.
Sierra
---
The Schwinn Sierra is designed for the cyclist who expects to spend most of his riding time off-road and wants a dependable performance machine at a reasonable price.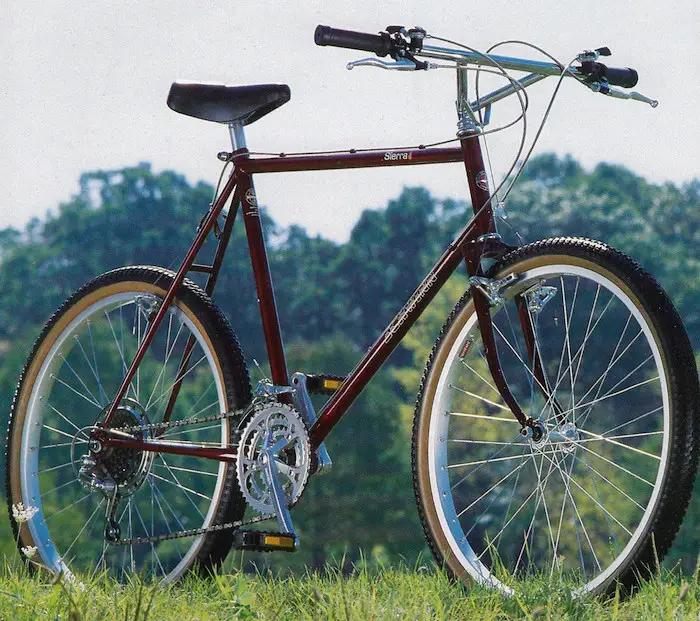 Features like 15-speed gearing, sure stopping cantilever brakes and sealed mechanism hubs make the Sierra the ideal choice for the all terrain enthusiast.
Frame and Fork
Full 4130 chrome-moly frame and fork complimented by forged double eyelet dropouts, water bottle braze-ons and rear rack fittings.
Wheels
Araya light alloy rims are spoked to new SR sealed mechanism, small flange hubs with chrome-moly 3/8" axles. Mounted to the rims are dirt grabbing 26" X 2.125" skin wall tires.
Brakes
New Shimano AT50 light alloy cantilever brakes provide maximum braking performance with all the adjustability features for which Shimano is known.
Mirada
---
Here's a lightweight 15-speed all terrain model designed for those riders who will be doing of their riding around town on pavement.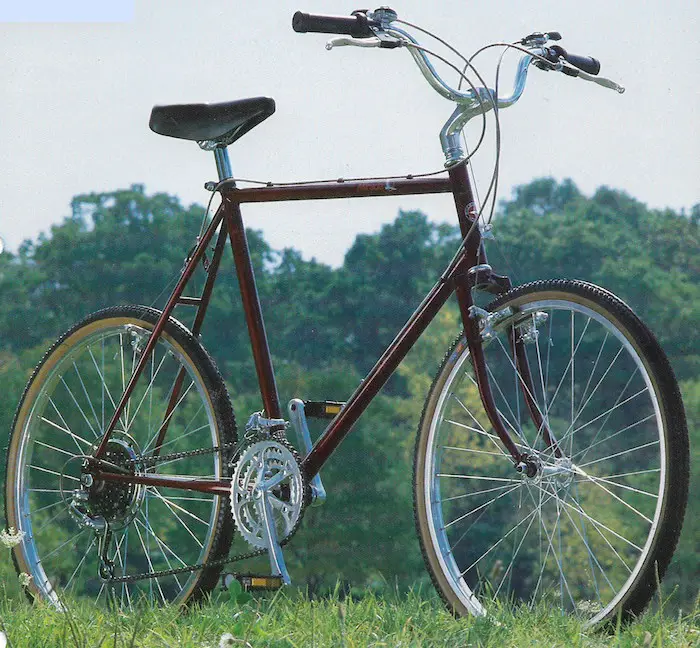 Quality features like chrome-moly main tubes, an alloy crank and Shimano derailleurs make the Mirada an excellent choice for commuters, weekend cyclists.
Frame and Fork
4130 chrome-moly main frame with hi-tensile steel stays and fork. Dropouts are forged double eyelet for mounting fenders and racks. Braze-ons include water bottle mounts, cable guides on top tube and bottom bracket and rear rack mounts.
Wheels
An SR light alloy, small flange sealed mechanism hub laced to alloy rims mounted with 26" X 1.5" skin wall tires.
Shifting System
New light alloy Shimano wide range Z501 rear derailleur and AL 11 front derailleur. Also Shimano MT-50 thumbshifters, human designed for ease of use.
Mesa Runner
---
After a very successful introduction in 1984, the Mesa Runner returns with a companion model designed for women.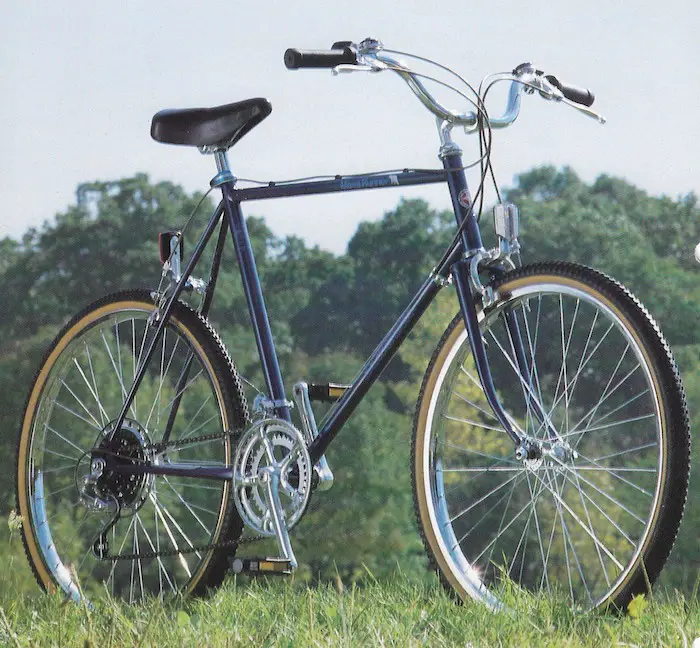 Both the men's and ladies' models offer the control and comfort features found on other Schwinn all terrain models with plenty of ruggedness for those occasions when the lure of a forest path or horse trail can't be passed up.
Frame and Fork
Responsive hi-tensile steel frame and fork with double eyelet dropouts for fenders and racks.
Comfort Zone
A broad base, anatomically designed Viscount saddle matched with the upright position of the Schwinn designed Viscount saddle matched with upright position of the Schwinn designed handlebar. On the handlebar are supple high density rubber hand grips and easy to use Shimano shift levers.
---
Home / Schwinn Catalogs / 1985 Mountain Bikes