1979 Schwinn Parts and Accessories Catalog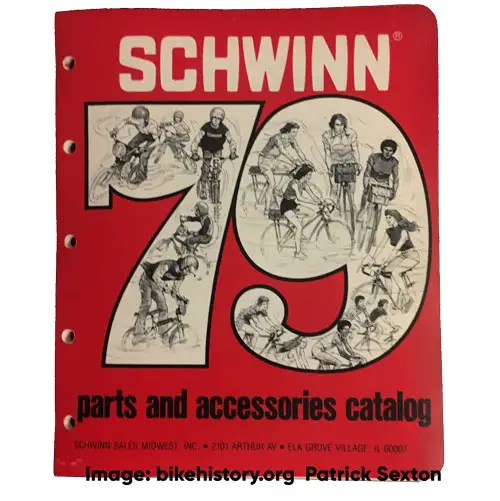 Vintage Schwinn documents > 1979 > Schwinn Parts and Accessories
The 1979 Schwinn parts and accessories catalog is a large and detailed collection of componets used in Schwinn bicycles.
Document Details
Title: 1979 Schwinn Parts and Accessories Catalog
Year Published: 1979
Publisher: Schwinn Bicycle Company
Intended Audience: Schwinn Dealers
Content types: Text / Illustrations
Document Type: Binded / Hole punched pages in binder
Page Count: hundreds of pages
Document Size: 11 inches by 9 inches
Images
Front Cover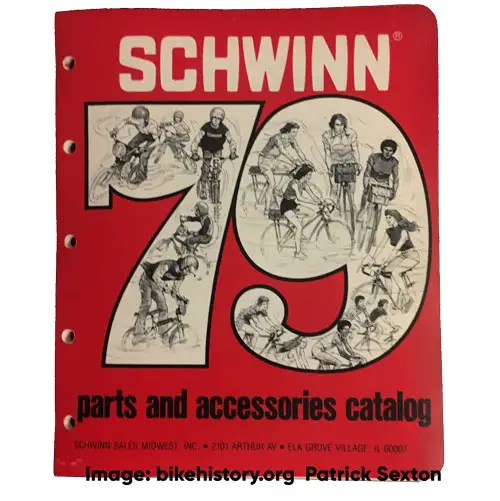 Table of contents
The parts and accessories catalogs have several indexes for many different subjects and sections. The Schwinn parts and accessories catalogs started getting very large in the 1960s and had many sections. I am just photographing the first index or table of contents.
Random Interior page
Back Cover
This page describes a vintage Schwinn publication and is part of an effort to describe, document and inventory vintage Schwinn publications.
Vintage Schwinn documents > 1979 > Schwinn Parts and Accessories Catalog