The Schwinn Mantaray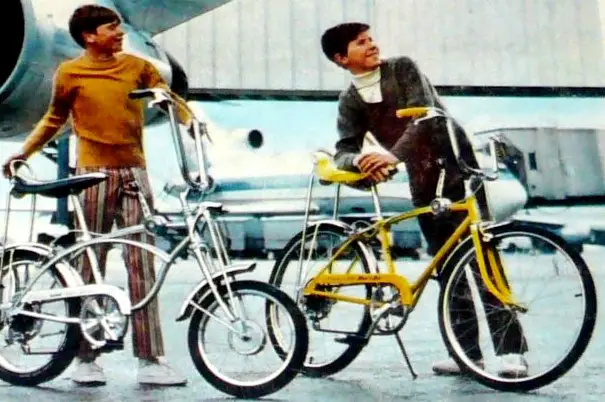 The vintage Schwinn Mantaray was was made only for two years... 1971 and 1972. This page provides the images and information quoted from Schwinn catalogs for those years. please note, the Schwinn Manta-ray was released in more recent years as a different bike, this page only covers the vintage Mantaray bicycles.
1971
---
Schwinn! A bike with so many features that it's sure to be copied, but not equaled.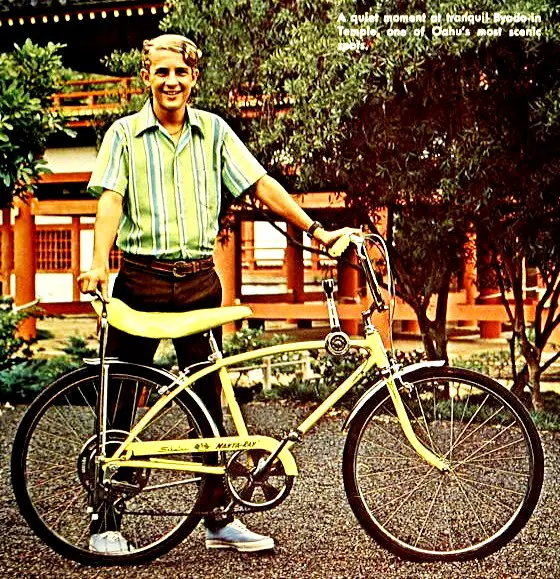 1971 Schwinn Manta-Ray
All new in 71! A revolutionary bike that Stops Them All
Exclusive Saddle Design!
Big 24" wheels!
Medium-Rise Handlebars!
5-speed Gears!
Pace setting design from the leaders: The Manta-Ray introduces a lightweight camelbacl frame, forged steel front fork, 24" x 1 3/8" tires- sports front and Slik rear- New Sting-Ray style saddle, new medium-rise handlebars, 5-speed derailleur gears with Stik control! 52-tooth MAG front sprocket, 45 low to 89 high range, and front and rear caliper brakes for sure and safe stops.
Colors: Kool Orange, Kool Lemon, Campus Green, and Silver Mist.
H26-9 Manta-Ray 5-speed......$89.95
See the full 1971 Schwinn catalog.
1972
---
Feature packed from front to rear, the 24" manta-ray has never been equalled for excitement.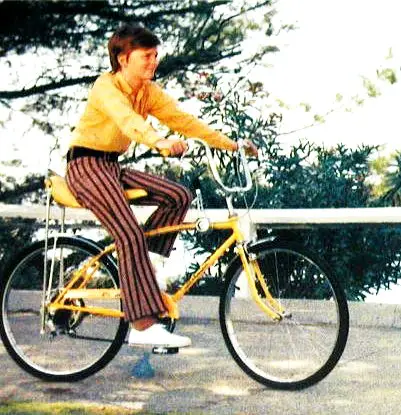 1972 Schwinn Manta-Ray
Now on 5 speed models, genuine automobile type disc brakes! Camelback frame, Stingray type saddle, 52 tooth MAG sprocket.
Colors: Kool Orange, Kool Lemon, Campus Green, and Silver Mist.
H26-6 Manta-ray coaster .... $69.95
H26-9 Manta-ray 5-speed .... $101.95
See the full 1972 Schwinn catalog.
Back to Schwinn Bikes.