The Schwinn Tempo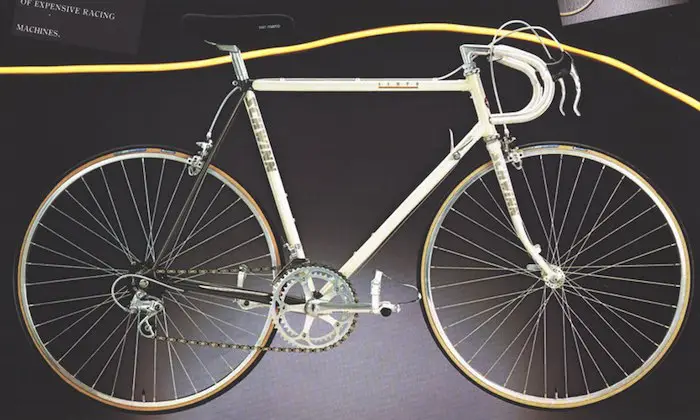 This page provides year by year images and info quoted from Schwinn catalogs for the Tempo from 1984 to 1988.
1984
---
The Tempo is for people who only want to travel at one speed: flat out fast.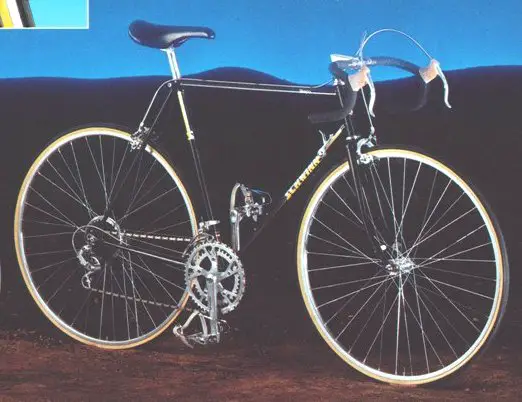 Whether they're racing, or simply blowing by someone on the street. The shift levers and derailleurs are all part of the new "Shimano Z" component group. Mounted on a frame that's a special blend of Champion chrome-moly tubing. The fork tips and drop-outs have been chrome-plated, and the seat post lug (pictured at left) has been investment cast. To give it extra strength. And just as importantly, to give the Tempo an absolutely beautiful finish.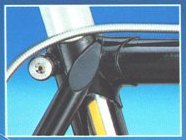 Black or Champagne.
See the full 1984 Schwinn catalog.
1985
---
Tempo designed for: High performance recreation with high performance features.
Frame Specifications
Frame: Columbus Tenax chrome moly custome blend double butted main tubes, chrome moly stays forged dropouts with eyelets.
Fork: Tange chrome-moly blades w/ reinforcing tangs, forged droupouts with eyelets.
Braze-ons: Top tube guides, bottom bracket guides, 2 sets of bottle bosses, shift lever bosses, pump peg and chain rest.
Drive Train Specifications
Pedals: MKS, AR I alloy low profile quill type.
Crank: SUGINO GLP low profile forged alloy cotterless, 165mm on 19"; 170mm on 21" thru 25", alloy chainrings.
Chain: HKK "Z", 1/2" x 3/32" silver outer plate, narrow chain.
Freewheel: Shimano uniglide 6 speed.
Derailleurs: Shimano FDZ 206 alloy (front). Shimano RDZ 205 alloy (rear).
Levers: Shimano SLZ 408 alloy brazed on.
Wheel Specifications
Tires: Schwinn Circuit LT, 700 x 25C, 270gm, Dual hard, 100 psi, skinwall, presta valve.
Rims: ARAYA 20A, 700 x 25C silver anodized aluminum.
Hubs: SANSHIN Gyromaster 36 hole small flange alloy with quick release.
Spokes: ASAHI, 14ga zinc plated 3X spoke pattern, brass nipples.
Control Specifications
Handlebar: SR Custom, engraved alloy.
Stem: SR Custom, alloy aero type with recessed allen bolts.
Headset: Tange new falcon, sealed, steel, clipped bearings.
Brakes: DIA COMPE GX 400N alloy side pull with quick release, recessed allen bolts, tire guides.
Brake Levers: DIA COMPE alloy drilled levers with gum rubber hoods, lines cable housing.
Comfort Specifications
Saddle: AVOCET Criterium padded vinyl.
Seat post: SR Laprade, fluted alloy micro-adjusting 26.6mm dia. 190mm long.
Accessories: Toe clips, leather straps, stainless steel stay protector, Cat eye pearlecent handlebar tape.
Finish
Colors: Metallic black; azure blue paint protecting clear coat.
Weight: Approx. 23 lbs.
See the full 1985 Schwinn catalog.
1986
---
There's no contest when it comes to value. The Tempo is sleek, quick, and has all the features of expensive racing machines.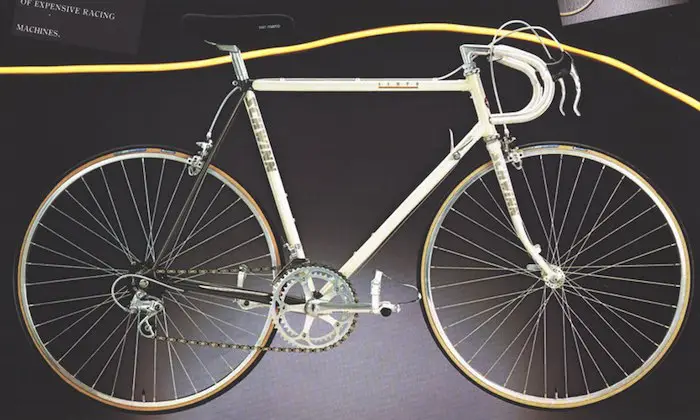 Shimano L525 rear derailleur has a sleek new look and is compatible with the Shimano Index System.
The light alloy low flange hubs have a sealed mechanism to protect from dirt and moisture.
A leather suede saddle from San Marco provides comfort in shirt sprints or century rides.
Frame sizes available 19", 21", 23", and 25". Clear coated impulse blue or pearl white with greystone trim. S19, S21, S23, and S25.
See the full 1986 Schwinn catalog.
1987
---
Shimano's new 105 low profile Biopace crankset, aero pedals with unbreakable resin toe clips and braided nylon straps.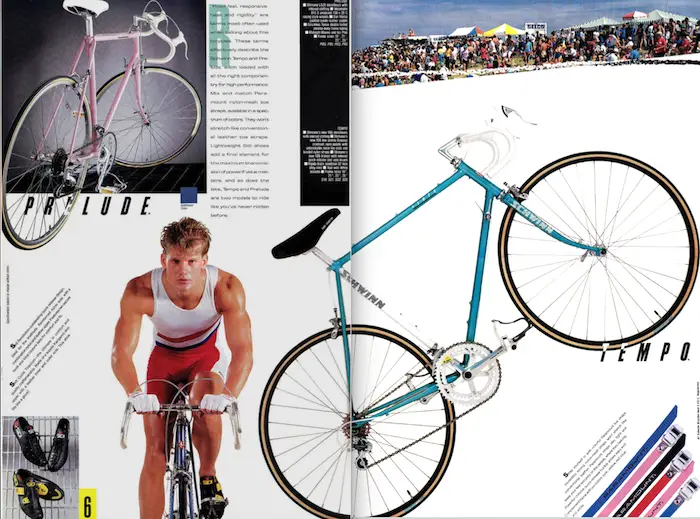 Shimano's new 105 derailleurs with indexed shifting
Shimano's new 105 brakes with indexed quick release and aero levers
Rigida black anodized 32 hole alloy rims
Teal with white accents
Frame sizes:
S19 - 19"
S21 - 21"
S23 - 23"
S25 - 25"
See the full 1987 Schwinn catalog.
1988
---
Designed for the demands of serious competition.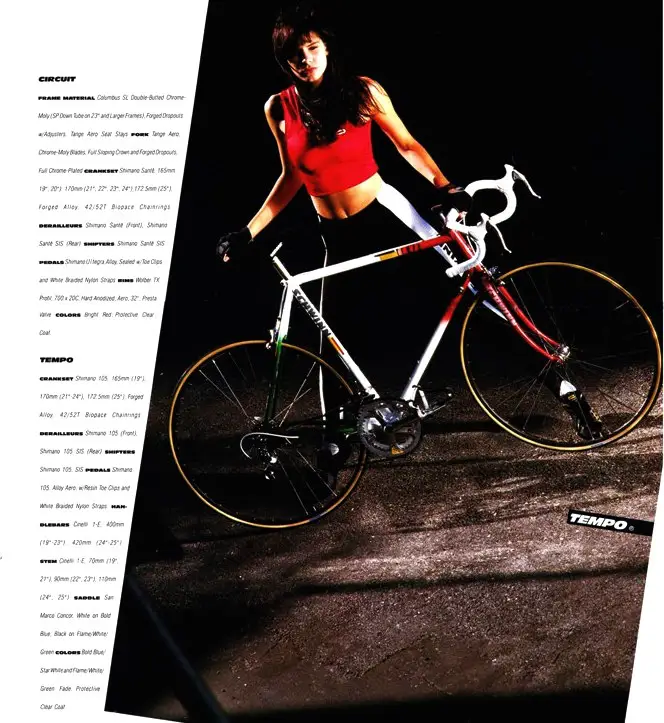 The Tempo's Eurostyling and attention to engineering detail make it a triathalon favorite. Circuit and Tempo for the fast lane.
See the full 1988 Schwinn catalog.
Back to Schwinn Bikes.