1984 Schwinn BMX Catalog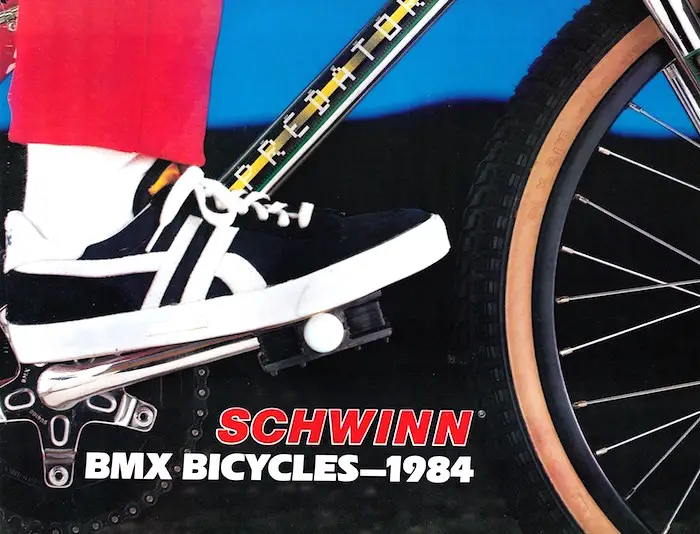 The Schwinn Difference
The legend grows PREDATOR by Schwinn
In less than a year, Predator by Schwinn has become a legend in the bicycle industry, breaking all previous Schwinn sales records. Nevertheless, Schwinn continues to improve the Predator and Thrasher lines of BMX bicycles.
Several new models have been introduced for 1984, including the Predator P2200, Thrasher T130 and Thrasher T17. Also every model has been improved to include lighter weight frames and tougher components with a history of performance both on and off the track. You'll also want to check out the new Predator blue trim package and Thrasher chrome-plated frames.
While Predator continues to change to keep up with your BMX needs, the best of Predator has been kept. The Predator name still means full 4130 chrome-moly frames and forks. When you hear the name Predator, you can depend on getting the best in BMX bicycle tubing.
You'll also be able to easily narrow your choice of a 1984 Predator or Thrasher BMX bicycle with the help of the convenient technical specification chart at the end of this catalog. Every bicycle is clearly identified in the chart as to its intented use, and each part on every bicycle is described in detail to insure that you know exactly what you're buying when you take home a new Predator of Thrasher BMX bicycle.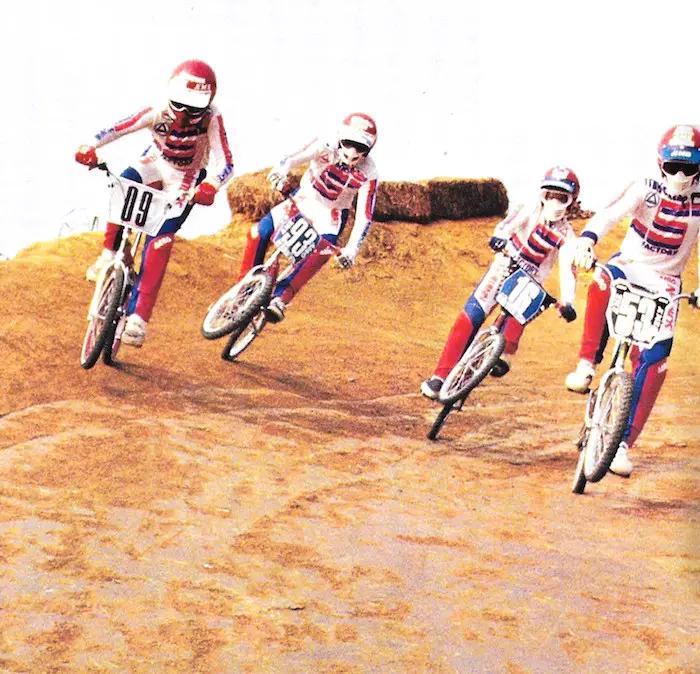 Product development starts with Schwinn factory riders.
The Schwinn Factory R & D (Research and Development) BMX Racing Team is an elite group of BMX riders carefully selected to represent Schwinn on and off the track. In their individual classes they represent the most knowledgable, experienced riders in the country.
The factory R & D Team not only represents Schwinn, they also represent you, the Schwinn customer. Schwinn riders are continually asked to test new parts to find out if they will stand up to the stress of competition.
If it turns out that a part being tested is more "show than go", it doesn't get on a Schwinn bicycle. So, when you finally decide which Schwinn BMX bicycle is best suited to your needs and expectations, you can ride it with confidence knowing the Schwinn Factory R & D Team has helped you pick a winner!
A word about quality
Schwinn has taken great care to assure that all of its 1984 BMX bicycles are designed and manufactured to withstand the normal stress which occurs in competition and offroad riding. Components, for example, are selected for use only after they have been tried in competition and survived. Frames are subjected to the most rigorous testing before they are approved for production. Strict quality control applies throughout production and assembly of Schwinn bicycles to minimize the possibility of defective parts.
Despite all our efforts, a Schwinn BMX bicycle can break. In those rare instances when a failure is due to a defective part you can depend on the No-Time-Limit Schwinn limited warranty and the service of your Authorized Schwinn Dealer. For the full text of the Schwinn Limited Warrant see the back cover.
Most failures, however, occur when the bicycle is stressed beyond design limitations, such as falling or during a crash. Even though such failures may be the result of accidents and not the fault of the rider, the responsibility for repair must be assumed by the rider. Following the rules of the road when riding on the street, and using reasonable care when practicing or competing will minimize the chance of accident and avoidable repairs.
Schwinn Predator PRO series
---
Schwinn Predator Sting Frameset
The Sting is engineered to maximize strength-to-weight ratio.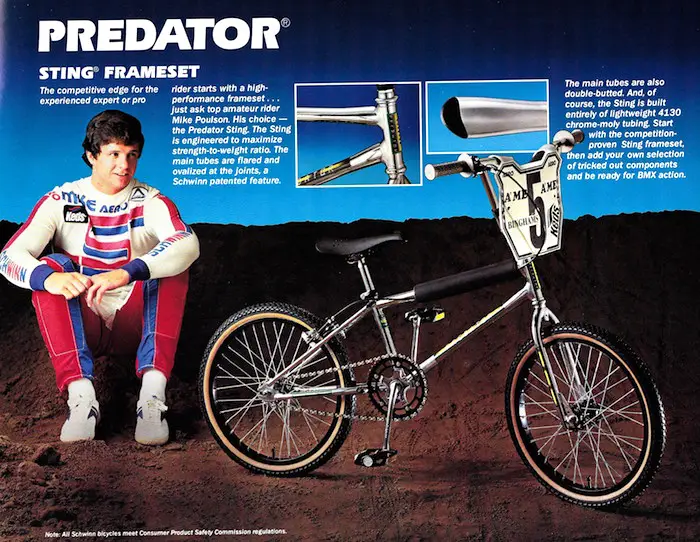 The competitive edge for the experienced expert or pro riders starts with performance frameset... just ask top amateur rider Mike Poulson. His choice the Predator Sting. The main tubes are flared and ovalized at the joints, a Schwinn patented feature.
The main tubes are also double-butted. And ofcourse, the Sting is built entirely of lightweight 4130 chrome-moly tubing. Start with the competition proven Sting frameset, then add your own selection of tricked out components and be ready for BMX action.
See the complete history of the Schwinn Sting.
Schwinn Predator Competition
Winning trophies will be easier on this full feature competition machine.
Factory Schwinn rider Ray Obolewicz recommends the Competition model for experienced experts who want the high performance of a Sting frameset plus full bike value. The heart of the Competition is its lightweight tri-oval 4130 chrome-moly frame. Add top quality components including the new Maximizer 710 tire, the new Schwinn designed chrome-moly handlebars, the Tange 303LP headset, Shimano SX pedals and chrome-moly freewheel and you'll understand why the Competition is so very hard to beat. PCO
Schwinn Predator Team Series
---
Schwinn Predator Team 24
"Ready to race right off the showroom floor," that's how Schwinn riders described the 1983 Team 24.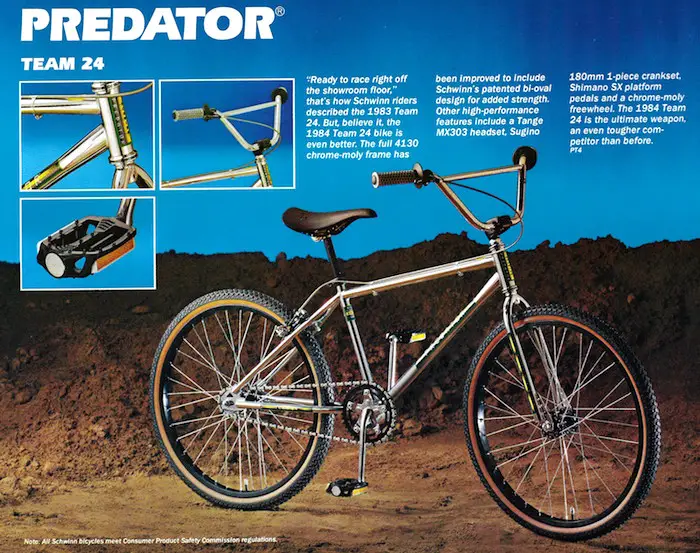 But, believe it, the 1984 Team 24 bike is even better. The full 4130 chrome-moly frame has been improved to include Schwinn's patented bi-oval design for added strength. Other high-performance features include a Tange MX303 headset, Sugino 180mm 1-piece crankset, Shimano SX platform pedals and a chrome-moly freewheel. The 1984 Team 24 is the ultimate weapon, an even tougher competitior than before. PT4
Schwinn Predator Team
A competition-level bike for 10-15 year old riders... novice or expert.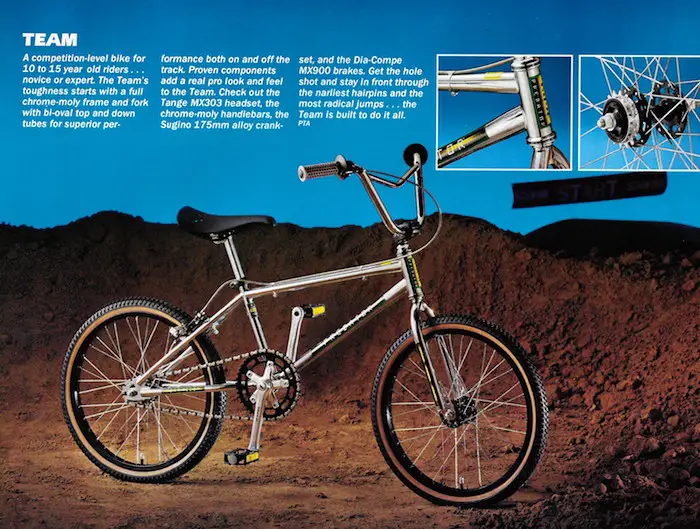 The Team's toughness starts with a full chrome-moly frame and fork with bi-oval top and down tubes for superior performance both on and off the track.
Proven components add a real pro look and feel to the Team. Check out the Tange MX303 headset, the chrome-moly handlebars, the Sugino 175mm alloy crankset, and the Dia-Compe MX900 brakes. Get the hole shot and stay in front through the narliest hairpins and the most radical jumps... the Team, is built to do it all. PTA
Schwinn Predator P series
---
Schwinn Predator P 2600
The Schwinn "P" Series Predators here and they're ready to race. All "P" Series Predators feature a full chrome-moly frame and fork with oval down tubes and aero fork blades. Built for competition or serious street riding each Predator has its own look.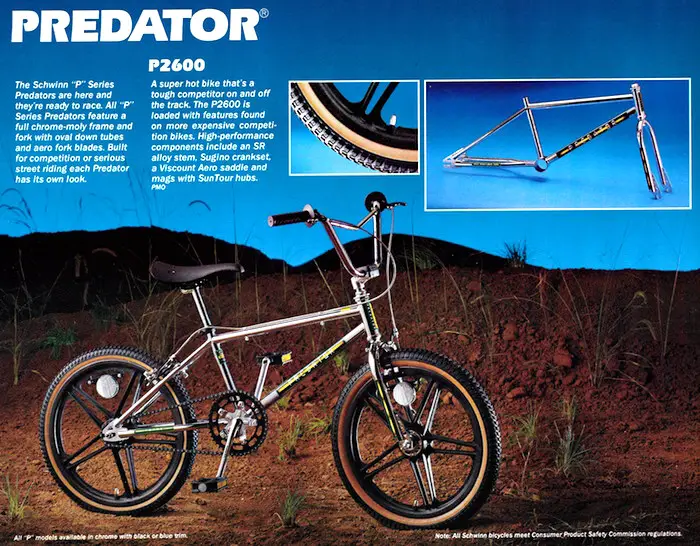 A super hot bike that's a tough competitor on and off the track. The P2600 is loade with features found on more expensive competition bikes. High-performance components include an SR alloy stem, Sugino crankset, a Viscount Aero saddle and mags with SunTour hubs. PMO
Schwinn Predator P 2200
Like all Predators, the P2200 is outfitted with high performance Predator Skinwall tires that really hold in dirt.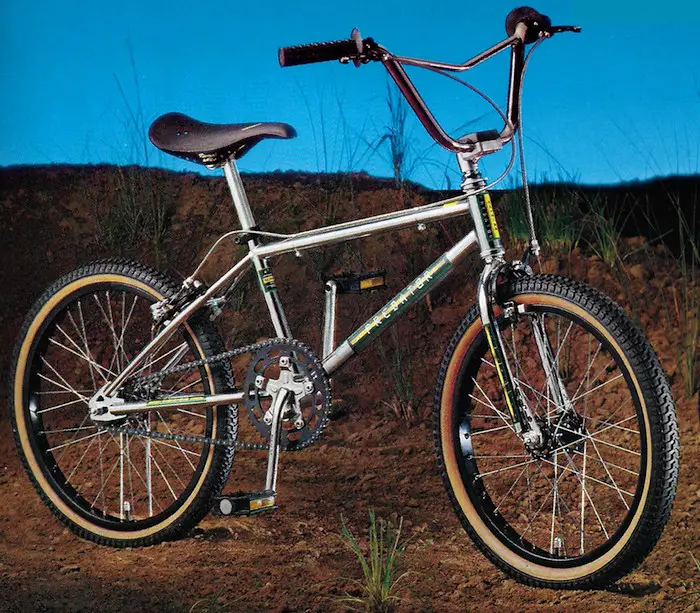 It's streetwise. Lightweight components make the P 2200 the right bike for expert or novice competitors. It's also great on the street. It has a Sugino chrome-moly 1-piece crankset with chrome spider and alloy chainring, Sunshine alloy hubs and Araya alloy rims.
Other Predator plus features include SR platform pedals, chrome-plated "V" style handlebars and Viscount Aero saddle. PCA
Schwinn Predator P 2000
Competitive looks and features at a street bike price.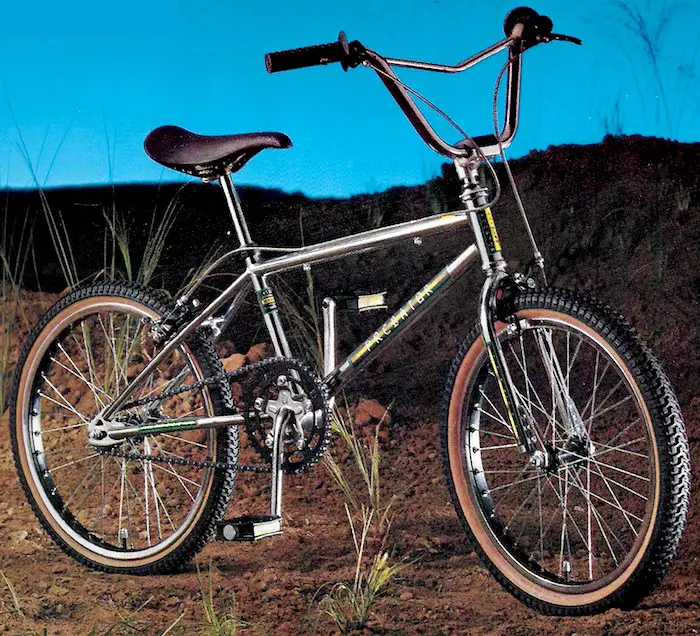 The fully-equipped P2000 is great just as it is for novice competition or thrashing with friends. Components include a Sugino 1-piece crankset with chrome plated spider and SR double clamp alloy stem. PWO
The Schwinn Predators... a lineup of super performers that can make the competition eat dust on the track or turn heads on the street. Designed for BMX riders from 9 to 15 years old who want hot competition bikes at reasonable prices. Check 'em out!
Schwinn Predator Thrasher series
---
Schwinn Thrashers. The look, the feel and the durability of competition bikes at street bike prices. All frames are hitensile steel with down tube gusset. Standard Thrasher components include chrome plated "V" or crossbar style BMX handlebars, rattrap pedals with chrome-moly axles and Scrambler tire. If you're already into BMX or if you're lookin' to start, look into these bikes.
Schwinn Predator Thrasher T 1100
The BMX look with the convenience and durability of coaster brake mag wheels.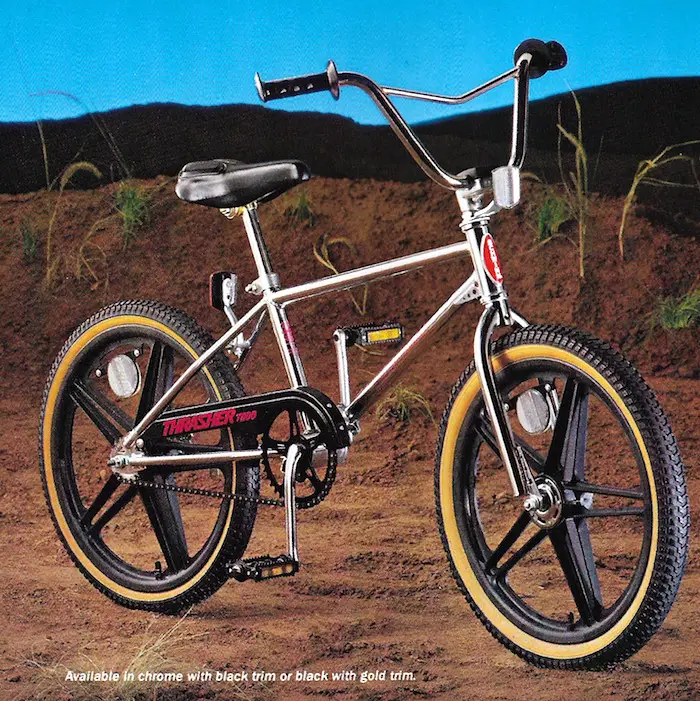 The T1100 sports top quality components including double clamp stem, Sugino 1-piece crankset and SunTour coaster brake. THM
Schwinn Predator Thrasher T 1000
Get the feel of competition on the T1000 with its freewheel and handbrakes.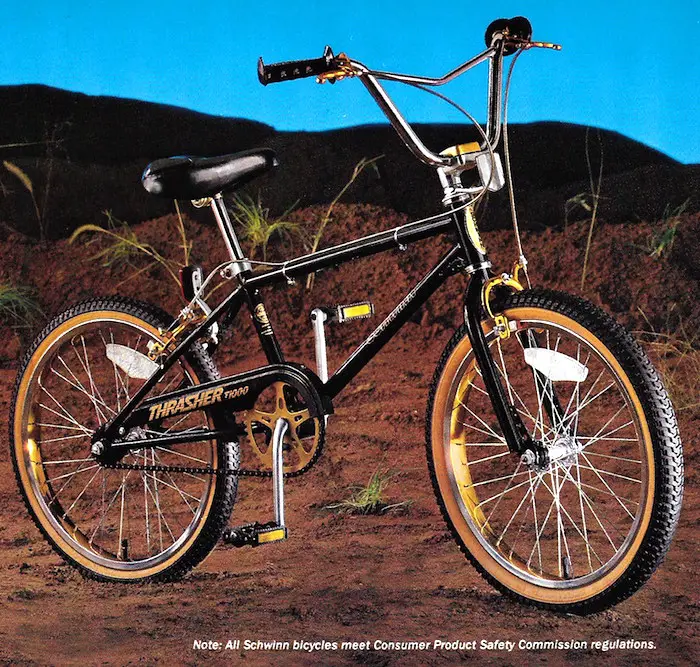 Other plus features include double clamp stem and Sugino 1-piece crankset. TH1
Schwinn Predator Thrasher T 130
The T130 has got the right stuff for off road riding or going to school.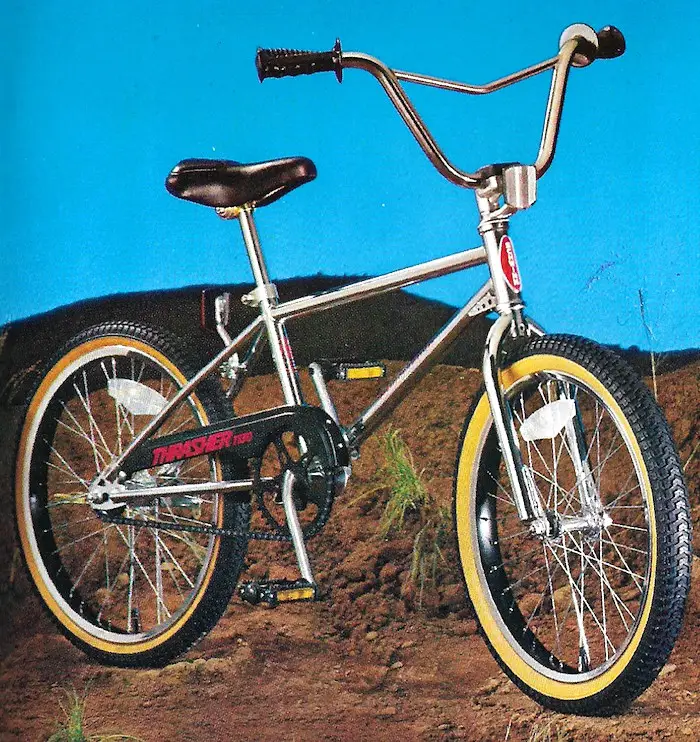 You get the feel of BMX competition riding with BMX style saddle and cushion grips plus the convenience of a Shimano coaster brake. Other top quality features on the T130 include a double clamp stem and Sugino 1-piece crankset. You get dynamite looks with responsive handling in the T130. TM1
Schwinn Predator Thrasher T 111
The Bmx look in a scaled down frame that is just right for BMX riders 7 to 9 years old.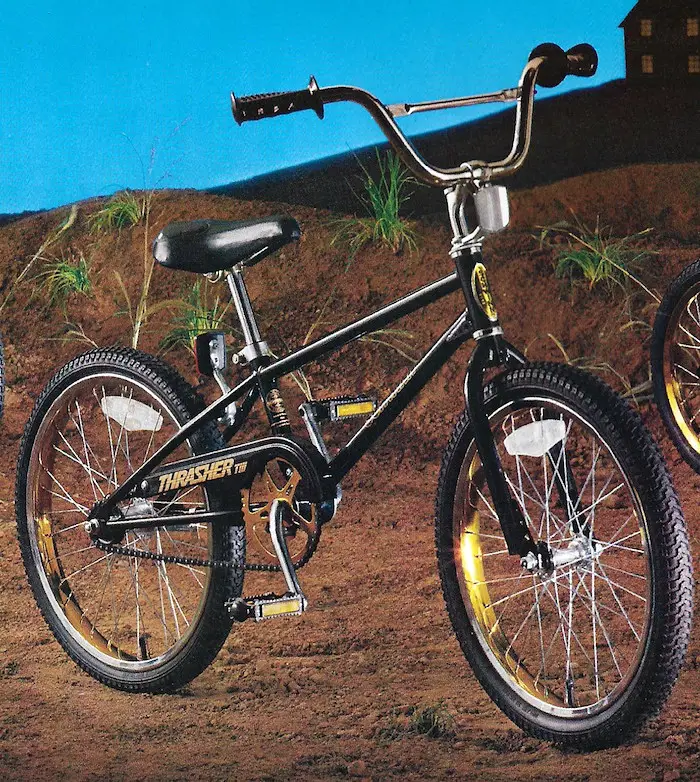 Allo of the Thrasher features plus wire wheels with two-tone rims and Shimano coaster brake. TH2
Schwinn Predator Thrasher T 17
A BMX style bike that is specially designed for the younster from 4 to 7 years old.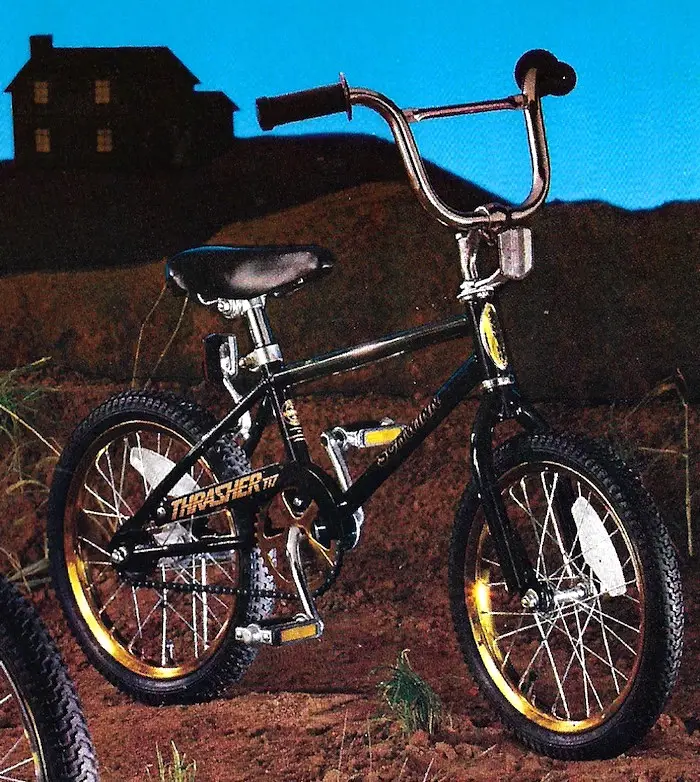 The T17 has the Thrasher look and feel plus cushion grips and Shimano coaster brake. TM2
Home / Schwinn Catalogs / 1984 BMX