The Schwinn Cruiser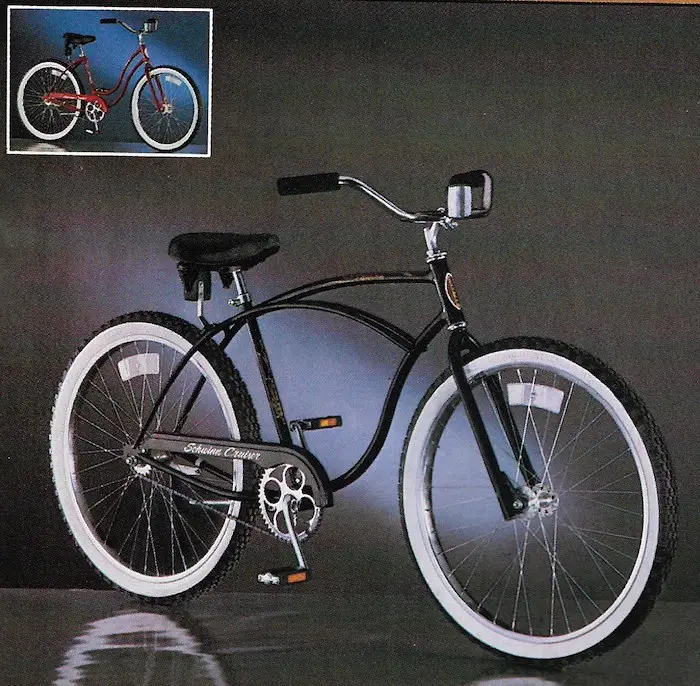 This page provides year by year images and info quoted from Schwinn catalogs for the Cruiser from 1980 to 1984.
1980
---
The graceful yet striking cantilever frame with Schwinn's deep, rich finish is the standard for which the rest of the industry strives.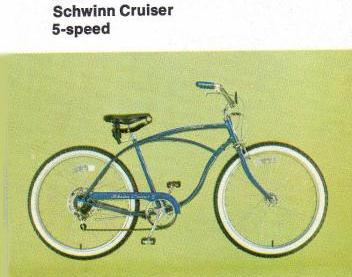 What a combination! 5-speed versatility, gutsy balloon tires and the reliability of the world- famous Schwinn cantilever frame. Forged steel front fork, heavy duty saddle and the "look" of a classic.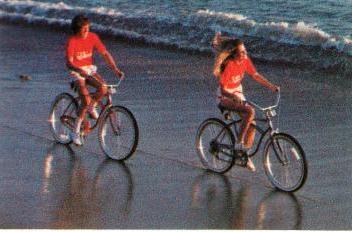 Schwinn Cruiser
If first class is the only way you roll, take a good, serious look at Schwinn's line of cruisers. These machines incorporate the advantages of modern technology with the classic super-excellence of a solid, comfortable rider. Schwinn has a long been the champion of riding comfortand the Schwinn Cruisers are probably the most copied in the world. But, there's only one original and, after all, isn't life to enjoy?
The word "Deluxe" takes on a whole new meaning when used to describe the new 1980 Schwinn Deluxe Cruiser. This year's new Spring Fork smooths out the roughest roads, the distinctive gumwall balloon tires are the perfect combination of luxury and pedaling ease.
Schwinn Deluxe Cruiser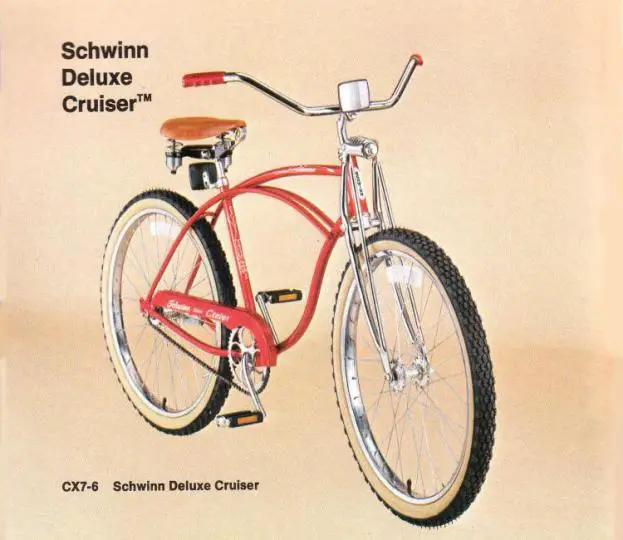 Schwinn Cruiser Coaster Brake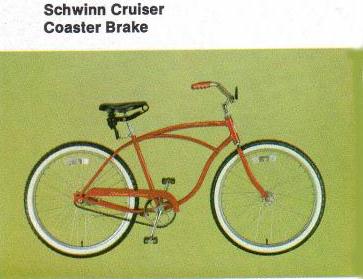 If somewhat understated, yet functional comfort is what you're looking for choose the Schwinn's standard coaster brake Cruiser. Whitewall balloon tires and Electro-forge cantilever frame.
Schwinn Cruiser for ladies
Cruisin for the Younger Riders
Coaster Brake Model CC9-6
Schwinn's simple laid back elegance is personified in the 1980 Ladies' Cruiser. With the time-proven dependability of a coaster brake, wide whitewall balloon tires, a comfortable saddle and wide handlebars.
Schwinn Down Cruiser 24"
The scaled down Cruiser!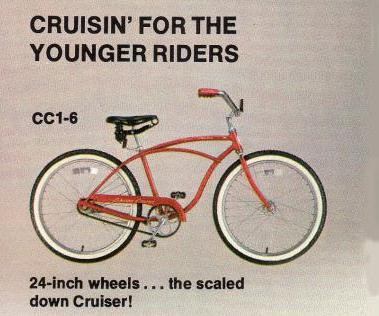 24-inch wheels Model CC1-6
The 24-inch Cruiser is ideal for the younger rider who appreciates the time-honored qualities of riding comfort. This smaller Cruiser has all the features of the full-sized 26-inch Cruisers- Schwinn cantilever frame, a large comfortable saddle, forged front fork, wide whitewall balloon tires, and upright handlebars- as well as Schwinn's famous quality.
See the full 1980 Schwinn catalog.
1981
---
Combines high tech with classic good looks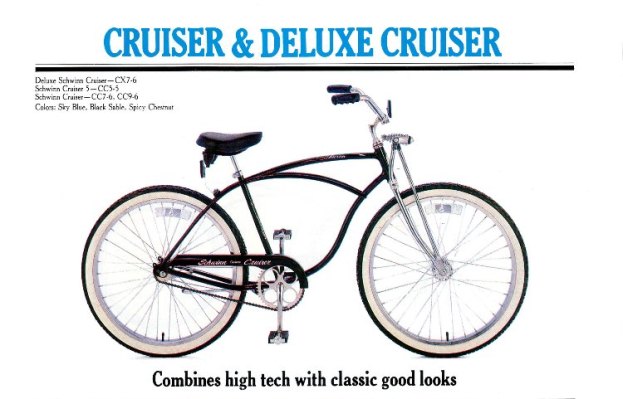 The name "Schwinn" in front of the title "Cruiser" means a solid, comfortable ride on a cantilever frame bike that is always in style. That's why the words "Schwinn Cruiser" are something special if you agree that first class on white-walled balloons is the only way to roll. The "Deluxe's" Spring Fork gives you an extra smooth ride.
Schwinn Cruiser 5
Close-up of the Schwinn derailleur for riders who prefer Cruiser 5-speed versatility. A comfortable seat and upright handlebars are standard on all Cruisers. New this year is optional Schwinn custom-designed Cruiser Carrier.
Schwinn Deluxe Cruiser
Colors: Sky Blue, Black Sable, Spicy Chestnut.
See the full 1981 Schwinn catalog.
1982
---
A Schwinn Cruiser is a ticket to fun - around town, at school, in street and sand.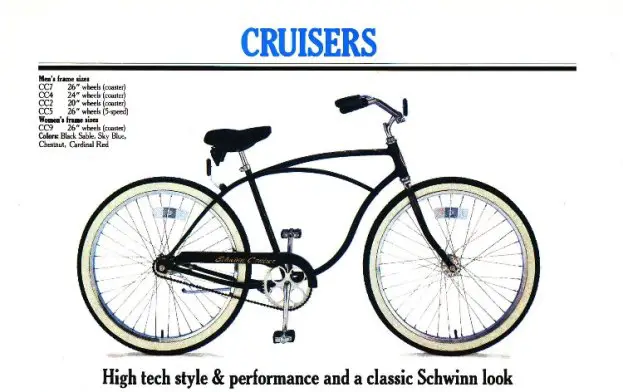 Men's frame sizes
High tech style and performance and a clasic Schwinn look.
CC7 26" wheels (coaster)
CC4 24" wheels (coaster)
CC2 20" wheels (coaster)
CC5 26" wheels (5-speed)
Schwinn Cruisers
Women's frame sizes
CC9 26" wheels (coaster)
Colors: Black sable, sky blue, chestnut, cardinal red.
Several years ago, California cyclists adapted the word "cruiser" to their world of sandy beaches, and enjoyed riding old balloon-tired bikes along the ocean's edge.
The name "Schwinn" in front of the title "Cruiser" has traditionally meant solid, comfortable riding, a cantilvered frame a top balloon tires and an overall look that never goes out of style. This year Schwinn offers a wide choice of Cruiser speeds, sizes and colors. You can enjoy cruising with or without a beach in your neighborhood.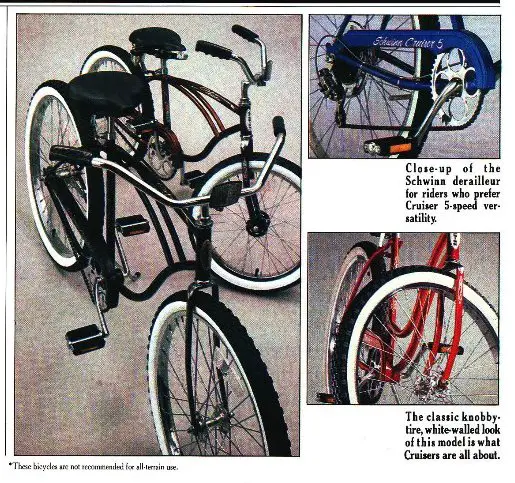 High-tech style and performance and a classic Schwinn look
Close-up of the Schwinn derailleur for riders who prefer Cruiser 5-speed versatility. The classic knobby tire, white walled look of this model is what Cruisers are all about. Schwinn Cruisers offer three wheel sizes. These are the 26" and 20-inch single-speed models.
These bicycles are not recommended for all terrain use.
See the full 1982 Schwinn catalog.
1983
---
The classic bicycle Schwinn introduced generations ago.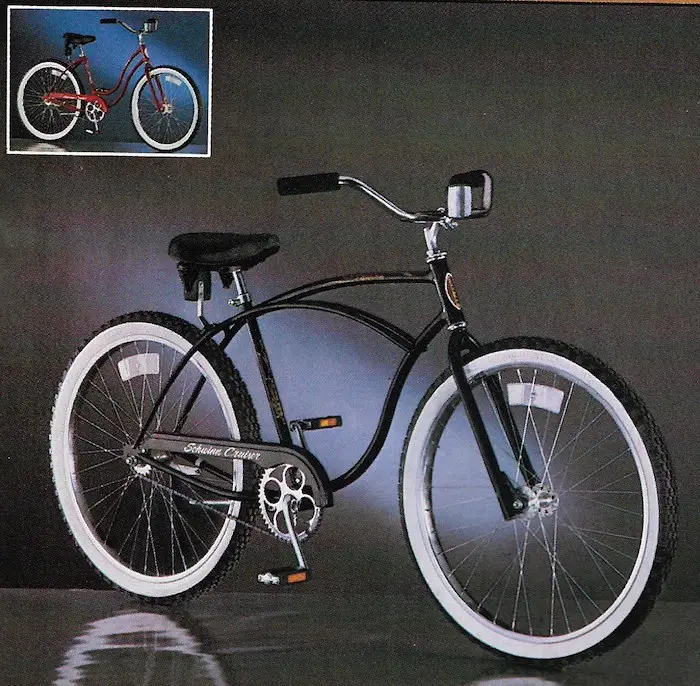 Even better and more comfortable today with cushion grips and tubular leading axle fron fork.
Both models available in Cardinal red or sky blue. Men's model also available in black.
See the full 1983 Schwinn catalog.
1984
---
Go cruising ... take in the scene at the beach, ride country roads or spin around town on a classic.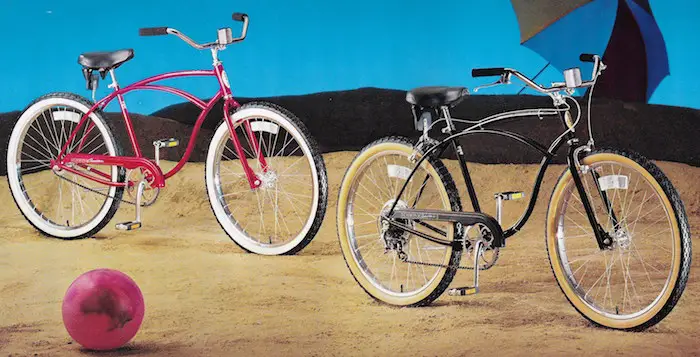 Coaster and 5-Speed
The durable Schwinn cantilever steel frame has been updated with tubular leading axle front fork and cushioned hand grips. It's designed for comfortable riding with a padded saddle and wide whitewall tires that ride smooth over almost any terrain. The Cruiser is a single speed bicycle. The Cruiser 5 has 5-speed gears and hand brakes for greater versatility and range.
CC7 available in Cardinal Red or Black
CC5 available in Cardinal Red or Black
See the full 1984 Schwinn catalog.
Back to Schwinn Bikes.