The Schwinn Tourist
The Schwinn Tourist was made between 1939 to 1982.
This page provides year by year images and info quoted from Schwinn catalogs for the Tourist from 1954 to 1965.
1939
---
New World lightweight Tourist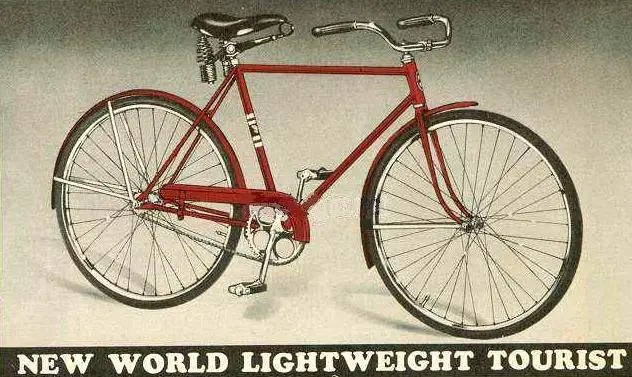 English type popular priced lightweight for the boy or man who want's a light but rugged bicycle for everday use or touring.
Any type of english or American equipment available... three-speed hub, caliper rim brakes, three-piece set, etc.
See the full 1939 Schwinn catalog.
1940
---
Blood brother to the famous Paramount Racer, the Sports-Tourist is cut from the same pattern, of identical materials.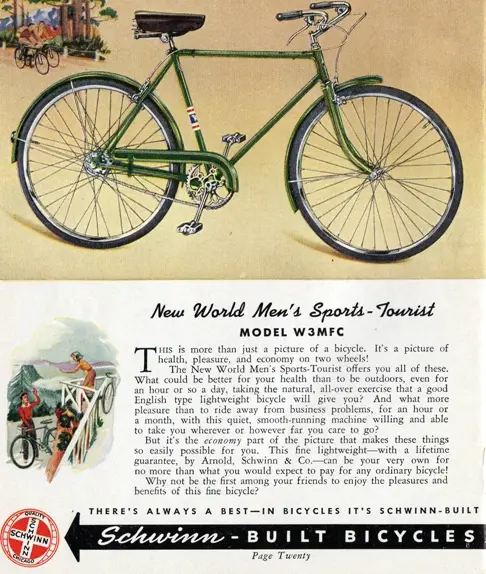 New World Men's Sport-Tourist
This is more than just a picture of a bicycle. It's a picture of health, pleasure, and economy on two wheels!
The New world Men's Sports-Tourist offers you all of these. What could be better for your health than to be outdoors, even for an hour or so a day, taking the natural, all-over exercise that a good English type lightweight bicycle will give you? And what more pleasure than to ride away from business problems, for an hour or a month, with this quiet, smooth-running machine willing and able to take you wherever or however far you care to go?
But it's possible for you. This fine lightweight-with a lifetime guarantee, by Arnold, Schwinn and Co. - can be your very own for no more than what you would expect to pay for any ordinary bicycle! Why not be the first amond your friends to enjoy the pleasure and benefits of this fine bicycle?
See the full 1940 Schwinn catalog.
1941
---
Health, vigor and figure go with this English type New World Ladies' Sports Tourist.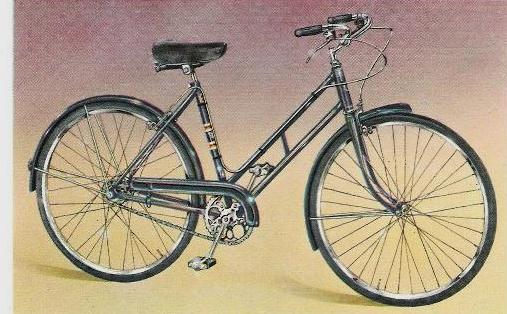 It's identical in quality with the men's Sport Tourist. Twin caliper brakes, streamlined enamel chain guard. Solid colors with two hairline stripes. A lightweight beauty to help you keep your beauty. Bicycling is the modern way to exercise - and here's the bike!
This is your key to health, pleasure and economy- to thrill after thrill in cycling.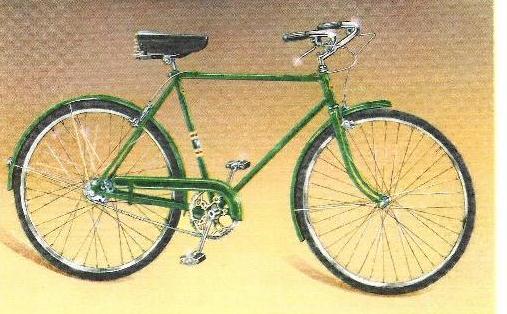 The English type New World Men's Sports Tourist has just the things a he - man or super boy wants Schwinn caliper rim brakes front and rear, seamless drawn steel tubing frame and streamlined enameled chain guard. Zoom away to health and pleasure on this Schwinn lightweight.
Men's Schwinn Tourist
This brake is very popular on the Tourist models.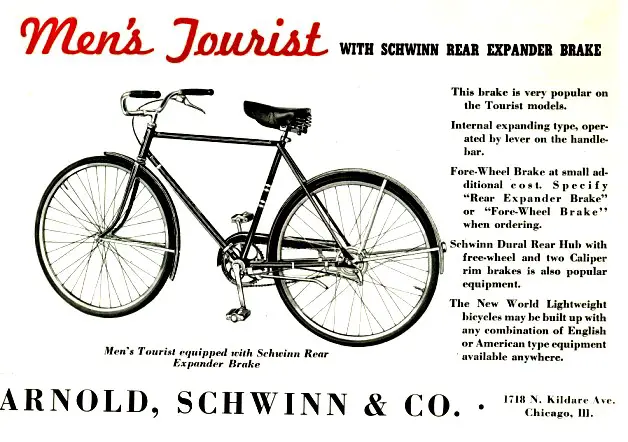 With Schwinn Rear Expander Brake.
Internal expanding type, operated by lever on the handlebar. Fore-wheel Brake at small additional cost. Specify "Rear Expander Brake" or "Fore-Wheel Brake" when ordering. Schwinn Dural Rear Hub with rim brakes is also popular equipment.
The New World Lightweight bicycles may be built up with any combination of English or American type equipment available anywhere.
See the full 1941 Schwinn catalog.
1946
---
Streamlined for action and ready to go places with effortless ease--this Ladies Model is as easy on the eye as it is to ride.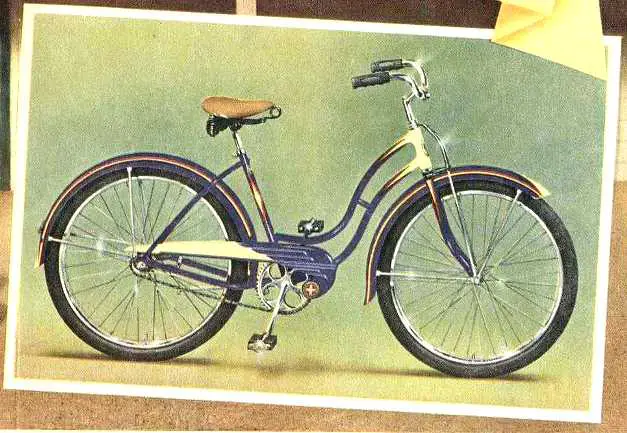 MODEL BA-37...THE TOURIST
In a series of beautiful colors and matching or contrasting two-tone effects in brilliant baked-on enamels. Model shown equipped with coaster brake. Hand-operated Schwinn Fore- Wheel automobile- type expander brake can be added for greater safety.
A marvelous, fast-stopping expander brake, with the famous Schwinn Free- Wheel, is also available for the rear wheel. Visit your nearest Schwinn dealer.
Model B-507 Autocycle Tourist
Any boy would be proud to own this beautiful bicycle--as trim as a greyhound. Streamlined, patented Cantilever type frame.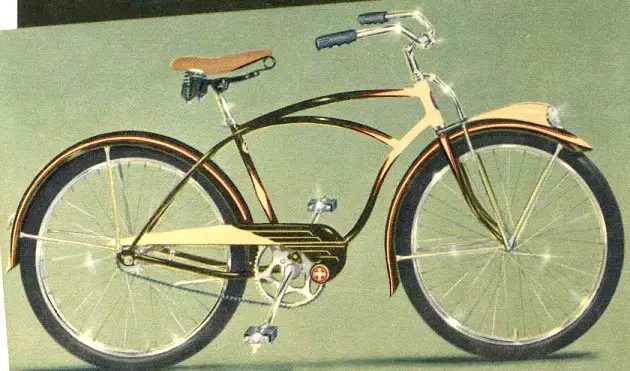 Can be equipped with the famous Schwinn fast stopping automobile type Expander Brakes.
See the full 1946 Schwinn catalog.
1951
---
Continental design in a fine quality lightweight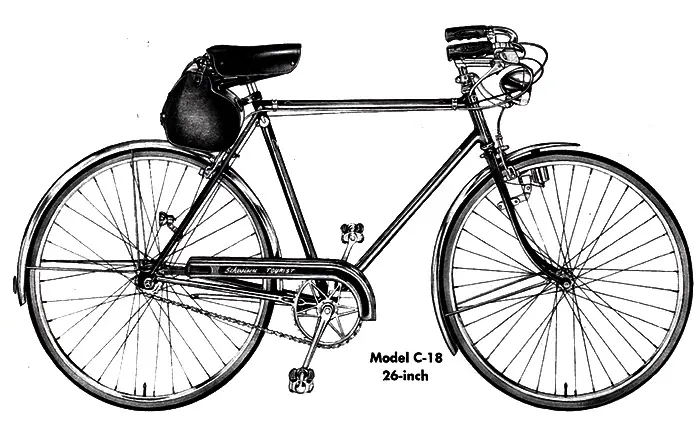 Model C-18 26-inch
Model C-68 26-inch
Chrome molybdenum frame for extra lightness- finest Continental style
Three-speed gears, generator and light set, chrome plated fenders and roomy saddle bag are some of the extras that make this new Continental Tourist an outstanding beauty.
It's fine quality features include a special lightweight frame of finest seamless drawn moly tubing, three -piece cottered type crank set, alloy front hub and tan wall Schwinn Breeze Tires - a combination that's sure to please the expert cyclist.
See the full 1951 Schwinn catalog.
1953
---
"Boy, what a beauty! Look at that chrome trim and those racy lines - That's for me!"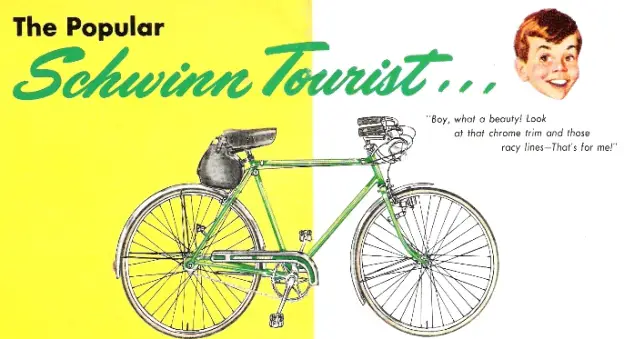 Continental Design in a Fine Quality Lightweight
A smartly styled, fully equipped, 26-inch lightweight with three- speed gears, generator and light set, stainless steel fenders and roomy saddle bag that make this new Schwinn Tourist and Outstanding beauty. Its fine quality features include a special lightweight frame of fines seamless drawn moly tubing. Tan wall Schwinn Breeze tires. Model C-18.
26-inch Schwinn Continental for Men, Model C-15.
26-inch Schwinn Continental for Ladies, Model C-65.
26-inch Schwinn Clubman for Men, Model C-16.
See the full 1953 Schwinn catalog.
Back to Schwinn Bikes.